A giant missile was seized among a horde of First and Second World War weaponry from a house in Dukinfield.
More than 40 prohibited weapons have been obtained by police following the search of a house on Dain Close earlier today.
The weapons are in the process of being examined by specialist officers under the Firearms Act.
A 76-year-old man was arrested on suspicion of possessing a prohibited firearm and has since been bailed pending further enquiries.
Detective Chief Inspector Debbie Dooley said: "We have recovered a significant number of firearms at this address, many of which appear to be antique or heritage weapons relating to the World Wars.
"At this stage the weapons do not appear to have been collected for any other reason than as part of a hobby but it does not detract from the seriousness that these weapons pose, particularly if they get into the wrong hands."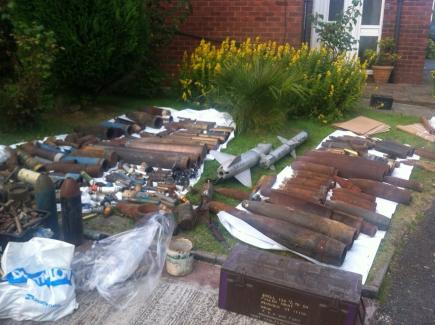 HORDE: The weapons are believed to be from the First and Second World Wars
The find comes as the GMP are running a gun amnesty week, where people can surrender unwanted, unlicensed weapons without fear of prosecution or being identified.
By doing this it is hope people can dispose of firearms in a safe place so they don't become involved in criminal activities.
Det Insp. Debbie Dooley added: "GMP is holding a gun amnesty over the next two weeks and I would urge members of the public to surrender unlawfully held or unwanted guns and ammunition.
"Give up the gun before we come and search your home."
The amnesty week will run until 11.59pm on Saturday July 26.
During the amnesty there will also be a change in legislation which will make it illegal for certain people to hold weapons such as antique firearms.
Weapons and ammunition can be surrendered at any police station but anyone handing in a firearm, ammunition or any other weapon during the amnesty is advised to check the opening times of their station by calling 101 or visiting the GMP website.