One Manchester retail worker tonight described his fear after seeing 'change falling from the sky' and realising the source was a drunken man threatening to jump.
The man, described to be in his 60s, was sat on a ledge at the top of the NCP car park on King Street West, just round the back of Deansgate's House of Fraser department store.
As shop staff left work just before 8.30pm, they found the drunken man throwing his possessions from the top of the car park's roof onto the street below.
Aiden Ryan, 23, a sales assistant at House of Fraser told MM: "I was walking back home from work and I noticed loads of change falling from the sky.
"Me and some other guys looked up and we saw an older guy dangling off the ledge, threatening to jump.
"Immediately I called 999 and requested for the police and ambulance. It was terrifying because we had absolutely no idea how it was going to turn out."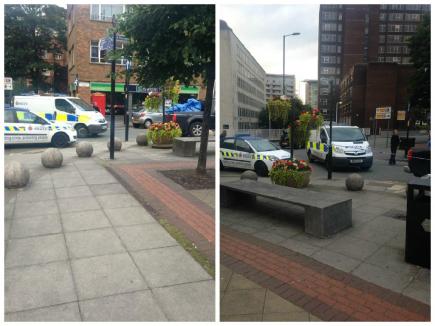 NO IDEA HOW IT WOULD TURN OUT: Aiden described his fear at finding the man on the ledge of a city centre car park
Aiden, who stayed at the scene throughout the incident, said the man was shouting profanities and was throwing his possessions down onto the street.
Within two minutes after his call, police arrived and drove immediately into the car park, where they appeared at the top of the building soon after.
"It continued for about ten minutes at the top of the car park before they managed to persuade him to come down. They pulled him off the edge and it looked like they hugged," said Aiden.
"It was clearly a cry for help for a lost soul. I had the feeling he wouldn't jump but you just don't know, and I'm so glad it ended like this."
Images courtesy of Aiden Ryan, with thanks