A new green vision for Manchester's newest city centre neighbourhood, Circle Square, has been unveiled.
Bruntwood and the Select Property Group are in the middle of transforming the former BBC site in Oxford Road into a new district for living, working, shopping and socialising.
And as part of the ambitious plans, three distinctive 'character' areas in the neighbourhood have been designed to apparently create a rich and diverse environment for visitors, workers and residents to escape their daily routine.
The first, and possibly the most striking, will be a beautiful grassed area framed by mature and urban-friendly plane trees, and pocket gardens while a low rise pavilion underneath will feature singular and ever changing events throughout the year. 
Alongside the River Medlock, developers are promising a walk will bring beauty, greenery and wildlife to Circle Square as it becomes a riverside park with new paths and spaces that will reconnect this part of the city with the river.
Their hope is that it will create a tranquil space away from the bustling streets with the water, native planting, reflective garden spaces nurturing a diverse range of species, such as bees, butterflies and other insects rarely found in urban places.
Finally, there will be a green street close to the river, with trees and shrubs running the length of it. The plan is to have independent shops and restaurants, 'pocket gardens' and relaxing outdoor seating areas for people to get together.
Ed Lister, Managing Partner at Planit-IE, the landscape architects helping to create Circle Square, said:  "From the very start, the JV partners behind Circle Square had a clear vision of what it wanted to be – diverse, innovative and extraordinary.
"Our role throughout the design process has been to capture this ambition and create a canvas capable of hosting and framing the memories of residents, workers and visitors for years to come. 
"The creation of a generous green space at the heart of the development and new riverside park will help to define the neighbourhood, whilst also making a significant contribution to Manchester's wider green infrastructure."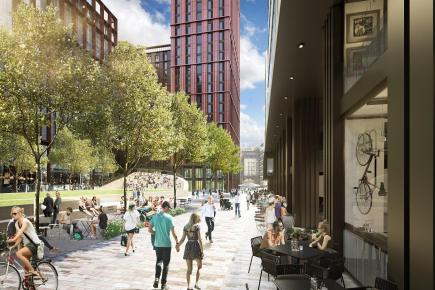 CALMING: The space will be busy but tranquil according to developers behind the ambitious scheme
Paula Brockwell, Lead Psychologist and Head of Client Delivery at business wellbeing experts Robertson Cooper, said the space had been designed to make people living and working there happier!
She said: "It is widely recognised that there is a direct correlation between a person's living and working environment to their health, happiness and overall wellbeing.
"We have carried out various research which show that by integrating green spaces and natural elements, it can significantly impact on energy levels, productivity and creativity so it is fantastic to hear this is happening in Manchester at Circle Square."