A study has found that over half of all students in Manchester stay in the city after graduation.
Centre for Cities collaborated with the University of Manchester earlier this year and found that 51% of students from all Manchester universities choose to live in the city after they graduate.
The lead analyst, Rebecca MacDonald, told Mancunian Matters: "Manchester is one of the fastest-growing city centres in the country and that this is a key reason why people choose to stay."
According to the study, the city gained 19,050 16 to 21-year-olds between 2009 and 2017.
The three most important factors for students were wages, job choice and amenities according to MacDonald.
However, starting salaries in Manchester are the fifth-lowest in the country at just under £21,000, so they concluded that two other factors are driving the surge in popularity.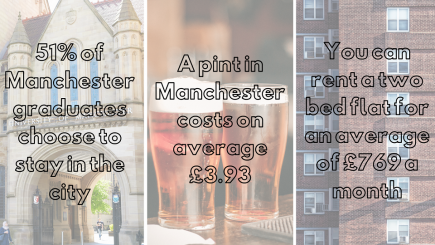 Centre for Cities found that the types of jobs on offer, especially those in "knowledge-based services", are a huge draw. They also cited opportunities for progression and a thriving city centre. However, there are plenty of other reasons why people might love Manchester.
According to research conducted by the BBC, the average price of a two-bedroom house in Manchester is Manchester: £148,750, in comparison to south London which is £545,000.
The price of a pint is also far lower in Manchester than in the capital: in Manchester it's £3.93 and in London it's £5.19.