Six wounded army veterans will enter the North West this week as they continue their epic 1,000 mile, 72-day Walk Of Britain.
All the veterans have either physical or cognitive injuries sustained in the line of duty and are raising awareness with the charity Walking With The Wounded ('WWTW').
Inspirational time listening to the stories and strength shown by true heroes #walkingwiththewounded @supportthewalk pic.twitter.com/GjBvrOo0tb

— Sedbergh Running (@SedberghRunning) September 16, 2015
The charity is working with other institutions across the country to support the wounded back into independence through long-term employment.
The walk, from Scotland to London enables them to engage with local communities every day to highlight the extraordinary determination of the wounded personnel.
Throughout the journey the core team of four British wounded and two US wounded are being joined by other veterans and a number of celebrities.
Heather Stanning, a serving Captain in the Royal Regiment of Artillery who, along with her partner Helen Glover won the first Gold medal in the 2012 London Olympics in women's rowing, joined the team for day one on their climb up Scafell Pike.
Sir Chris Bonington, a British mountaineer whose career has included 19 expeditions to the Himalayas, has also been getting involved.
Sir Chris Bonington saying farewell to #WalkOfBritain on #ScafellPike @Stand4Heroes @nfl_uk @supportthewalk pic.twitter.com/Q78JDWIQmH

— Stewart Hill (@Stew_Art_Hill) September 16, 2015
The Walk Of Britain team will also be joined by NFL legend Osi Umenyiora from Thursday September 17-Saturday 19.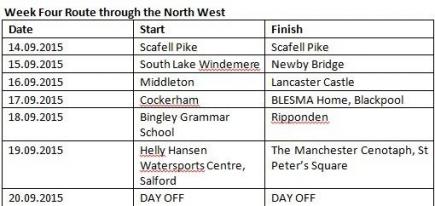 Osi, born in the UK, is a recently retired, two-time Super Bowl champion and was keen to get involved and show his support.
Edward Parker, co-founder and CEO of Walking With The Wounded said: "The team have been amazed by the amount of public engagement the walk has created and touched by the numbers that turn out each day to support them on their journey."
Walking With The Wounded is growing in prominence with the likes of Prince Harry being an avid campaigner for quite a while.
And the veterans have been involved in an east Manchester construction project that has gathered momentum this week with the arrival of BBC's DIY SOS team:
See below if you would like to join the Walk Of Britain expedition or help to spread the word, raising awareness of Walking With The Wounded, or just for further information.
http://walkingwiththewounded.org.uk/walkofbritain2015/  #WalkOfBritain @supportthewalk
People are able to 'Buy A Mile' of the Walk Of Britain's 1000 mile expedition from Scotland to London to be in for the chance of winning a prize.
Image courtesy of WWTW via Twitter, with thanks.