Nick Clegg has called on Mancunians to put aside city rivalries if they are to take on the might of London in a Stockport Q and A session.
The Liberal Democrats leader visited schoolchildren and local business leaders at Cheadle Hulme today as a part of his Northern Futures campaign to help make his vision of a 'northern powerhouse' a reality.
He also warned that Manchester is just as cool as London and should aiming at other 'mega-cities' in the world as well as just the capital.
"Areas should play to their strengths, Manchester has got some very important things, in particular science," said the Deputy Prime Minister at sportswear giants Adidas' HQ.
"And what need to get over a bit is some of the traditional rivalries across the north. Manchester, Leeds, Liverpool, Sheffield may all come up with answers but actually they will come up with the best answers together.
"Leeds, Sheffield and Manchester are all about 45 miles from each other basically. In other countries, like the Netherlands or Germany, they'd been interchangeable will people living in once place, working in one place, studying in one place.
"We don't have that yet and we desperately need that if we are to create the kind of punch we need for the North if it's to become one of our hubs."
Announced back in July at a speech at Manchester Museum of Science and Industry, Mr Clegg outlined his plans to hand more autonomy and devolved power to areas in the North.
The Liberal Democrats chief has been at the forefront of the plans, which include transport plans in the form of the controversial HS2 train route to connect Manchester to London as well as the mooted HS3 routes to shave travelling times between northern cities.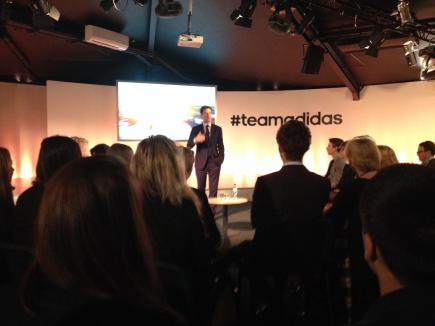 IMPOSSIBLE IS NOTHING: Nick Clegg stressed the north can take on London at Adidas HQ
As well as the event in Stockport, Lib Dems were also hosting identical meetings in Leeds, Liverpool, Sheffield, Newcastle, York, Hull and Lancaster to push the idea of a connected north that can take on the capital.
And Mr Clegg insisted that the northerners can come up with the plans that will create a hub to challenge 'not just London but mega-cities like Rio, Shanghai and Frankfurt too'.
"The Government has tried to come up with answers for the north of England and I think it should be the other way around," he said.
"We [Mancunians] need to come up with the answers then tell central Government what we want, not being told by the Government what we need."
The Deputy Prime Minister also signed the £476.7 million Greater Manchester Growth Deal, which promises to create up to 5,000 jobs, allow more than 75,000 homes to be built and generate up to £80 million of additional in public and private investment in the area.
As part of the day, ministers also announced £6.4 million of funding for North West firms through the Regional Growth Fund, creating 252 high-skilled jobs in our life sciences sector.
One Stockport businessman suggested that Manchester has a long way to go to match the 'glamour', be 'full of stuff' and be as 'cool' as the capital – but the Liberal Democrats leader was quick to refute the claims.
"I totally disagree that there is something uncool about the North," said Mr Clegg, who joked that politicians are hardly the authority on 'cool'.
"Manchester is a really cool place. It's full of great stuff. Great schools, great hospitals, great galleries, great bands, great art, great countryside – I think we're rubbish at advertising and telling people about it.
"There's a great spaghetti junction of acronyms and companies advertising the North of England – why on earth don't we have one or two giving the North of England some muscle to put some oomph behind.
"Because when people move here from London they don't want to move back – they find the quality of life is, in fact, far higher."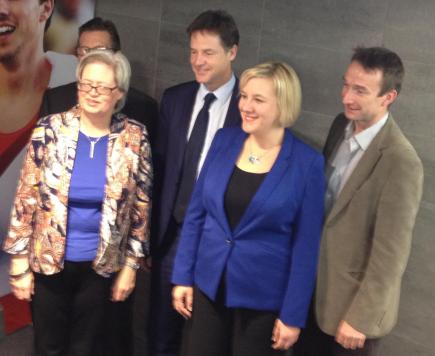 NICE TO SEE YOU: Nick Clegg poses for pictures with Withington MP John Leech (far right)
Schoolchildren also grilled Mr Clegg on education – a topic he is all too familiar with feeling the heat on after his tuition fees stance angered higher education students at the last General Election.
Mr Clegg promised pupils from Bramhall High School that they would not lose out if they wanted to go down the vocational route – branding the notion that 'you have to bury yourself in books to earn' as 'nonsense'.
Teachers also expressed their dismay at the level of funding at Stockport schools with one demanding answers from Mr Clegg on the 'poor state of disrepair' of some institutions in the area.
But he insisted that funds limit his plans to deal with the problem.
"In the long run, we would want to scrap the formula for funding altogether and implement a new fairer formula across the board," said Mr Clegg.
"But the problem is there will always be winners and losers with that so the time to do it is when we have pots of money and as a country at the moment we just don't."
Image courtesy of DFID with thanks