Manchester shoppers are urged to donate to the UK's biggest food collection this week, to help provide food for vulnerable people over the Christmas period.
The Tesco Food Collection, in partnership with the Trussell Trust and FareShare, is an annual event, made more important this year by the Coronavirus pandemic.
Trussell Trust food banks and community groups across the UK who get food from FareShare, a food poverty charity, face an unprecedented need for supplies.
Trussell Trust Chief Executive, Emma Revie said: "The pandemic has shown the power of what happens when we stand together in the face of adversity and how much people are willing to give in order to support their local community."
The collection launches in Tesco Express stores across the region on 16th November and in large stores from 19th November.
Customers have until the evening of 21st November to donate long-life food, such as pasta and tinned food, in store.
Last year, shoppers donated more than 3million meals-worth of food during the collection.
Tesco top up the value of donations with an additional 20% in cash.
Poplar Street Primary in Manchester saw demand for its service soar since the coronavirus outbreak.
When the crisis forced the UK into lockdown, Headteacher Iain Linsdell sought to keep getting good food onto the plates of their most vulnerable pupils.
With many families in low paid jobs or precarious work, Iain recognised that the lockdown meant many families would be at risk of going hungry.
The school's partnership with FareShare meant that the school was able to deliver high-quality food to families' doors.
Linsdell said, "I had staff members meeting children, having that human connection and also doing a brilliant community service, and that's what it's all about.
"Working with FareShare is just a brilliant win-win."
Tesco's head of community, Claire De Silva, said that FairShare and the Trussell Trust need need to provide more food than ever this Christmas.
The Trussell Trust's network of food banks is expected to give out six emergency food parcels to people in crisis every minute this winter.
De Silva said, "If enough people make a small donation then together those donations can make a really big difference to people who need our help this winter."
Donation points can be found in Tesco stores throughout the UK and Northern Ireland.
Customers unable to donate food in store can still help both charities by donating Tesco Clubcard points or donating via the Tesco website.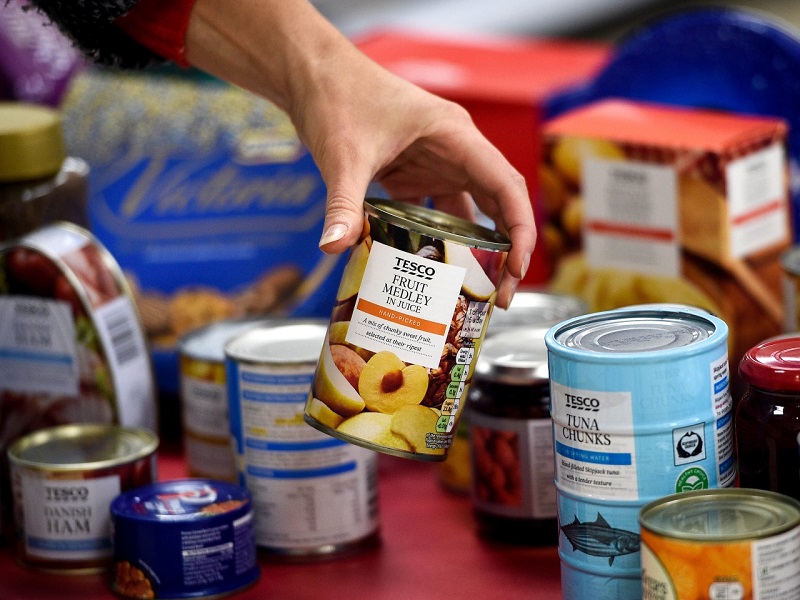 FareShare CEO Lindsay Boswell, said: "If you are able to donate just one item it will go such a long way in helping us support the thousands of people in need."
Food donated to FareShare will help some of the 11,000 charities and community groups who use it to provide meals for vulnerable groups.
These include isolated people and those in homeless shelters.
To find out more about the scheme, visit: https://www.tescoplc.com/sustainability/places/food-redistribution/food-collection/.