The danger of blind spots was highlighted in Manchester city centre today – by letting children sit in the driving seat of buses, HGV lorries and police bikes.
The exhibition, which was held in Albert Square, Manchester, allowed people to switch driving perspectives to educate how best to maximise their visibility when near large vehicles.
People were given the opportunity to hop into buses, HGV lorries, police cars and bikes.
There was also free bike marking taking place throughout the day and Greater Manchester Fire & Rescue Service's driving simulator gave people the opportunity to put their driving skills to the test.
Greater Manchester Police were also there to tackle the issue of unhealthy winter cars by displaying a vehicle with multiple defects.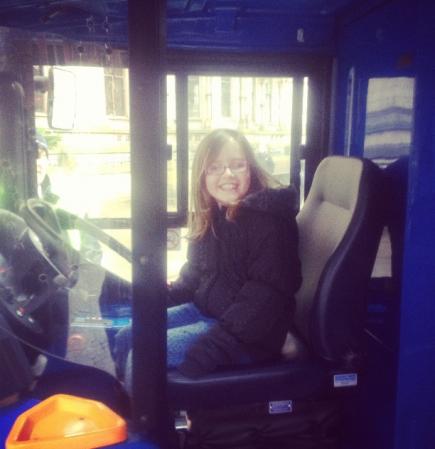 SAY CHEESE: Young girl sits in huge HGV lorry
Traffic Policing Support Officer Gareth Walker invited people to point out how many offences the driver would commit if the vehicle was on the road.
He said: "We've had a brilliant response, and what's great is the fact we've got all kinds road users here, from car drivers, to cyclists, pedestrians, children and adults. 
"The real message we're trying to get across is; that bit of tarmac is the road, and we've all got a responsibly look after one another and share it."
The exhibition was a hit with those walking through the square, capturing the attention of people on their lunch break as well as families enjoying the February break.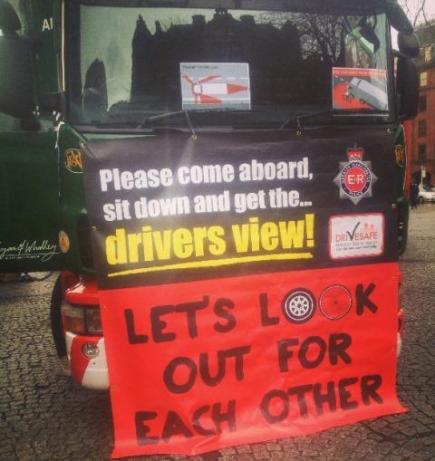 ALL ABOARD: GMP send out a clear message 
Louise Dudley, mother of Katie Dudley, eight, said: "It's half term and they're actually learning and it's fun!"
Fellow mum at the exhibition, Amy Whyte, from Sale, also praised the exhibition.
She said: "It teaches the kids a lot about road safety and it also makes the police approachable for them as well, so I think it's a great idea."
For more information about road safety and future Greater Manchester Police MP road safety events, click here.