A dedicated mum of three from Manchester has written a book about life with her severely autistic son.
Sarah Pounder, 34, and her partner Dale, 40, from Denton, have committed their lives to caring for their 11-year-old son, James.
But James not only has severe autism – but also suffers from attention deficit hyperactivity disorder (ADHD), sensory processing disorder (SPD) and has profound learning difficulties.
Autism is a developmental disability which can have serious and detrimental effects on those touched by it.
Around 700,000 people in the UK are sufferers, and such is the level of care that the disorder requires, that it affects the lives of more than two million people every day. The exact causes are still not known.
Speaking to MM, Sarah said: "I used to sit downstairs crying every night. There just seemed to be no hope out there, so I wanted to give parents some hope.
"I want them to know that they are not alone. When you have a child who is severely autistic, there are no other books out there that tell you how things are going to go and how things are. It's been absolutely unbelievable what we have had to do to try and get him the right help.
"At the beginning of it all when I started with James and he was tiny, I used to think that I wasn't going to be able to cope. But I have, and writing this book was also a type of therapy.
"Having a child who is severely autistic and being faced with the difficulties that we've been faced with has annoyed me so much. It has consumed me in such a way, that I felt like I had to.
"Because it's not a physical disability, people can't see it and they just think that he's being a brat. That isn't the case and I'm fed up of being judged."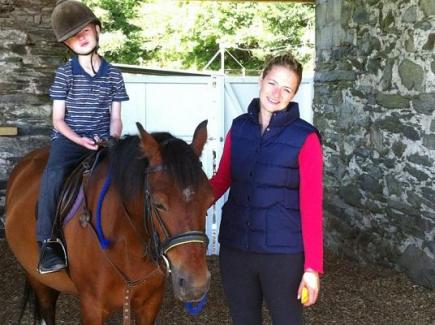 HAPPY MOMENTS: Jimmy hits the saddle
The book, which is called Jimmy, Me and Autism, took Sarah about a year and a half to write, which she did while juggling caring for Jimmy and his two younger brothers Adam, nine, and Joel, four. It was published in September.
Through her story, Sarah wants to shine a light on the difficult and often painful realities of autism, and expose the lack of help out there for people like her and Dale, who don't have endless amounts of money to finance expensive therapies and treatments.
"When he was younger, I noticed that he was really severe and we thought that if we got him into a special needs school early, that he might get the help and support that he needed.
"But it didn't happen like that at all. His behaviour just seemed to go from bad to worse. We started looking into alternative schooling and Applied Developmental Analysis therapy (ABA) kept coming up. I ended up having a look round an ABA school, and I was just amazed.
"Initially, James couldn't even look at you.  He couldn't speak. He kept having tantrums. We couldn't even get him out of the car. You couldn't even go to the shop to get a bottle of milk. That in itself was a task when he was trying to bite chunks out of everything.
"But through ABA, the changes we saw in James were huge. They got him out of nappies in six weeks. They got him speaking. He can't have a conversation with you at the moment but he can tell you what he wants.
"It's extremely effective, but ABA is expensive. He lost three years of therapy because we lost our case in the tribunals. It cost us over £30,000. We can't afford that. We've had to get loans.
"It was only my partner who was working. I wasn't able to go back to work because we couldn't get a child minder to have him. A child minder couldn't succeed with him.  We are in a better position than most, but you can imagine what it is like for a lot of people."
Sarah believes that if children do not receive the best possible treatments, parents are 'too old and tired to manage them' by the time they come out of education.
Autism is incurable, and an autistic child will take the disorder into adulthood too. Sarah wants therapies like ABA to become more main-stream, which she believes will lower the cost and save tax payers £250-300,000 per year for every autistic child who ends up in residential care.
According to Sarah, a lot of parents in the North West don't know about ABA and what it offers. Its disciplined nature means that some people 'do not support' it', but it helped James, and by 'breaking learning down into small bits', severely autistic children are able to progress using the therapy.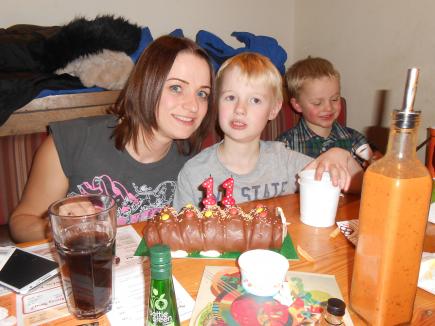 NOT ALONE: Sarah (left) wants her book to give other parents hope by sharing her and Jimmy's (centre) story
"They don't learn naturally," Sarah told MM.
"They have to be taught everything from scratch. It's a very complex condition. There isn't one type of autism, so what is right for one child might not be right for another, and there are a lot of underlying problems that can be mixed into autism that are separate, such as ADHD, which James also has.
"The major problem we have come across is that even though we have sufficient evidence for what needs to happen, parents have to go through very extensive tribunal systems and most education authorities don't do nearly enough to help. 
"It has to be quality that you are receiving, but these children have got potential. They shouldn't be carted and struck off as a waste of time.
"I believe that everybody has the potential to learn, and I think these children should be given a chance. They just need a bit more patience and a bit more time. That's why they are called learning difficulties, because it takes longer to learn."
Children show signs of autism in the first two to three years of their life, and it is a special condition which affects every sufferer differently.
It is not a learning disability or a mental health problem on its own, but like James, individuals can suffer from a combination of problems on top of their autism.    
Sarah doesn't think that enough is being done to address issues at their most vital time, or to solve the mystery of what causes the disability.
She continued: "I don't think anybody really knows why it seems to be on the rise, but I think screening needs to be really looked at properly from a young age, and then therapies like ABA need to be set up.
"Early intervention is the key, and then these children might have a chance of succeeding in mainstream education. It might not cost as much money if they get things sorted out earlier.
"I think more training needs to be given in picking up on special needs. The big issue is cost, but it is just a shame that people have to suffer through it, and I don't understand why when we had sufficient evidence, James wasn't given the help that the needed.
"The only reason that we have been given help like ABA in the end is because he went to a school that we didn't want him to go to, and he ended up swallowing a teaching aid in February which perforated his bowel.
"He needs to be watched all the time and that was brought up in court and tribunals, but it was ignored, and then that happened. He lost out on three years of ABA because of that.
"More training needs to be given and people need to be more compassionate. That is why I wrote my book and it would do well if professionals actually read how difficult it is, because the book does detail that really well."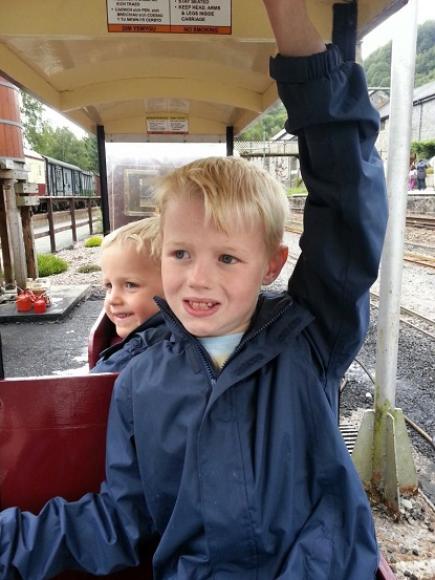 ALL ABOARD: Jimmy enjoys a train ride with his brother Joel
The response to Sarah's book has been 'really positive', and there are a number of reviews on Amazon that indicate how much it is helping the lives of those affected by autism.
Sarah said that she was 'worried about what people would think' of the book's honesty.
"I've written it from my perspective," she said.
"It is incredibly honest, but I think people can relate to that because it's not glossed up and it is the truth. A lot of people out there are comforted by the fact that they are not the only one."
Despite finding out about her son's autism 11 years ago, it has taken a long time for Sarah to come to terms with the harsh facts.
In the future, she hopes that doctors and professionals treat sufferers of autism with the compassion that they deserve, but are more 'brutally honest' with their diagnoses, so more can be done sooner to provide the best care possible.
"With James, we were given his diagnosis bit by bit. I don't think doctors and professionals are brutally honest enough because they find it difficult.
"They never know how things are going to turn out. That's why they leave it longer before a child is diagnosed, in case they get it wrong or the child catches up, so it sort of snowballed.
"I just want him to get the best help possible, and for him to progress and survive, not just in terms of health, but socially as well, so he can have a good life."
Jimmy, Me and Autism is available to purchase on Amazon in paperback and e-book versions now.