Four young men including three teenagers have been arrested following a string of violent robberies mainly targeting Manchester Asian families for their jewellery – in their own homes.
Gold jewellery was targeted in numerous break-ins of predominately Asian families across the north Manchester and Salford areas since April.
Families were subjected to terrifying ordeals in their own homes, with some held at knife-point in front of their children.
Greater Manchester Police's Operation Resemble targeted suspects and more than a dozen arrest warrants have been issued over two days.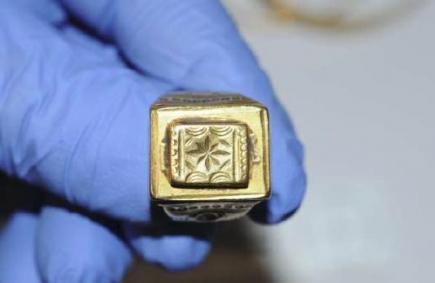 DO YOU RECOGNISE THIS? Police are appealing for those who may have seen the jewellery
As a result, four men, aged 20, two aged 17 and one aged 16, have been arrested on suspicion of conspiracy to commit robbery between April 16 and June 5.
They remain in police custody for questioning.
Earlier this month, police arrested four people on suspicion of robbery after a Jewish family were targeted. They remain on police bail.
Detective Chief Inspector Clare Devlin said: "We know these criminals are causing a great deal of anxiety and apprehension among Asian families living in our communities.
"As recently as two nights ago we had an innocent family terrorised in their own home and attacked with a knife which is an appalling act of criminality.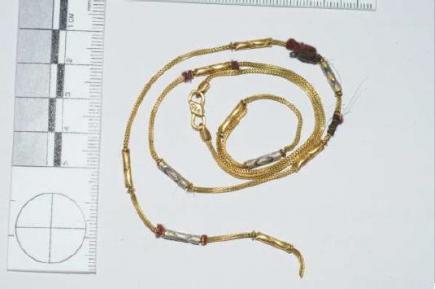 'VICIOUS' RAIDS: Gold jewellery was targeted across north Manchester and Salford
"I want these raids – which will not be the last – to send a strong message to anyone who is living in fear that they too will be targeted.
"We will simply not allow innocent members of our community to be threatened in the sanctity of their own home and have their family jewellery stolen."
During one such incident that occurred at about midnight on July 15, an Asian family were targeted in their own home on Alderglen Road in Cheetham Hill.
A man was also attacked with a knife before the masked gang of thieves stole jewellery.
Jewellery suspected of being stolen from the Cheetham Hill burglary on 15 July 2014 has been recovered.
A set of earrings have also been discovered and police are appealing for anyone to come forward if they recognise them.
GMP's advice to help prevent break-ins involves keeping jewellery in a safety deposit box at a local bank, double-locking doors and windows and installing CCTV cameras.
Detective Chief Inspector Clare Devlin said: "I would also ask anyone who thinks someone is acting suspiciously in your area to come forward.
"If you think someone is canvasing a property then please call us and we can try and stop these criminals in their tracks before they hurt someone else."
Anyone with information can call Crimestoppers, anonymously, on 0800 555 111.