Members of Greenpeace Manchester visited Volkswagen dealerships in Altrincham and Stockport this week to protest against the company's production of diesel cars.
The eco warriors stuck giant hazard warning stickers on polluting diesel vehicles, which read 'WARNING: driving this car creates dangerous levels of pollution', at the two spots in Greater Manchester.
Another which was slapped on the window screen of a pricy motor, read 'diesel harms your health'.
The environmental organisation is demanding that Volkswagen stop producing diesel cars and go 100% electric.
Greenpeace member Helen Dryden explained that the team hoped the car manufacturer would stop making vehicles that 'harm people's health'.
She said: "Air pollution is an invisible killer, and diesel vehicles are the biggest culprit. Volkswagen knows its diesel cars cause pollution.
"It was even caught cheating emissions tests.
"It's time for Volkswagen to live up to its name, and stop making cars that harm people's' health. It's time for Volkswagen to ditch diesel."
Air pollution from cars and vans costs £6bn in health damage every year in the UK, while diesel vehicles account for 90% of toxic NOx coming from roads.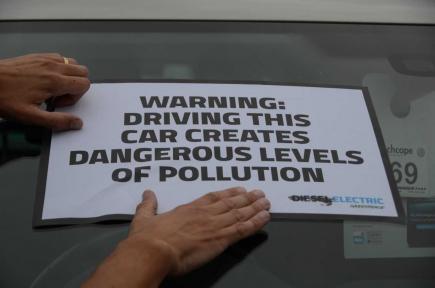 PROTEST: Greenpeace took action at the sites around Greater Manchester
Helen added: "Greater Manchester has the highest rate of emergency hospital admissions for asthma in the country and a recent study has linked this to polluting particles emitted from road vehicles.
"Combine this with Manchester being the second most polluted city in the UK and it becomes clear why immediate action to move away from diesel cars is vital".
Volkswagen – which sells the most diesel cars in the UK – has previously been caught cheating on emissions tests but faced no civil or criminal charges, but did get slapped with a hefty fine.
More than 1.2 million vehicles sold in the UK were fitted with devices designed to mislead the public and encourage the sale of cars which emit dangerous levels of air pollution.
Volkswagen is now facing the largest group litigation action in UK history, brought by British consumers seeking compensation over the Dieselgate emissions scandal.
Affected consumers are still able to join the suit before the October 26 deadline.