Corrie star Jennie McAlpine is urging her fellow Bury women to 'make a pledge' and get active as part of the I Will If You Will movement.
The 30-year-old actress teamed up with Hollyoaks star Nikki Sanderson and Netball ace Tracy Neville, at the beginning of the summer, to help promote the initiative.
The £2.3million Sport England project runs activities throughout the borough's six towns and aims to address the national gender gap in the number of men and women being active and playing sport.
Jennie, best known for playing Fiz Stape in Coronation Street, told MM: "There's so many ways to get involved – one way is to pledge to complete 30 minutes of exercise a day for 10 weeks. All you have to do is head to Twitter and tweet using the hashtag #IWIYW30for10.
"Thirty minutes might not seem like a long time but if you're not somebody who usually exercises it's a great start. I'm not a fitness fanatic in any way but I love walking and I live in Manchester city centre so I'm always walking into town.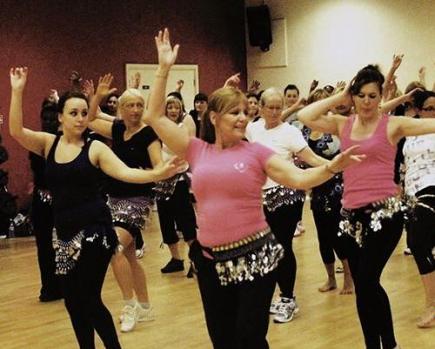 LET'S GET PHYSICAL: Jennie loved the Belly Dancing at the IWIYW taster day
"I think one of the biggest mistakes people make is they go out and they join the gym and sign up for all these classes but they don't enjoy the activities so then it's really hard to find the motivation to go. That's why it's important to find something you enjoy.
"I tend to stay clear of anything that involves lots of balance or co-ordination like yoga or pilates because I just end up falling over but I loved the Zumba and Belly Dancing we did at the taster day.
"There are so many classes to choose from at IWIYW and there really is something for everyone so just get online and have a look at what you fancy."
Sport England unveiled Bury as the location for an intensive year-long sporting experiment last May.
The borough beat off stiff competition from towns across England to secure the multi-million pound National Lottery funding.
The programme also tackles softer issues around participation in sport such as social motivations, peer pressure and body image. 
Bury-born Jennie said: "Keeping yourself active is really important for your emotional well-being so always try to put some time aside for yourself.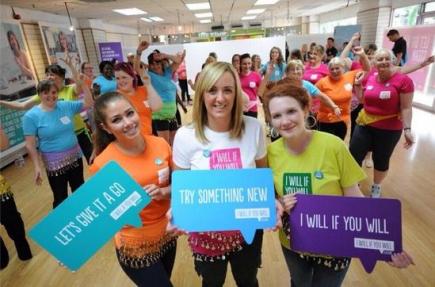 EVERY LITTLE HELPS: Just 30 minutes of exercise a day could life changing
"I know it can be difficult when you're working hard all week and looking after kids but even if you just take 15 minutes out of your day to go for a walk through the park or to the shops that can really make a difference.
"I go mental when I see all these magazines telling you to follow these celebrity's fitness regimes because people who work and have children just don't have the time to be doing all these crazy work outs."
Jennie is due to give birth to her first child, with long-term partner Chris Farr, in November.
She said: "At the start of the project I wasn't too pregnant but they're going to have to be quite careful with me now because I can't move very fast. It takes me twice as long to walk everywhere.
"They're definitely going to have to order me a bigger scarf if they want me doing the belly dancing again."
For more information about the I Will If You Will campaign and to find out how to get involved click here.
All images courtesy of I Will If You Will, via Facebook, with thanks