A young family from Bury has been left in shock after their beloved family cat, Flo, was found with a shattered rear left leg after being shot.
Flo had been missing for two days before she was found under a bush after dragging herself back home by her front paws.
Flo's owner Richelle Thompson, who lives just off Vernon Road in Greenmount, said: "We took her to the vets with what looked like injuries by possibly being involved in an accident with a car.
"She was in unbelievable pain and in shock, she has been suffering on her own whilst we have been frantically searching for her."
The vets discovered that the bullet in Flo's leg was from a real gun and not a pellet gun which could have been used by a child.
Flo unfortunately had to have her leg amputated but is making a good recovery. She still has a high temperature due to an infection in her leg, caused by the two day delay in getting treated.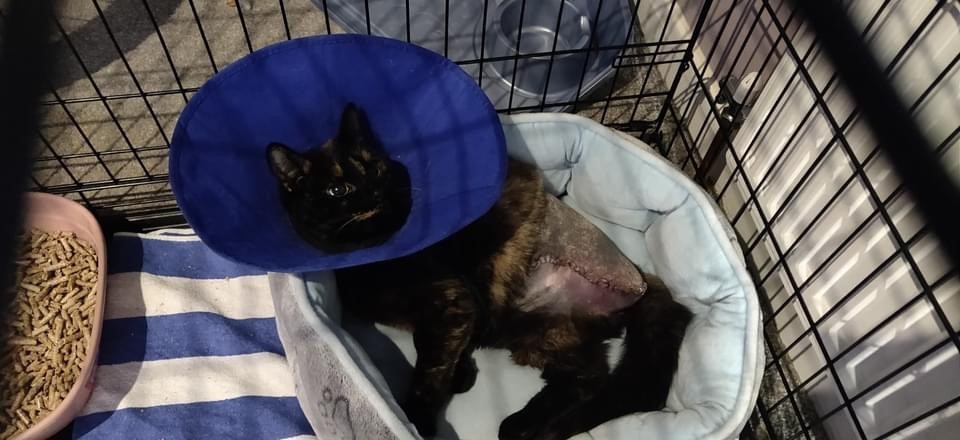 The person who shot Flo is still unknown, and residents of Greenmount and the surrounding area are concerned that someone with a gun is targeting family pets.
Thompson added: "I hope and pray the RSPCA finds the cruel person that shot Flo.
"My two-year-old daughter, husband and I have been badly affected and shocked that anyone would shoot our family cat very close to our home in Greenmount."
The RSPCA and Police are involved in trying to track down the culprit and are appealing for anyone who knows anything about this to get in contact.
The family have set up a go fund me page to help pay for Flo's £3,000 vet bill.