Greater Manchester is set for several more weeks of tier 3 restrictions at least, the Government announced today.
The restrictions were imposed despite a reduction in coronavirus rates across the region.
This has drawn frustration from leaders across the region, who highlight the fact that even though case rates have come down, the strictest restrictions are staying in place.
Sir Richard Leese, leader of Manchester City Council, said: "Even though our numbers are better than either London or Liverpool's were 3 weeks ago, still in Tier 3.
"Unbelievable!"
Greater Manchester Mayor Andy Burnham took to Twitter to voice frustrations at what appears to be a north-south divide over restrictions.
He said: "When cases rise in the North, the North goes under restrictions.
"When cases rise in London and the South East, everyone stays under restrictions."
Manchester case rates in the period between November 27 and December 11 fell by 20%, according to figures released by Andy Burnham's office.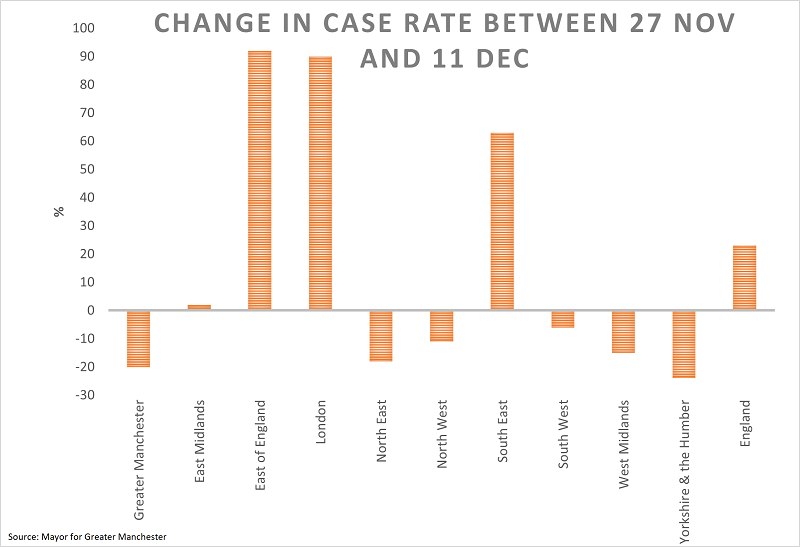 This compares to a 23% rise across England as a whole.
Case rates in North Somerset rose 14.4% in the same period, but the region has been moved from tier 3 to tier 2.
Matt Hancock, Secretary of State for Health, said: "I want to pay tribute to everyone who's been doing the right thing and getting rates down.
"Whether or not your area has come down a tier today."
The restrictions mean that pubs and restaurants will remain closed in the build up to Christmas, except for takeaways.
Andrew Gwynne, MP for Denton and Reddish in Greater Manchester, said: "We now seem trapped in Tier 3, no matter what.
"I really feel for those pubs, bars and restaurants who were hoping for a chink of light at the end of a very dark tunnel."
Greater Manchester entered tier 3 on 23rd October, meaning that many pubs and restaurants have been forced to close for almost two months.