One hundred women and girls have come forward and revealed they were subjected to female genital mutilation in the last FOUR MONTHS of 2014 in central Manchester alone, MM can reveal. 
The shocking new statistics also reveal that 556 women in Central Manchester had undergone female genital mutilation (FGM) procedures and were since alerted to health officials also between September and December last year. 
There were 1,946 NEW cases of FGM reported nationally, combining for a total 6,875 active caseloads for those in the NHS at the forefront of the battle against the abhorrent practice. 
Most appallingly, 198 girls were subjected to deinfibulation, a surgical procedure of opening up a stitched up vagina when the husband returns from being away or on the wedding night. 
Yet this is believed to only be 'the tip of the iceberg', as councillors last month claimed that there are many more being subjected to FGM unknown to health workers – and 2,000 more are believed to be at risk.
FGM or female circumcision, which is illegal in the UK, involves the partial or total removal of the external genitalia or injury to the female genital organs, whether for cultural or other non-medical reasons.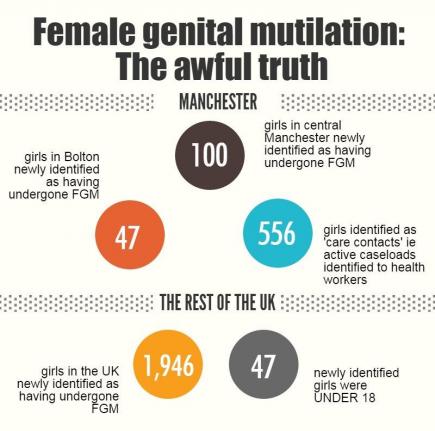 The statistics were published by the Health and Social Care Information Centre on January 30 and charity workers warn the figures indicate FGM is becoming a 'bigger problem' in the UK.
John Cameron, head of the NSPCC helpline, said: "These new figures indicate that female genital mutilation is a bigger problem in the UK than we thought and there are obviously children at risk of being subjected to this cruel and unnecessary practice right now.
"It's vital that all health professionals are trained to spot the signs and alert children's services if they think a child is at risk. Those victims who have already undergone this barbaric procedure also need help to overcome the trauma.
"A lot of work has been done in Manchester by agencies including the NSPCC and the police to raise awareness of this issue and it may be that this is behind the apparent rise in reporting in the city."
Between September and December 2014, the total number of care contacts for any patient identified with FGM in Central Manchester was 556.
This included 100 newly-identified cases in Central Manchester over the four month period (in addition to 47 new cases reported in Bolton), and an active caseload of 189 patients already identified prior to the reporting period.
The data was collated from monthly reports from acute hospital providers in England.
The new HSCIC figures also revealed that around 500 cases of FGM are being reported each month across the UK but it is believed there are many more instances that go unreported.
It is estimated that over 20,000 girls under the age of 15 are at risk of FGM in the UK each year and 66,000 women in the UK are thought to be living with the consequences of FGM, although the true number is unknown.
According to the stats, It is believed that globally up to 140 million women have undergone the procedure.
From September to December 2014, 1,946 newly identified cases of FGM were reported nationally, with 47 of those in girls under the age of 18.
Young females are often taken to their country of origin – the practice is especially prevalent in parts of central and northern Africa and parts of Asia and the Middle East – so that FGM can be carried out during the summer holidays. However, it is now feared more procedures are being carried out here in the UK.
The maximum sentence for carrying out the procedure or helping it to take place is 14 years in prison.
Greater Manchester Police have been working over the last 12 months to create greater co-operation between all the agencies involved in dealing with the aftermath of FGM, including Manchester Airport.
They have also been working alongside Manchester schools and members of local health and social care, resulting in a significant increase in the number of cases being referred to GMP over the last year.
Detective Chief Superintendent Vanessa Jardine said: "FGM is child abuse. We have to be clear with those that practice FGM that it is an offence and will not be tolerated.
"Whilst we wish to educate communities to understand the practice and the horrific nature of carrying out the procedure, we also need to stress that abuse of this nature is a very serious offence and will be investigated fully. The position could not be clearer under the UK law.
"As a force we have taken part in a number of awareness raising activities to increase understanding and to support those 'at risk communities'. It reinforces the position that FGM is illegal and is considered as physical child abuse."
In Greater Manchester, all 10 councils have joined with police and health services to educate frontline staff, who work with vulnerable children, on how to spot the signs of FGM and how to protect and help victims.
Tony Lloyd, Greater Manchester's Police and Crime Commissioner, added: "Female genital mutilation is abuse.
"Sadly it does exist within our communities and although the figures released this week show the shocking number of new cases reported each month, this is just the tip of the iceberg.
"There are hundreds more victims suffering from this horrific and life-threatening crime and we all have a duty to take action and eradicate it.
"In Greater Manchester, we have made a commitment to work together to put a stop to female genital mutilation and sending a message to victims that they don't have to suffer in silence – help is available."
For more information about female genital mutilation, including information about where to get help and advice, click here.
Anyone with concerns is asked to contact a teacher or doctor, and police on 101, Crimestoppers anonymously on 0800 555 111 or the FGM Helpline on 0800 028 3550.