The whole world is watching the developing Ukrainian crisis with shock and horror – and Manchester has more reason than most to pay attention.
Mancunians may not be aware that the city is home to a vibrant Ukrainian community – and has been since the early20th century.
At the community's heart is the Ukranian Cultural Centre 'Dnipro', situated in Cheetham Hill.
Dnipro is home to the Taras Shevchenko Ukranian School, Orlyk – a traditional folk dance ensemble – and a range of other Ukrainian organisations. It also serves as social club, hosting a variety of events and concerts.
The centre is run by the Manchester branch of the Association of Ukrainians in Great Britain (AUGB), the largest representative body for Ukrainians in the UK.
Manchester AUGB chairman Bohdan Rutkowskyj is keen to stress that the troubles in his homeland are keenly felt in Manchester as much as they are in Mariupol – or even Kiev or Kharkiv.
Mr Rutkowskyj told MM: "It does impact them, as they all have relatives over there and it's frightening what's going on – especially now"
"Really it all started back in November when everybody was expecting Yanukovych to sign the trading agreement with the EU, in fact there was a lot of positive press to say that was going to happen.
 "All the negotiations were going on fine until the last minute – then Putin decided that he didn't want that and Yanukovych was basically his puppet.
"The Ukrainian people were looking forward to it as they could see that the trading agreements on offer would make life better for Ukrainian people as a whole.
"Unfortunately, when he changed his mind back in November that sparked off the Maidan protests."
Ukraine has been at the centre of the world's attention following the Euromaidan revolution which ousted president Viktor Yanukovych amid fury at an abandoned EU trade deal and allegations of corruption.
Yanukovych has now been disowned by his own party and accused of 'crimes against humanity'.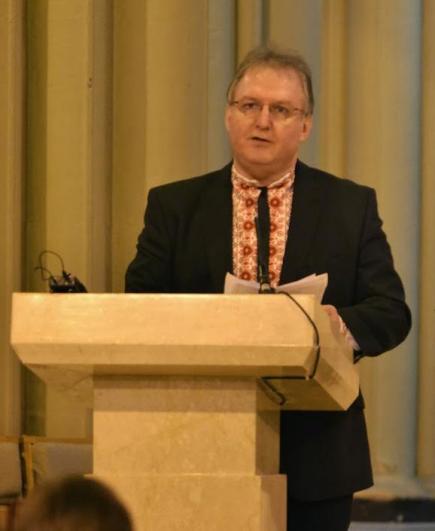 PLEDGE OF SUPPORT: Manchester AUGB chairman Bohdan Rutkowskyj stressed that the troubles in his homeland are keenly felt in Manchester
Russian leader Vladmir Putin reacted to the ousting of Yanukovych by invading the autonomous Ukrainian republic of Crimea, claiming Russian lives were under threat.
In response, United States of America President Barrack Obama has urged Putin not to continue down this 'dark path' while imposing increasingly tough sanctions and warning Russia it faces international isolation.
The crisis in the region continues, with clashes between Russian separatists and Ukraine special-forces in the east of the country among the most recent developments
The term 'Euromaidan' – which translates into Euro-square – has come to describe a series of ongoing protests and revolution centred on Ukraine's Independence Square in the capital Kiev.
The Maidan protests led to a series of demonstrations by Ukrainian groups across the UK, including the Manchester AUGB branch.
 "We used to get together on a weekly basis and we wanted to let people know and publicise it," Mr Rutkowskyj told MM.
 "A lot of people didn't know what the Maidan was all about and what was happening, so it was about helping people out.
"And at the same time we were sending pictures over to Kiev – this gave them a bit of impetus and let them know they weren't alone."
Some members of the community have also been to Ukraine to take part in the protests in Kiev and other parts of the country.
There have been fears that, having taken control of Crimea, Putin may push on further into southern and eastern Ukraine on the premise of protecting ethnic Russians.
And although the majority of the Manchester community are from western Ukraine, many have links with the south and east of the country.
"We have quite a lot of teachers here (at Dnipro) from eastern Ukraine," said Mr Rutkowskjy
"Some are from Kharkiv, the second largest city in Ukraine, and some from Donetsk – that's where Yanukovych fled to.
"He tried to get support there from the Russian population, but it didn't happen, then he ran off to Donblas.
"Then he ended up running off to Crimea and he managed to get through (to Russia) that way.
"But we have a few people from that area here – and there is one in particular who has a mother as well as brothers and sisters there."
There is the also the possibility that Dnipro could act as a polling station, as some Manchester-based Ukrainians are eligible to vote in the upcoming May elections.
"Some of them are very keen to vote because they don't want idiots getting in again – like what happened with Yanukovych." said Mr Rutkowskyj.
"Even in Crimea, there were a lot of Russians that got to vote and they had nothing to do with Crimea they came for Russia – it was a con."
The focus of the community's fundraising has changed recently, with more money now going towards families who have lost people in the protests.
"There were 80-odd people who died straight away at Maidan and now more people have died and it's getting close to 100," said Mr Rutkowskyj
"They want to give their support basically as a lot of them were men who had families and so on.
Recent protests held in Piccadilly Gardens paid tribute to those who have lost their lives in Ukraine as well as drawing attention to the country's plight.
"When we were in Manchester (city centre) not long ago, we did our vigil in honour of the people that died," said Mr Rutkowskyj.
"We read out all the names of the people who died and who they were, what they did – and it was quite heartbreaking really because they ranged from being 17-18 year old students to ordinary workers, university professors, doctors, engineers.
"All kinds of people were represented, there was a whole range.
"Now Putin's putting it out in the press that they were all incredible radical, Stalinists and neo-Nazis and all that and they weren't.
"They were just ordinary people fighting for the future and their own children .
"Some of them came from Belarus. They weren't Ukrainians, but they were fighting for a cause."
Looking to the future, Mr Rutkowskyj hopes that diplomacy and international pressure can resolve the situation, but warns this may not be the case.
"Well, (acting president) Turchynov and Yatsenyuk (the interim Prime Minister) have both taken the line that we do not accept that Crimea has been taken over by Russia – it's an occupying force.
"They don't want people to die – but if it comes to a war, there will be a war.
"In Crimea, the restraint they've used is tremendous in the face of extreme provocation and they're trying to do the right things by listening to the West, the West is saying 'look, don't provoke things'.
Mr Rutkowskjy believes the strategy the Ukraine has adopted under advice from western countries may have stalled Russia, but is still concerned at what Putin may do in the long term.
"In fact, I think Putin has been taken a little bit aback. He wanted to do the same thing he did in Georgia, he wanted a pretext to start decimating people and taking over," he said.
"I think if there had already been fighting earlier on he would have moved them (his troops), there will come a point – and I know that a lot of reservists have been called up.
"In fact, there's one person from round here, who's actually going back,because he's been in the military before and he's actually going back as a military reservist to defend the land.
"Putin doesn't care about any world order – he's a megalomaniac and nobody will stand up to him, he's a true autocrat and that's the kind of system he wants."
The situation has become even more grave over the weekend.
Ukraine's new government and the West have accused Russia of destabilizing the region as a precursor to possibly sending in troops to protect the local Russian-speaking population
In a televised address, President Turchynov said Russia was 'waging war' against Ukraine. He also said Ukraine would launch a "full-scale anti-terrorist operation" against pro-Russian separatists who have seized public buildings in in the east of the country.
While the United States' ambassador to the United Nations Samantha Power warned unrest in eastern Ukraine was following the same pattern of events as led to the annexation of Crimea.
What has been described as Ukraine's 'painful relationship' with Russia looks set to continue for some time, as its former Soviet master looks to maintain its influence.
Mr Rutkowskyj told MM: "He (Putin) lost control of his puppet in Kiev and, as a lot of people have always said Russia on its own is a country, but with Ukraine, it's an empire – The Ukraine is such a fundamental part of that."