Two Hollyoaks stars have been encouraging Mancunians to try yoga at the Trafford Centre.
Actors Gemma Merna and Jennifer Metcalfe taught a class of shoppers and offered fitness advice.
The pair admitted that their approach to fitness has changed over the years, and are now more focused on their health rather than their appearance.
"We spent far too much time worrying about things that really ultimately do not matter," Jennifer, who currently plays Mercedes McQueen in the soap, told MM.
"I think these days we're both very much laid back, take us as we come and as long as you feel comfortable and great I think you always look great.
"I'd sooner see someone that's not aesthetically perfect but looks happy than someone that's Instagram-perfect."
The actors, who admitted to 'not giving a crap' about how they look in the media, encouraged women to embrace their bodies to achieve the same confidence.
"Don't aspire to these perfect images because that's what they are, they're just images," Jennifer said.
"You don't want to look a clone of each other, it's not real."
Gemma Merna, who played Carmel Valentine, recently left Hollyoaks to pursue her dream of becoming a professional yoga instructor.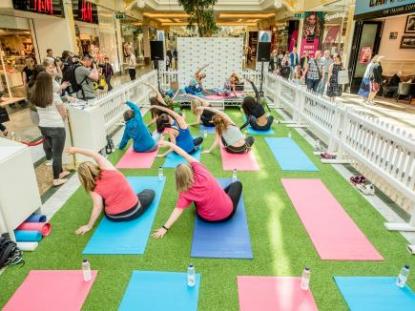 LIMBER UP: Shoppers take to their mats at the Trafford Centre
After14 years of studying yoga, Gemma now teaches at the Liverpool Yoga Studio.
"I just go into another world when I'm teaching," Gemma told MM.
"It's helped me physically but mostly mentally in the sense that it makes me appreciate a lot more in life."
After naming her yoga mat her safe place, Gemma admitted that she still has a passion for acting and would return for the right role.
She recently took part in the 24 hour yoga session for Sports Relief with a different class every hour including laughing yoga.
"We both love yoga, Gemma's been trying to get me into it for the last five years," said Jennifer.
"I was just sweating it out in the gym and really getting nowhere so I've been a yogi for the last year.
"I really do love it, Gemma's classes are amazing in Liverpool."
However, Jennifer said that she still likes to hammer it out in the gym for some 'me time' in a completely different zone to yoga.
She also claims that she needs squats in her fitness routine for her 'big hefty butt' and that exercise is more about what suits the individual.
Still, Jennifer doesn't feel the pressure to follow her gym routine constantly, stating that 'the world won't end if you miss the gym for two weeks'.
"Instead of pushing your body to do what you think it should do, just do what it wants to do," she said.
Another tip they shared was to put on your gym clothes at the beginning of the day and to make time for exercise within your schedule.
As well as exercise, Jennifer is a fan of LighterLife Fast's 5:2 diet.
The diet plan company, which organised the event, encourages people to have two 'fasting days' per week with a lower calorie intake. 
"The good thing about Lighter Life is you don't ever feel like you have cheat days, as long as you eat within moderation, which is good because you're never depriving yourself," she said. 
Images courtesy of LighterLife Fast, with thanks.