Lynda Sterling, the director of OT Creative Space, had seemingly been in six places at once for the last few weeks, overseeing a collection of murals that have been gradually growing around the area and which will form the OT Art Trail.
I found her on Norton St, stood across from a cherry picker in hi-vis, watching a tree take shape on the gable end of a terrace house. Before she could be called away to another part of this quiet corner of Manchester, I asked her some questions about the trail, the community and her hopes for the area.
Sterling explained: "As an art space we want to be bringing art to where people are, whether that's on the streets, or the ends of houses, or parks. Then obviously with lockdown we thought the more stuff we can do outside the better. As people start to go outside and walk around the area, we wanted them to see new art that celebrates the community coming together after being separated for so long.
"We would love the children, the people of Old Trafford, the whole neighbourhood, to take ownership of the murals and to feel that they are theirs. It's something for them to celebrate, and to show off, of course."
A result of Arts Council funding, the project continued through the depths of lockdown by sourcing ideas from the community in inventive ways, seeking contributions from primary schools to care homes.
Sterling described the process: "We gave out three hundred creative packs, which had illustrations of the locations, materials and worksheets from the different artists, to get people thinking about the different ways they could come up with designs, as well as words that represent Old Trafford to them.
"We gave them out through a variety of different means; for older people through extra care, through the food bank, and through giveaways in the park to reach as broad a demographic as possible. We also ran online workshops, from making origami houses and drawing maps of the area to poetry workshops and videos from our artists showing a skill that people can learn. Any way of people putting their ideas down on paper."
An early suggestion was something that reflected the diversity of the cultures here and the languages spoken, so OTCS asked people to say 'Hello, how are you?' in their language, and looked to get as many as possible. Now a mural on the side of a corner shop greets people with the phrase in several different languages, something Sterling hopes people will feel is theirs as well as everyone else's.
When choosing locations OTCS looked at key places in the area – such as Seymour Park – and approached people, as well as having residents enthusiastically approach them with the offer of their gable ends. These offers continue even now, and Sterling hopes the future will bring opportunities for more murals to spring up.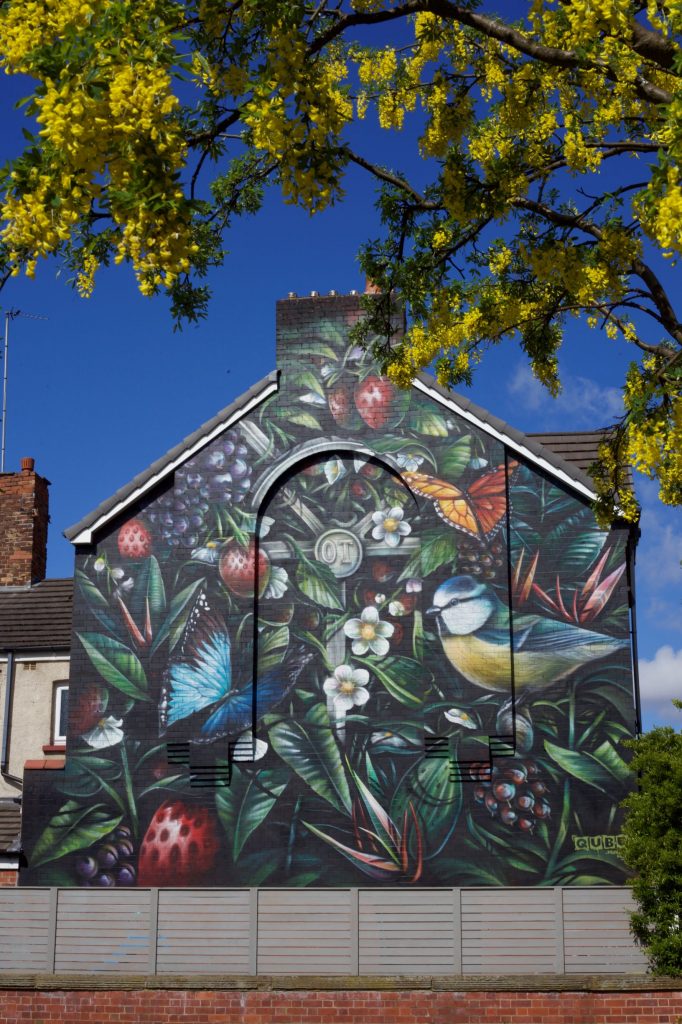 She added: "My hope is that we can support the area creatively. That could be individually – through the programme of workshops and classes that Michelle and I will be doing in the studio – or through walking groups in the park, for instance.
"More generally we just want to keep the area bright and clean, so we can have pride in it, and it be a nice place for people to live in and engage with, and somewhere to be creative."
Equipped with my trail map – courtesy of a QR code – I set off on a walk around the neighbourhood in search of the artists at work.
On Gladys Street I found local artist Jamie Rennie, known professionally as JME-DZYNZ, who since thirteen has grown from one of Manchester's first graffiti artists to become a prominent name in the world of street art. An Old Trafford local, he described how when hip hop culture hit the north, it brought with it unforeseen opportunities.
Rennie explained: "Seymour Park was a huge spot for graffiti, not just in this community but in the whole of Manchester. We had a massive crew, not just with artists but dancers, DJs, beatboxers, loads of people were involved in it. It was a pretty amazing time to grow up in.
"A lot of us had pretty chaotic childhoods, and it was a way of getting out of the other nonsense that was happening, because there was a heroin epidemic here at the time.
Graffiti and its culture has made a difference in terms of my life, and it's definitely made a difference in a lot of my friends' lives as well.
"Old Trafford as a community, as people, is very much what hip hop culture is about. That idea of diversity, shared experiences, amalgamation, cut and mix. Old Trafford is that, it's cut and mix and has been since the early days."
Rennie described how while ordinary people have often had a soft spot for street art, the real change in attitude over the years is as a result of a change in the authorities' mindset. That some of those who grew up enthralled by hip hop are now high up in local councils and public bodies.
Rennie added: "Typically street art has tended to be slightly out of the way because of that inherent risk of being caught if you're not doing it legally, so once you start going into the legal realm, all this kind of stuff becomes possible."
As well as being a long-time illustrator of the area, Rennie is also effectively a walking history of the place, adding to his own lived experience an extensive knowledge of Old Trafford that goes back much further than the 1980s.
He explained how this has informed his mural, a girl called Gladys growing from the earth alongside strawberries: "It's been about working out what kind of history we can put on this. If you go back 1000 years, this area – and right through Hulme up to Castlefield- was Strawberry Fields.
"This was pretty much a wild strawberry patch. The first people who came to settle in this area were the Danes and they used strawberry farming as a way of subsiding. Obviously there was no sugar in those days, so jam was a way of making a living. You could just come and pick the wild strawberries, live in an idyllic, bucolic countryside setting, and make some money out of it while living in a small community, which was maybe a few families by the sounds of it."
Rennie praised Old Trafford's ancient reputation as a melting pot of all peoples, from the Celts that mingled with rural lancastrians to the many diverse and disparate communities that have settled since the end of WWI.
He added: "It's changed its face many times. There's a fascinating history to the area and I'm just building on that."
A short walk from Gladys Street I spotted another cherry picker, and found Russ Meehan – better known as QUBEK – climbing into a harness, ready to continue his work from above. Most likely known for his work in the Northern Quarter, I asked him how painting in such a dense residential area compared to the busy warehouse district of NQ.
Meehan said: "For me it's really nice to paint here, because I live here. So I really feel like a part of this community and painting this mural has solidified that even more; meeting more people and getting to know people even better.
"I used to do community engagement as a youth worker, so it's nice to step back into that again and work with people.
"Most of the time when I paint in the Northern Quarter it's my own stuff, with the odd commission, but generally I go there to have the ability to paint what I want to, so this is a nice step away from that. This design mainly was done by someone round here, most of it has come from their actual sketch. I've just accentuated their sketch."
Meehan pointed to the bird in the middle of the mural and noted their popularity in street art, explaining that they're often seen as transcendent, and that they carry different senses and symbolic meanings to different people. I would agree with this sentiment not only in his work, but in all the murals I saw on my walking tour.
The Old Trafford Art Trail is like all good art; it has no fixed point of interpretation, and is for everyone.