A Manchester family who were the victims of two terrifying burglaries dashing their plans of a Disney World holiday have had their dreams come true – after a GMP officer raised £1,570 for them.
Sucha Singh, 44, who is paralyzed from the neck down, was forced to watch in horror as his wife Angela Loey and their son Akash, 14, were threatened with machetes following a break-in by three masked men.
The attack on their house in Cheetham Hill in May 2014 was just eight months after another raid in which masked men escaped with jewellery and £700.
This money had been saved up by Suchaso so that he could send his wife and son to Disney World in Florida for a dream vacation.
And after hearing of the families suffering, Constable Gary Carter along with fellow fund-raiser David Downie, set up a Just Giving page dedicated to the family in an effort to send them on their travels.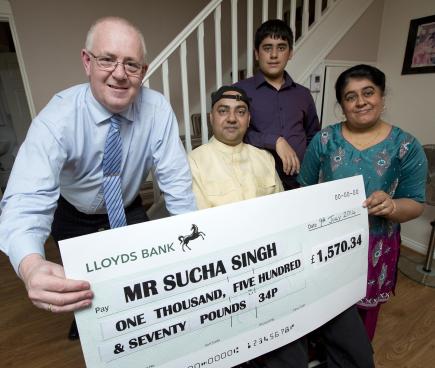 TRIP OF A LIFE-TIME: Constable Gary Carter with Such and his family
They started collecting prizes for a raffle and appealing for people to donate to the cause with an overwhelming number of responses.
Gary said: "It has had a visible effect on them and really helping them to recover their faith in humanity.
"I have been so impressed by people's generosity; David in particular is a fine example of the way that old-style community values still exist."
Angela acts as Sucha's full time carer and his son, Akash, has always wanted to go to Disney World meaning that Gary was determined to raise the necessary money.
"With Sucha being paralysed he obviously cannot work and it is obviously very difficult for the family to afford such a trip," he added.
"He had been saving for a long time to give his son the chance of a dream holiday, and to give his wife a break from the day-to-day work of caring for both him and Akash. 
"The robbers not only caused significant psychological damage to the family, but they also stole Akash's only chance to experience Disney World. 
"When I saw this, I knew I had to do something to help and the outpouring of support and money has surpassed anything I ever hoped for."
Gary also helped the family receive support by improving the home's security but he believes that this isn't the most important thing to come out of this.
"Helping Akash get the holiday of a lifetime is by far the most rewarding aspect."