The results are in and Manchester's schools are celebrating an impressive set of exam results for yet another year.
The number of A* grades in Manchester's city has meant these schools have outperformed those of others nationally, with the percentage of exam entries achieving the sought after A* grade increasing to 10.9% this year, which is 2.6 percentage points above the national figure of 8.3%.
Councillor Luthfur Rahman, lead member for schools at Manchester City Council, congratulated students and schools, saying: "This has been another great set of results for our schools that builds on the success of previous years.
"Despite the various challenges we've seen this year, our students and schools have shown yet again how determined they are to reach for the stars and get the very best results they can."
The number of Manchester school exam entries achieving A*- A grades has also gone up to 26.1% this year – which is just 0.2% below the national figure of 26.3%.
Further, the percentage of students achieving A*-E has dipped somewhat in the city this year – at 97.2%, which is just a few points below the national figure of 97.9%.
At Parrs Wood High School in Didsbury 27% of all A Levels and BTEC examinations taken were awarded top marks.
High fliers included Briana Douglas, whose two A* and two A grades secured her a highly coveted place at MIT University in Boston, USA – a world class institution. 
As well as sitting her A-levels this year, Briana also completed a rigorous set of American examinations to qualify for her place at the top-ranking university where she will be studying Computer Science and Engineering.  
Pupils at King David High School also had reason to celebrate after nearly a third (31.43%) of all exams taken at the school were graded A*, and 52% of all exams either A* or A.
Six students at the school will be heading to either Oxford or Cambridge, including Galia Shomron who is off to Cambridge with 2A and 1A* to study Psychology, and Joshua Fine who will be studying Ancient History and Classical Archaeology at Oxford with 2As and 1A*.
Other successful students include Libby Cooper who will be pursuing a career in policing, and Tara Morarah who will be attending Birmingham University to study Speech and Language Therapy.
At William Hulme's Grammar School in Whalley Range, nearly 20% of all entries were graded A*-A, and 42% of entries secured A*-B. 
Success stories included Larissa Aravantinou (pictured below) who achieved an A*and three As, Sana Akhtar and Umear Irfan with three A, along with Ayesha Hassan whose A*, A and B grades has secured her a place to study Pharmacy at the University of Manchester.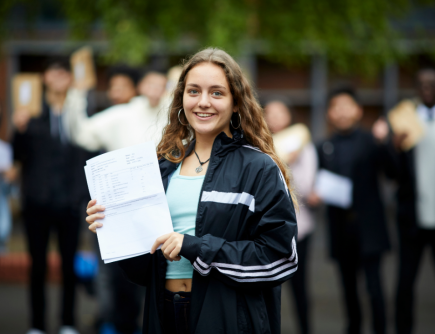 This impressive cohort of results come on the back of a move by exam boards to change the format of assessment for some exams which now no longer have a coursework element to them.
Cllr Rahman added: "Whether they're straight A* students or not, it takes a massive amount of work and dedication for any pupil to pass their exams, and we couldn't be prouder of them for their achievements. We wish them all the very best of luck in the next stage of their lives.
"Big thanks must also go to teachers and support staff who work tirelessly all year round in our schools to help every pupil achieve their best – our students couldn't do it without them."
Image courtesy of William Hulme's Grammar School, with thanks.