The CEO of a Manchester rape victims charity says new figures showing the lowest rape prosecutions for a decade will have a huge impact on victims.
While reports of rape have risen convictions have reached a record low, with latest Crown Prosecution Service (CPS) statistics revealing that just 1.4% of the 55,130 rapes recorded by police led to prosecution in the 12 months to March.
Anne Stebbings, CEO of the Greater Manchester Rape Crisis charity, said the stats 'confirm the belief' that victims will not be believed.
She said: "The most damaging impact is that it confirms the belief that victims have that they will not be believed, and that reporting is pointless, and that rape has become decriminalised and that victims cannot expect justice."
The Victims' Commissioner for England and Wales, Dame Vera Baird QC, has also described the figures as 'utterley shameful'.
Dame Vera said: "These rape statistics are utterly shameful with half as many rapists being convicted as there were three years ago. Rape is a serial offence and rapists carry on until they are stopped."
The data came ahead of a Conservative MP being put under investigation over rape allegations but not being suspended from Parliament – he is set to return to parliament in two weeks' time.
The CPS has set out a five-year plan to reverse the decline and reduce the "gap" between reported cases and those prosecuted.
It was revealed in November that prosecutors were unwilling to take weaker cases to court in order to meet a secret 60% conviction target introduced in 2016. 
In her annual report Dame Vera called the effect of the approach "stark", with the CPS prosecuting 3,671 cases, in the year ending March 2017 compared to 1,758 cases in the year ending March 2019, a fall of 52%.
The director of public prosecutions Max Hill QC denied the CPS had a "target" number of convictions.
Ms Stebbings has been the manager for Greater Manchester Rape Crisis (GMRC) for 15 years, having previously worked for 10 years in a women's refuge with women and children escaping domestic abuse.
She said: "Perpetrators themselves cannot be unaware of these facts and it would be naïve to think it did not play some part in offending behaviour."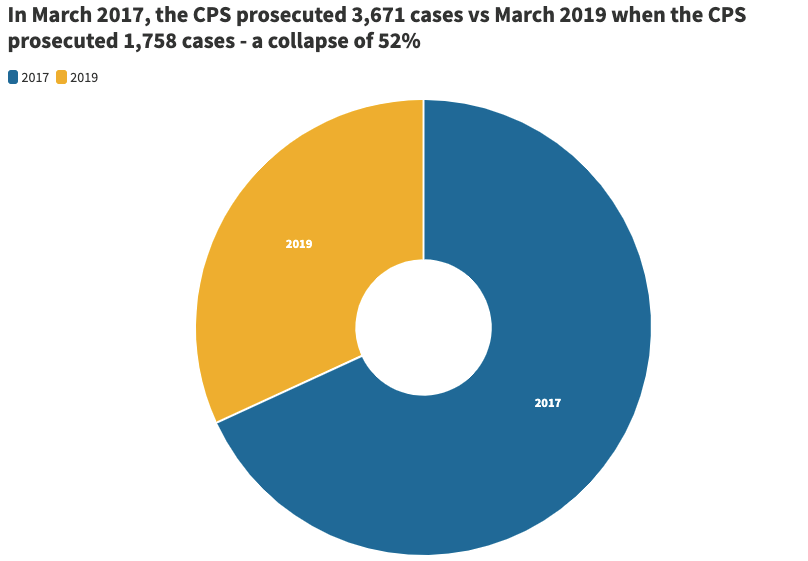 Ms Stebbings believes that criminal justice, however, plays a relatively small part in the stories of the victims affected.
"In my experience the majority women who come for support at GMRC have not reported to the police and have no interest in doing so.
"They are coming to us to receive specialist support in order to get on with their lives as fully as their experience will allow them. Seeking justice through the criminal justice system is not how they see the road to recovery.
"They want to be able to engage more fully in their personal lives and overcome the shame and psychological trauma they are experiencing as a legacy of their experience.
"The main tools to enable this are having specialist support, which is non-judgmental, where the survivor is believed and where she has control over the decisions she makes for her recovery."
The support offered by organisations, such as the GMRC, is meanwhile paramount to a victim's recovery.
"The work is vital as survivor's experience of sexual violence is still shrouded in secrecy, shame and victim blaming cultural attitudes. GMRC supports women to move on from the abuse they have experienced and works to increase awareness in our community of the prevalence and impact of sexual violence."
Stebbings points out that the justice gap should not be seen at the only barrier for victims.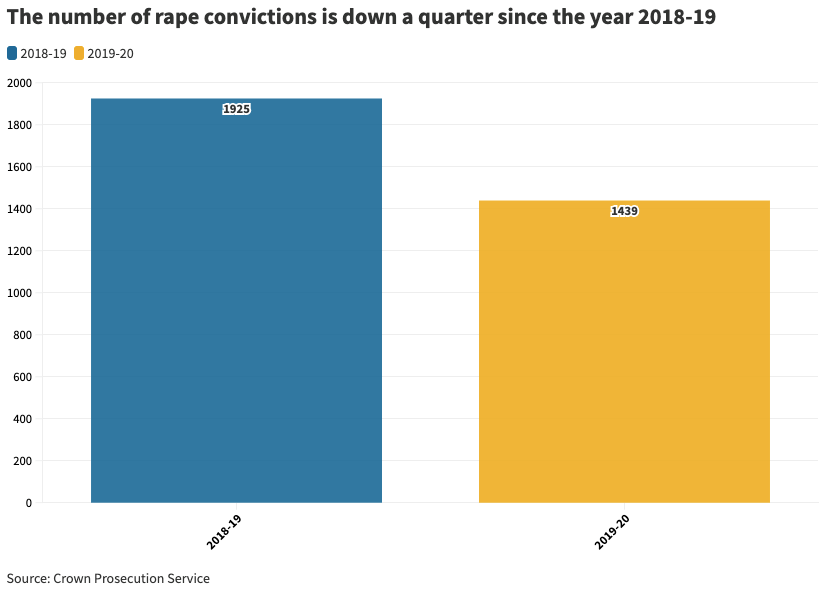 She said: "Many victims may feel defeated in the light of the falling rate of prosecutions; however, we know that fewer than 15% of victims will make a report to the police.
"There are many reasons for this; fear of not being believed or being unwilling to undergo the rigors of a painful investigation in which the victim can herself feel under investigation are among them.
"However, many survivors are seeking support outside the criminal justice system and their needs should be addressed also."
As far as the Conservative MP Stebbings said: "I think the MP should be suspended just as anyone else would be in any other job while the investigation takes place."