Domestic violence occurs every eight and a half minutes in Greater Manchester, according to new figures released by the police.
There were 67,346 cases of domestic abuse reported to Greater Manchester Police last year – a 2% increase on 2013 – which is equal to 184 cases per day or seven an hour on average.
Despite an increase in reported incidents, there is still a fear that the true extent of domestic abuse is hidden because of a reluctance to contact the police.
Polly Neate, Chief Exectutive of Women's Aid, told MM that many women fear their partner's reaction if they call the police and that evidence suggests planning or making an exit can be the most dangerous time for a woman.
Ms. Neate said: "It's hard to know what the police reporting figures are telling us about rates of domestic violence, except what we already know: they are far too high.
"We urge every force in the country to implement the recommendations of the recent HMIC report to introduce specialist-led training at every level of an officer's career, and ensure that information is shared appropriately.
"Until every force creates a culture change which encourages officers to identify and support women experiencing domestic violence, women will be reasonably reluctant to contact the police and lives will be lost."
Two women are killed by a current or former partner every week in the UK, according to Women's Aid.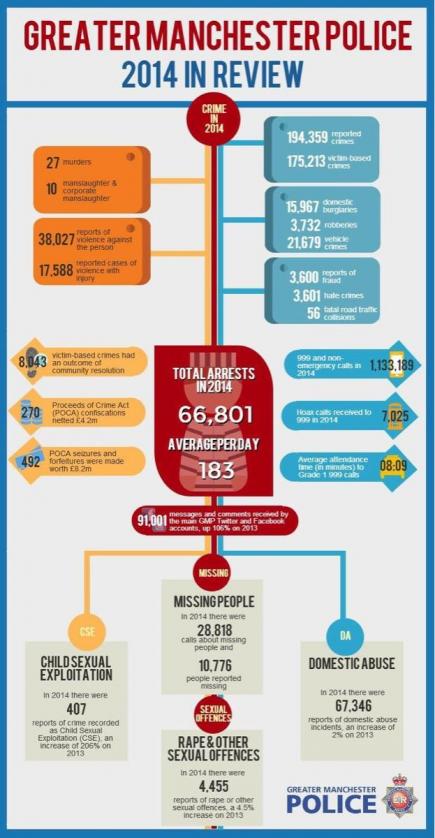 Sandra Horley CBE, chief executive of domestic violence charity Refuge, believed that the figures obtained by GMP were only the 'tip of the iceberg'.
"Domestic violence thrives on secrecy, so no one really knows its true extent," she said.
"In our experience, women and children suffer multiple incidents of violence and abuse before finding the courage to ask for help.
"On average, a woman is assaulted 35 times before her first call to the police."
The Domestic Violence Disclosure Scheme, commonly known as Clare's Law, was launched in March 2014 to help reduce the incidents of domestic violence.
Under the scheme, police have the right to inform women about their partner's history of domestic violence if they feel the women may be at risk.
In less than 12 months, 3,760 applications were made under Clare's Law with 1,335 disclosures subsequently made.
Greater Manchester Police Deputy Chief Constable Ian Hopkins argued that the heightened figures were due to victims feeling more confident to come forward and report domestic abuse.
"The increased number of domestic abuse cases shows that more victims have confidence in the work of police in investigating these crimes," he said.
This is reflected in the national picture and is a sign that victims feel more confident to report these crimes to police knowing that we will take them seriously.
" Over the last few months the Force has carried out intensive work to ensure our officers and staff are trained to support these victims. Officers also work with partner agencies to ensure victims are signposted to the appropriate services at the earliest opportunity."
Other figures released by Greater Manchester Police show that there were 66,801 arrests made in 2014, almost identical to the 66,437 arrests made in 2013.
On average Greater Manchester Police make 183 arrests every day. The new figures also reveal that on an average day in Greater Manchester: –
One child suffers from sexual exploitation

Twelve people are victims of sexual offences, including rape

29 people are reported missing

104 cases of violence against the person are reported

48 cases of violence with injury are reported
The police received over 1.1million 999 and non-emergency calls in 2014, with an average of over 3,000 per day, 20 of which were hoax calls.  
The overall increase in crime was particularly worrying with child sexual exploitation, which saw a 206% increase in 2014. There were 407 reports of child exploitation during the last year.
For further information about the Domestic Violence Disclosure Scheme, or to make a request for information under it, contact Greater Manchester Police on 101 or visit your nearest police station.
For support on domestic abuse, visit End The Fear by clicking here or call the Domestic Violence Helpline on 0808 2000 247.
If there is any immediate risk of harm to someone, or it is an emergency, dial 999.
Image courtesy of Katie Tegtmeyer, with thanks.