A new direct route from Manchester to the Middle East will make the city a hub for the North West's Iraqi community travelling home for business or leisure.
This will make Manchester Airport the first outside London to offer direct flights to Iraq, with one airline ready to launch two routes to Erbil and Sulaymaniyah in the north of the country.
But despite recent ISIS attacks on the area surrounding Erbil, Iraqi Airways UK General Manager Saad Al-Khafaji has spoke of his confidence that the new routes pose no security risk to passengers.
"We don't have any issues, in fact, regarding the security. We are communicating with all authorities in both the UK and Iraq and everything is going fine," he told MM.
"It's important to remember we've been operating five flights a week from London Gatwick for almost two years with no problem at all."
The North West has a strong Kurdish community, and the first flight – now fully booked – on Sunday March 15 will be bringing Iraqis back home just in time for the Kurdish New Year celebrations.
Expecting to ferry 15,000 passengers between the two countries in the first year, the airline has just taken delivery of a fleet of new Boeing aircraft as part of a larger purchase from the manufacturer which will bring the number of planes up to 60 by 2017.
UK civil aviation laws require flights returning from Iraq to undergo a security check within an EU country, and for the moment, passengers travelling from Erbil or Sulaymaniyah can expect to face an hour wait in Vienna while their documents are scrutinised.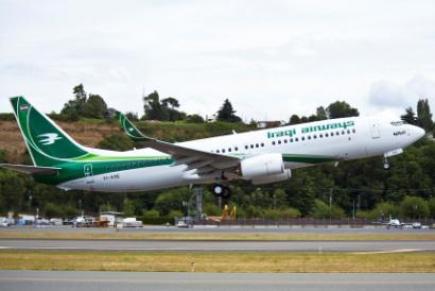 HIGH FLYING: Manchester will soon to be the first airport outside London to offer direct flights to Iraq
"Iraqi airways agreed to set up a security check stop for 90 minutes in Vienna, which we are happy to carry on with until we have approval to run a direct service," explained Mr Al-Khafaji.
"Upon arrival at Vienna, passengers have to go through document and baggage security checks. This is normal procedure and will only take around an hour, but will mean travellers will need to disembark the plane then re-board it."
MM also asked Mr Al-Khafaji whether the airline had any plans to operate routes to Baghdad and Basra in the future.
"At the moment yes, but this is dependent on the logistic services on the ground in Baghdad Airport which need to be improved a little bit in terms of passenger experience and baggage transfer," he said.
"When we have these improvements in Baghdad Airport, then we will consider operating direct flights to Baghdad and destinations beyond."
He insisted that the decision not to fly at the moment wasn't related to security concerns, despite the fact flights to the Iraqi capital were temporarily suspended just weeks ago after an Arab passenger plane was shot at while landing at the airport.
"It's not really related to the security because we currently operate two flights a week from Gatwick to Baghdad anyway.
"And Basra is even safer than Baghdad. The real issue here is that at the moment, the number of passengers from Manchester and the North West is not enough to operate a commercial flight.
"But, with a connecting flight available beyond Baghdad – yes, we could operate."
Manchester Airport is the UK's third largest airport and sees over 20million passengers pass through its doors annually.
Ken O'Toole, Chief Commercial Officer at Manchester Airports Group, said: "We are pleased to welcome Iraqi Airways to Manchester Airport and further increase the options and choice for passengers travelling to and from the Middle East.
"Manchester is now the only airport outside of London to offer these routes with Iraqi Airways, and confirms the national role played by our airport. 
"With Manchester already having two runways and a catchment area of 22 million people living with two hours of the airport, we have the capacity to support airlines that have ambition to grow in the UK."
A weekly flight to Erbil will depart on Wednesday nights and to Sulaymaniyah on Sunday evenings. Return fares begin at £383, while a single ticket will set passengers back £255.
For more information, visit www.manchesterairport.co.uk or www.iraqiairways.co.uk.