A disabled Manchester asylum seeker and vocal critic of the government's 'unfair' policies is facing removal to India but will be challenging the decision at a tribunal next month.
Manjeet Kaur is a wheelchair user due to paralysis caused by polio, an Afghan national and current Chair of Manchester human rights organisation RAPAR who sought asylum in the UK three years ago.
Her husband Amitt Bhatt, a campaigning journalist and Panun Kashmir activist, had been persecuted and attacked because of articles and books he wrote criticising the Indian government's policies in Kashmir. 
She helped research and proof-read Amitt's books, Lies and Genocide of the Indian Government (2011) and Cryashmir (2009) and after his disappearance in February 2011 was subjected to a series of rape and death threats.
Manjeet told MM that she was brutally attacked twice in her Delhi home and on the street by men looking for information as to her husband's whereabouts.
Manjeet said: "These people have no compassion and empathy for a woman in a wheelchair – they are ruthless people who only understand the language of violence.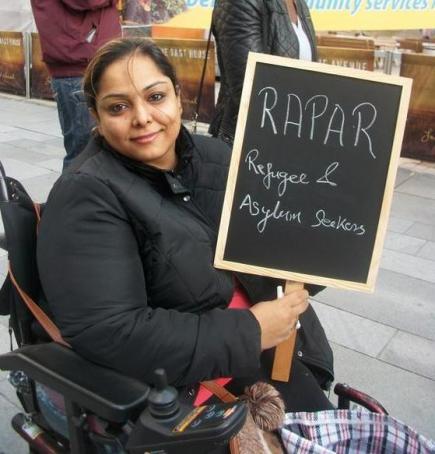 CAMPAIGNING: Manjeet tirelessly champions human rights issues
The assaults were reported to Indian police but she was offered no protection despite her increased vulnerability.
Speaking about her ordeal Manjeet explained that she was at a loss as to why the case is being brought forward.
She said: "It's a clear issue of human rights, I was forced to leave India because of my husband's campaigning journalism.
"If I go back I will still be in danger from people who think I know where my husband is and, because of the problems around accessibility in India, I will be forced into a life of isolation and misery.
"I can't imagine my life there because as a wheelchair user it would be impossible for me to survive mainly because of infrastructure and discrimination of disabled people in work places and, even if I find somewhere to work, there will not be any disabled toilets.
"I have lived there in the past and I know what life is there, I was housebound mostly and my husband supported me and got me things I needed but I could not be independent."
She added that, if forced to return there, her quality of life would not only be seriously diminished, but it would also be in jeopardy.
Manjeet said: "The most important part is that I will still be under threat of being attacked, beaten or raped or killed.
"It's better they kill me here than deport me."
She fled India back in March 2011 fearing for her life and came to the UK to be with family members who live in London.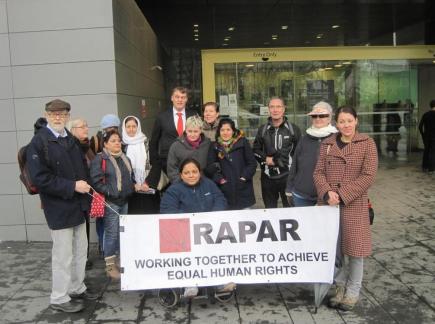 SOLIDARITY: Manjeet with other RAPAR members
When she claimed asylum Manjeet was housed in Manchester and despite not knowing a single person in the area now has many friends and supporters she's met through her work for RAPAR, community and trade union activities, national disability rights and access to justice campaigns.
"I had never lived alone in my life before coming to Manchester and the only reason I can live here independently is because I have support from friends and family.
"Because I am not housebound I can use public transport to go outside independently and can also access many public buildings.
This isn't the first time that Manjeet has undertaken a 'David and Goliath' battle with authorities.
She has been at the forefront of many campaigns against the government's asylum policies and was interviewed on national TV during the Conservative Party conference last year about the impact of immigration legislation.
In 2011 Manjeet hit the headlines and successfully fought eviction from her asylum support housing in Whalley Range when the Home Office first turned down her case.
With the help of RAPAR she contacted activists who rallied round her by turning up at the house to prevent her being thrown out onto the streets.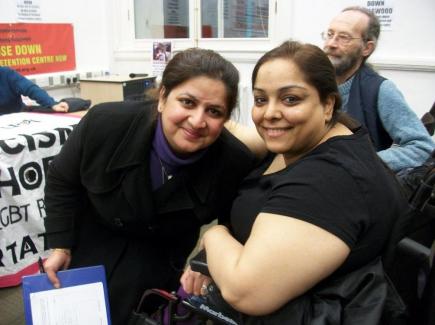 COMMUNITY: Manjeet with a friend at a RAPAR meeting
Following a critical media storm Manjeet's asylum support was reinstated and the block of asylum support flats where she lived were refurbished. 
The Home Office initially told her she had to report weekly at Dallas Court in Salford Quays, despite the fact that she had a manual wheelchair and had to take four buses to get there and back again.
And after another long-fought campaign Manjeet was finally told she could report to Dallas Court by telephone with her fight setting a precedent for all disabled people seeking asylum.
"RAPAR helped me to rise and shine again in life, encouraged me to meet people and become involved in campaigns such as disabled people against cuts, access to legal aid and many more activities I have been involved," she explained.
"It's good for me emotionally and physically to be active and be part of the society. I feel I am recognised as a human and have the right to live.
Her latest battle sees Manjeet appealing against the Home Office decision to return her to India, where she has already been threatened and attacked, even though documents prove she is originally from Afghanistan.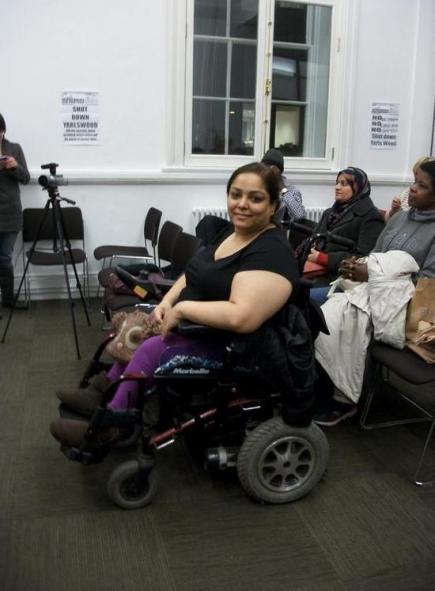 PLEA: Manjeet is desperate to stay in the UK
Manjeet explained: "If I could stay in the UK it would mean that my human rights issues have been taken into consideration and, after all, this world is not as brutal as I have seen in Afghanistan and India.
"It would mean I am free to live a life that I have been dreaming of irrespective of my health issues, I would be able to breathe peacefully and sleep soundly at night with no fear of being attacked in India and no fear of the UKBA deporting me or putting me into destitution."
Manjeet's campaign group is urging all supporters to join them outside the Asylum and Immigration tribunal offices in Mosely on April 2 before 9.30am to demand that she is given asylum in the UK.  
A Home Office spokesperson said: "The UK has a proud history of granting asylum to those who need it and we consider every application on its individual merits.
"There is an outstanding appeal due to be heard in relation to Ms Kaur's application and it would be inappropriate to comment further at this time."
For more information and to support Manjeet's campaign click here. 
Pictures courtesy of RAPAR, with thanks