A self confessed 'evil' Stockport nurse who murdered two patients at a hospital where he worked has been sentenced to life in prison with a minimum of 35 years.
Victorino Chua, of no fixed address, callously laced medical products that were stored at Stepping Hill hospital's acute ward with insulin, resulting in the deaths of two patients.
Tracey Adren, 44, Derek Weaver, 83, were killed at the hands of Chua after he injected insulin into their saline bags and ampoules, causing his patients to suffer hypoglycaemia – a drop in sugar levels.
The 49-year-old was found guilty on Monday following a three month trail which saw detectives travel to his birth country, the Philippines, where they established that he had left a previous hospital job after being caught stealing.
Officers also visited the now obsolete Galang training college where Chua claimed to have obtained his medical qualifications, rising questions over the authenticity the certificates.  
The dad-of-two was also found guilty of intentionally causing grievous bodily harm to one patient who suffered a brain injury as a result of being poisoned.
Chua falsified his victim's medical records, recording him as being conscious and alert when blood tests have proven that he was suffering severe hypoglycaemia.
The Stockport nurse was also found guilty of attempting to intentionally cause grievous bodily harm to 21 other patients who became ill after being treated with products dosed with insulin.
However, it could not be proven beyond all reasonable doubt they suffered injury as a result.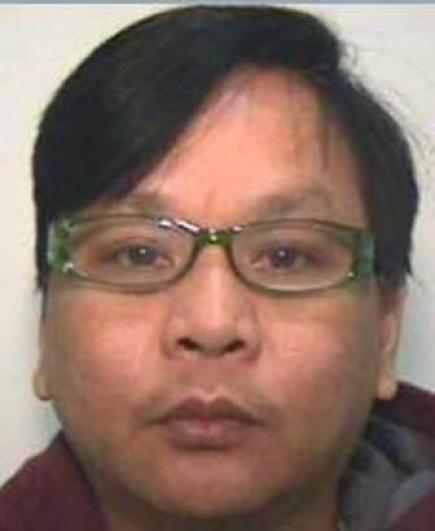 JAILED: Manchester Crown Court found Chua guilty of the murders of Tracy Arden and Derek Weaver
Detective Superintendent Simon Barraclough, said: "We are pleased with today's sentence and I believe it reflects the seriousness of what Chua has done, and can hopefully go some way to providing a resolution for the victims and the families of those that he has so painfully harmed. 
"On behalf of Greater Manchester Police, I would like to once again extend my sympathies to the families of Tracey Arden and Derek Weaver as well as all the victims of poisoning and their families. 
"Hidden in plain sight and using unsuspecting colleagues to carry out his sinister plan, Victorino Chua deliberately poisoned and murdered those who were under his care and those who were at their most vulnerable and most in need of help.
"He would then watch the fruits of his labour unfold, as absolute chaos ensued across the wards as colleagues fought to save patients whilst attempting to comprehend what was happening.
Stockport NHS Foundation said that they believed justice had been served for the families who were made victims of Chua's murderous plot.  
They said: "Our thoughts have been with the victims and their families throughout this time.
"We know they have suffered great distress, but hope this sentence helps provide some closure for them in terms of seeing that justice has been served.
"During the police investigation and trial we were not able to have direct contact with the patients affected or their families.  
"Now the trial has finished we would be happy for them to contact us if they want to discuss anything."