A Manchester taxi driver has come under fire after saying 'all Jews r same' on the Anti-Israel Facebook page… but has kept his job.
The taxi driver, who MM have chosen not to name, works for Street Cars in Manchester and made the anti-Semitic remark under a post regarding a film viewing on the history of Zionism.
Street Cars has the largest fleet of Private Hire vehicles, executive cars and mini buses in Manchester City Centre and their drivers take Mancunians around the city on a daily basis.
Dave Rich, Deputy Director of communications at the Community Security Trust, which monitors and reports anti-Semitism, told MM:  "Any anti-Semitism is unacceptable and anti-Semitism on social media is a big problem.
"Obviously many Jewish passengers would be seriously unhappy being driven around by a taxi driver who held those kinds of views.
"There has been an increase in Anti-Semitism over the summer and we have created a guide on how to deal with it on social media."
He added: "It should never be ignored and it should always be reported to us, the police and to Facebook and Twitter."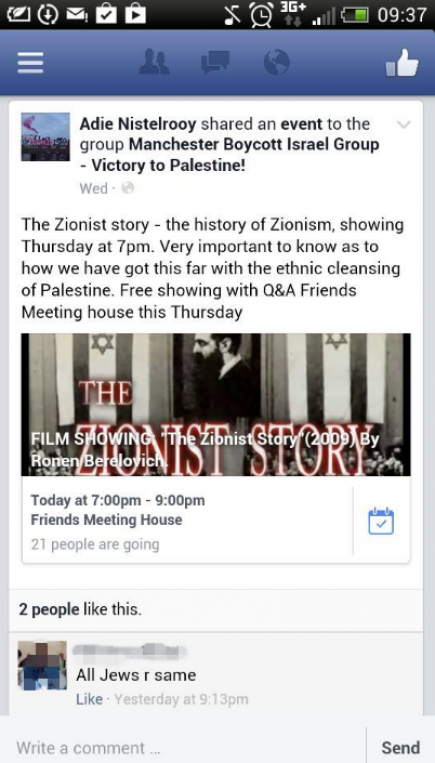 When contacted about the post by a concerned member of the public, Street Cars issued a statement saying the incident has been 'addressed' with the driver.
"Please first let me stress that the personal views of our drivers are not representative of our company," the statement said.
"This Facebook comment is made from his personal account in his own time which we do not police. If you believe the content to be offensive we would encourage you to notify Facebook who I understand will remove or censor potentially offensive material.
"The driver will be asked to remove any affiliation with StreetCars from his Facebook page so that his views are not linked with our own.
"We apologise for any offence caused to you but again will stress that this comment is in no way representative of Street Cars views."
After being contacted by MM, Street Cars issued the following statement: "We have taken time over the last 24hours to both investigate the incident and take appropriate action.
"One driver's actions should not be taken as indicative of the 500 strong fleet of professional and experienced drivers that work for us. Any driver found within the fleet to be discriminatory in the line of duty will have his contract terminated immediately.
"In this instance, the driver's actions were not directly related to StreetCars but are of serious concern to us. As a result he has been disciplined in accordance to the StreetCars code of conduct which covers acceptable behaviour whilst representing the company. His future conduct will be closely monitored. StreetCars in no way defends the actions of the driver.
"The driver has expressed remorse for the offense he has caused and we would like to pass on his sincere apologies.
"We too apologise for any offence caused but again will stress that this comment is in no way representative of StreetCars views."
The post highlights the growth in tensions between the two ethnic groups in the city since the conflict erupted in Palestine over the summer, which has led to a number of protests in the city centre.
Tensions between Manchester's pro-Israeli and Palestinian protesters have also led to a sharp increase in anti-Semitic and racist attacks over the last few months from both sides of the fence.
The Community Security Trust – which lobbies on their behalf of Jewish people and compiles statistics on hate crime – revealed there were 52 anti-semitic attacks across Greater Manchester in July, compare to 96 recorded attacks in the six months prior.
This was a 300% increase on July the previous year, when there were 13.
An attack on members of the Jewish community in July saw car loads of pro Palestine protesters driving Broughton Park shouting fascist slogans and hurling missiles.
In June Anti-Semitic graffiti and swastikas were daubed over gravestones in a Jewish cemetery in Rochdale.
Many of the incidents were online abuse, like Akhbar's Facebook post, which has since been deleted after the comments, were condemned on the page.
Image courtesy of drpavloff, with thanks.