A campaign is underway to help Manchester residents lower their energy bills – on average a September pilot saved households nearly £300 – while also aiding the environment. 
The Greater Manchester Big Clean Switch has been backed by hosts of football clubs, universities, businesses and even politicians from across Greater Manchester as they switched their homes to clean electricity as part of the campaign, the first of its kind in the UK.
GM Mayor Andy Burnham has joined Bury Council leader, Councillor Rishi Shori, and Stockport Deputy Mayor, Councillor Walter Brett, in calling for residents to use the scheme in order to take advantage of ultra-competitive renewable energy tariffs – the trio saving collectively more than £1,000 a year by switching their homes to the cheapest clean deals.
"If just 1 in 100 homes across Greater Manchester switches to a clean tariff, that's the carbon emissions equivalent of taking more than 10,000 cars off the road," Andy Burnham, the Mayor of Greater Manchester, said.
The clean energy campaign is part of meeting Burnham's ambition to make Greater Manchester one of the leading green cities in Europe.
Cllr Brett added: "I was delighted to discover that I will save a whopping £419 a year by joining the Big Clean Switch.
"Just as important is the knowledge that we're now buying 100% renewable electricity. I would encourage everyone to join the campaign, not only is it good for your pocket money, but for the environment too."
A dedicated Greater Manchester Big Clean Switch website, www.bigcleanswitch.org/gm, has been set up to help residents compare clean energy prices and switch. The average household saving during a September pilot was over £290 a year.
"The savings I made were very, very substantial," said Amer, from Cheadle, who saved £494 a year.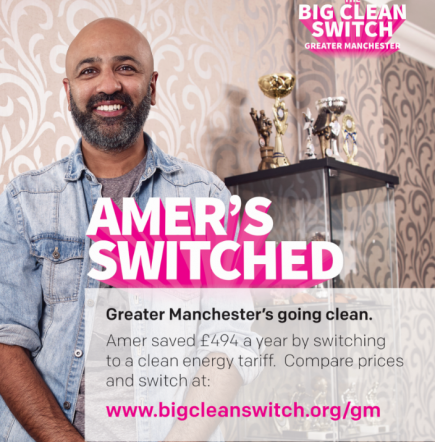 VERY SUBSTANTIAL: Cheadle's Amer was all smiles after saving nearly £500 a year
"We'll save around £500 a year," said Lynden & Katie from Stockport, who went better than their prediction in shaving £531 a year off their bill.
"The process was really easy," said Jack from Manchester (saved £110/year), echoed by Altrincham's Anna (£155/year) who said: "Just click, click, click – five minutes and done."
The campaign website includes a link to a whole-market comparison service making sure that families on low incomes can access the best possible deals.
The new scheme is a partnership between the GMCA and the Big Clean Switch campaign, which specializes in helping UK households switch to 100% renewable electricity.
The programme is funded through commissions paid by suppliers. This doesn't affect the tariffs available, which will always be the same or even better than those on the suppliers' own websites!
A third of the money will be used by the GMCA to help fund environmental projects across the region.
Councillor Alex Ganotis, leader of Stockport Council and Greater Manchester's lead for environmental issues and climate change, said: "This is yet another example of Greater Manchester innovating to deliver on our environmental ambition.
"The Greater Manchester Big Clean Switch will show other cities around the UK – and the world – that it's possible to save residents money and help the planet at the same time."
Cllr Shori saved £300+ switching to a clean tariff and said it only took five minutes to get a quote and switch.
"There's a common perception that renewable electricity is eye-wateringly expensive and that switching is a hassle. That couldn't be further from the truth.
"This is a fantastic scheme for the people of Bury, and puts Greater Manchester on the map as a clean energy pioneer."
In addition to all 10 local authorities in Greater Manchester, other local organizations backing the campaign include:
Salford Red Devils
University of Salford
Carbon Co-op
I Love MCR
Manchester Metropolitan University
NHS in Greater Manchester
Onward Housing
Pro-Manchester
Adactus Homes
Barlcays Eagle Labs
95.6 Bolton FM
Bolton Wanderers FC
Manchester City of Trees
Greater Manchester Chamber of Commerce
Greater Manchester Community Renewables
Greater Manchester Centre for Voluntary Organization
Manchester Climate Change Agency
Please contact Jon Fletcher, campaign director, ([email protected], 07791 376 285) for more information.