The UK's first second-hand clothing supermarket is coming to Salford next month.
The Charity Super.Mkt – which will feature a wide range of clothing under one roof – is heading to Quayside, Media City from November 3 until December 3 with the aim of raising the profile of local and national charities in this first of its kind collaboration.
Launched in January 2023, Charity Super.Mkt says it showcases curated fashion collections from the UK's best second-hand retailers, bringing them together at mainstream locations across the country for eco-conscious shoppers to peruse.
It is intended to be a more planet-friendly ways of shopping while being able to buy high-quality affordable, stylish and often vintage pieces.
Founded by Lancashire-born HemingwayDesign co-founder, Wayne Hemingway, and Maria Chenoweth, CEO of the sustainable clothing charity, TRAID, the Charity Super.Mkt team has so far worked with more than 40 charities, helping to put second-hand first.
Wayne told Mancunian Matters: "At MediaCity, we have some of the best theatre and dining experiences in the North West.
"By hosting the Charity Super.Mkt pop up at Quayside, we can give new audiences a glimpse into the world of second-hand fashion whilst they're already there to enjoy other activities.
"When you think about the appeal of late-90s TopShop on Oxford Road, with the sizable assortment of clothing and quirky music events being hosted, we'd like to recreate a similar buzz here – but with fashion options that are kinder to the planet.
"Media City has a vibrant energy and has changed a lot since first opening more than 11 years ago. We're looking forward to being part of it with the Charity Super.Mkt pop-up store."
Maria, who has worked with Wayne for 25 years, says there is "clearly an appetite" for the concept.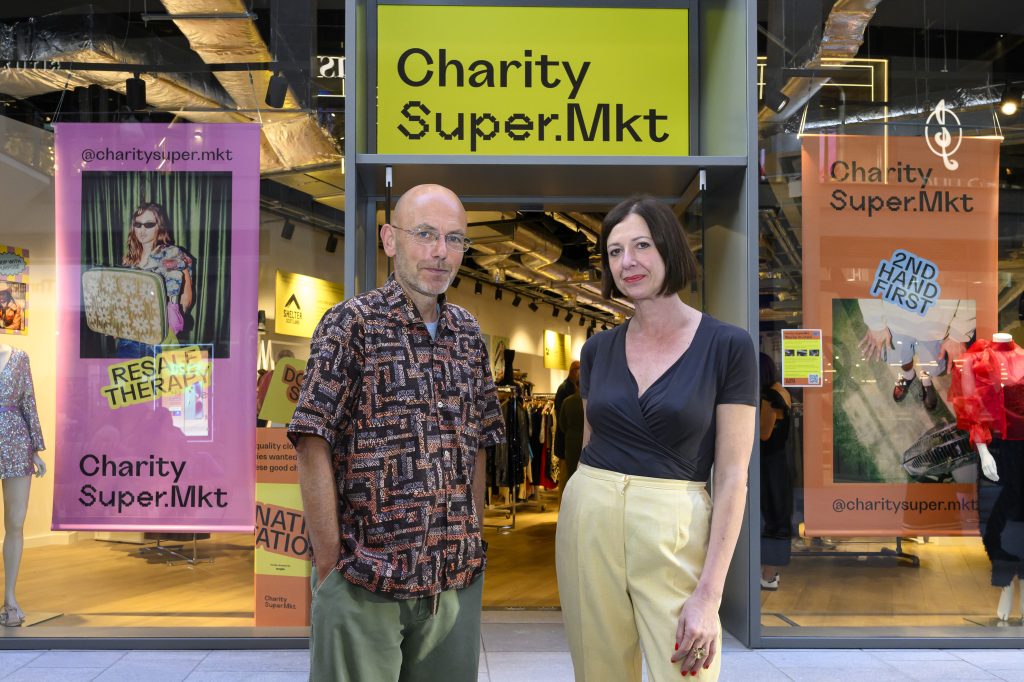 She said: "We wanted to bring charities and second-fashion to the forefront of retail spaces. In the past, high streets lined with numerous different charity shops may have received slightly negative responses.
"The Charity Super.Mkt concept elevates these charities into premium shopping locations which may otherwise have been inaccessible due to rent budgets, fierce competition from fast fashion retailers and other constraints. By teaming up under the Charity Super.Mkt umbrella, they can work in unison towards a much bigger cause."
The first Charity Super.Mkt opened in the old Topshop in Brent Cross, London in January 2023 and proved so popular it hit its four-week target in just four days, raising significant funds for both local and national charities.
Since then, Charity Super.Mkt says it has sold more than 100,000 second hand items, stopped 30,000kg of clothes going to landfill, and prevented more than 260,000kg of CO2 Emissions.
Charities involved in the upcoming Quayside location include All Aboard – who have second-hand shops in Salford and Prestwich – Age UK, Havens Hospices and St Vincent de Paul. There will also be in-store DJs playing each weekend to help keep the sustainable party going, with more events to be announced soon.
The wider thrifty fashion movement has seen an exponential rise in recent years, with the hashtag #thriftmanchester boasting 566.6k views on TikTok as the outdated stigma around second-hand clothing continues to rapidly diminish.
The Charity Super.Mkt Salford Quays pop-up officially opens in Quayside MediaCity at 6pm on Thursday, November 2, with a special preview event ahead of the store opening the following day.
Store opening hours will be Monday – Friday 10am- 6pm (with late night opening on Thursdays 10am-8pm) Saturday 10am-7pm, Sunday 11am-5pm.
You can find out more about this and future events via the Charity Super.Mkt website here, and follow other updates on their Instagram page here.