Fans of the supernatural are being offered a glass of 'haunted wine' that has been exhumed from a coffin in time for Halloween.
100 bottles of blood-red wine had been laid to rest in an oak coffin buried deep in a Victorian cemetery in London.
A priest presided over the exhumation at Tower Hamlets Cemetery in case there was any paranormal activity and now wine brand 19 Crimes is offering horror fans a spooky opportunity to raise a glass from the afterlife.
Five select – and scary – venues will be hosting the terrifying tasting experience. One is London's most haunted pub, and another is named after the Scottish castle that inspired Bram Stoker's Dracula.
The novelist was a regular visitor to Slains Castle in Aberdeen before the tale of vampires was unleashed in 1897.
19 Crimes asked TV exorcist Ian Lawman to sample the unique wine – but he was too scared to take even a sip.
Despite years of experience exploring the supernatural, and paranormal skills that he put to use on TV show 'Help My House Is Haunted!' He couldn't bring himself to touch it.
"There's no way I'm trying that wine. There's something sinister about it as it's been resting amongst the dead six feet underground. Ghosts don't have boundaries – they shape shift, travel through walls and glass and make their presence known in the strangest of ways. I think 19 Crimes should have kept it buried."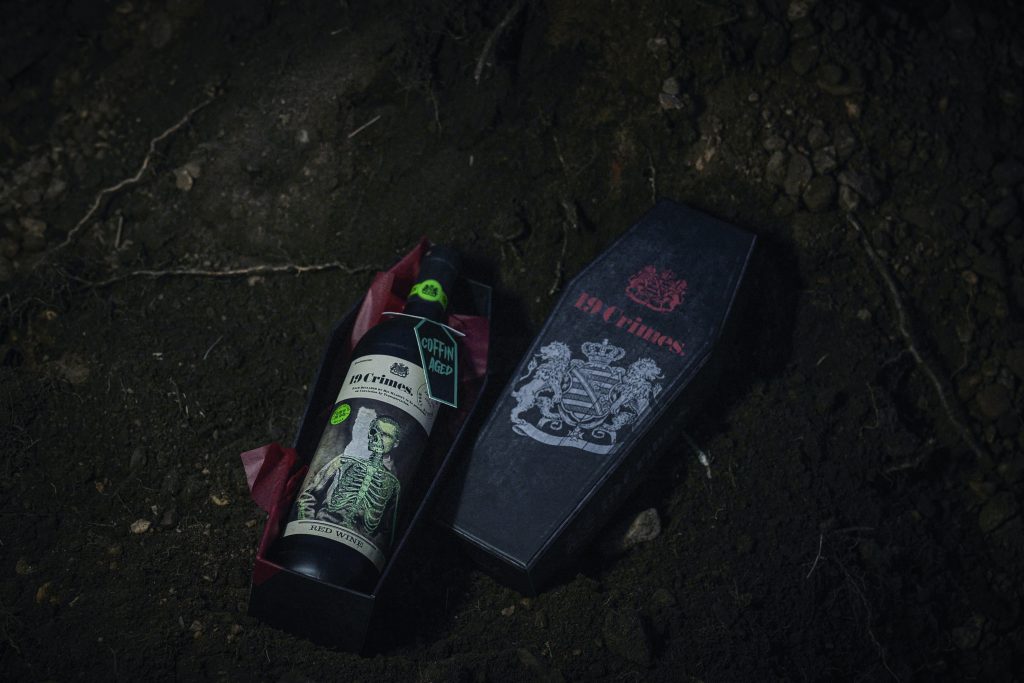 Complete with its 'coffin aged' label, the wine bottles glow in the dark. 19 Crimes has asked participating pubs to exercise caution when offering samples as it is not for the faint hearted.
Thrill seekers braver than Lawman can also head to the Ten Bells pub in Spitalfields, one of the most haunted in London and where two of Jack the Ripper's victims were regulars.
If that's not spooky enough, it is also available at the Tolbooth Tavern, Edinburgh, where an angry ghost is said to wander around pushing glasses off tables and the laughter of long-dead children playing can sometimes be heard.
Tower Hamlet Cemetery Park was closed to burials in 1966, but in another macabre twist the body of the pathologist who performed an autopsy on the Ripper's first victim lies there.
Russell Kirkham, Head of Regional Marketing EMEA Treasury Premium Brands, said:
"We know our fans are always looking for something new and different, so this Halloween we created a wine to give them an experience like no other.
"It's fair to say this is our most unusual wine yet, less full bodied and more disembodied. It's only made in very limited quantities and distributed in pubs across the UK just in time for Halloween."
19 Crimes is named in tribute to the spirit of the 18th century rogues deported to Australia for committing at least one of a range of 19 crimes that weren't punishable by death, including receiving stolen goods.
If you want to be one of the unlucky few to get your hands on it, visit the one of pubs below on Friday 27th and Saturday 28th October for a free sample:
● Slains Castle, Aberdeen, AB10 1JH
● Caroline of Brunswick, Brighton, BN1 4SB
● Ye Hole in Ye Wall, Liverpool, L2 2AW
● Ten Bells, London, E1 6QQ
● Tolbooth Tavern, Edinburgh, EH8 8BN
Images: Cover Images