Manchester City are celebrating all things Brazil with the introduction of their 'Touch of Brazil' exhibition within their Stadium & Club Tour.
Launched in line with Brazil's national carnival and running throughout half term to offer Manchester families something different to do, 'A Touch of Brazil' graces the Etihad Stadium in celebration of Brazilian players, past and present.
From Elano to Gabriel Jesus and Robinho to Fernandino, a number of Brazilian stars have lifted City fans off their seats over the years and the new tour gives fans the chance to celebrate those memories.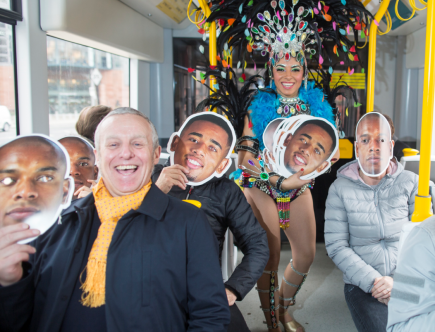 Supporters visiting the tour between 18-26 February can enjoy a bespoke Brazilian themed exhibition space and enter a competition to win a signed Gabriel Jesus shirt.
Once immersed on the tour, visitors get the chance to explore the Club's heritage through unique memorabilia and interactive displays, giving fans the chance to relive City's greatest moments and truly discover what makes Manchester City the club that it is today.
Manchester City's Stadium & Club Tour is a 70 minute professionally guided tour of the Club and Etihad Stadium. 
Tickets for the tour cost £17 per adult, £11 per child aged 5-16 and £12 for concessions.
'A Touch of Brazil' runs until Sunday February 26 with the non-bespoke tour resuming from Monday Feb.27. Please see the website for dates.