Thousands of people took to the streets of Manchester in support of 'Soldier F' on Good Friday.
The lively gathering – which initally saw flags waved in and around Piccadilly Gardens – was in protest over the recent decision to prosecute him over his role in 'Bloody Sunday'.
The event followed the route from the gardens before culminating with the laying of wreaths in St Peter's Square, and was attended by both serving personnel and veterans.
On January 30 in 1972, a civil rights march took place in the Bogside area of Derry, Northern Ireland. 13 people were killed after paratroopers opened fire on who were later found to be, unarmed civil rights demonstrators. Several more were injured and one later died from their injuries.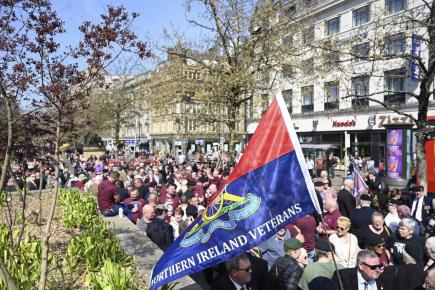 A former Paratrooper, known only as 'Soldier F', now faces charges for the murder of James Wray, 22, and William McKinney, 27, and further charges for the attempted murders of another four men: Patrick O'Donnell, Joseph Friel, Joe Mahon and Michael Quinn.
An anonymity order prevents from him being named but it is thought the veteran is in his sixties or seventies.
Friday's event coincided with other similar events planned in cities across the United Kingdom and took place on the anniversary of The Belfast Agreement or as it's perhaps better known, the Good Friday Agreement, which was signed on April 10, 1998.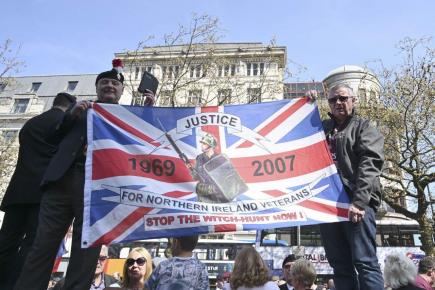 Amongst those present was Hilary Littlewood, ex Royal Air Force, who laid a wreath in memory of all those who have served and in support of those currently serving in the Armed Forces today.
Tony Ferguson, a former paratrooper, addressed the crowd and led a two-minute silence.
Thanking everyone for attending the event, he asked people to think not just about the events that took place in Northern Ireland that day but of the atrocities that took place in Guildford and Birmingham, alongside other well-known attacks by the IRA.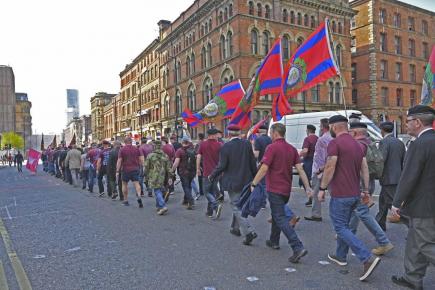 One person taking part, who wishes to only be identified as 'Ray' and having served in the period of the 'Troubles', described serving as a soldier then as 'frightening'.
He told MM: "You never knew when you were going out on patrol whether you or your friends would be killed.
"There were snipers, there were children offering you drinks laced with powdered glass. You never knew who the enemy were just by looking at them."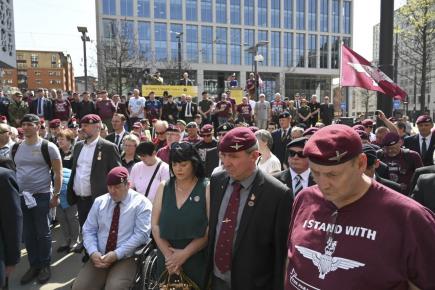 The peace agreement brokered between British and Irish governments was signed by, amongst others, Tony Blair, Gerry Adams, and Martin McGuiness.
It is the content of this agreement which fuels much anger by those taking part in the march held on Friday.
One veteran described the agreement as 'disgusting' and a betrayal of those who served their country.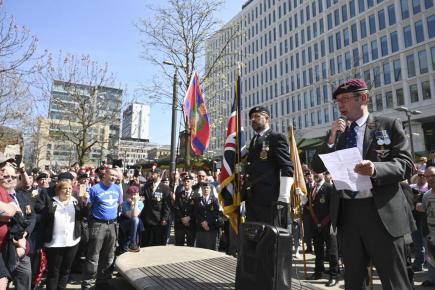 They argue it provided terrorists with 'letters of comfort' and exonerated them of their crimes – yet leaves British soldiers open to prosecution.
Anthony O'Brien from West Ireland, served in the RAF for 24 years as a Flight Sergeant.
The 77-year-old, who wants Soldier F to be pardoned, reflected on that fateful day, telling us: "It's unfortunate that people were killed but that is warfare."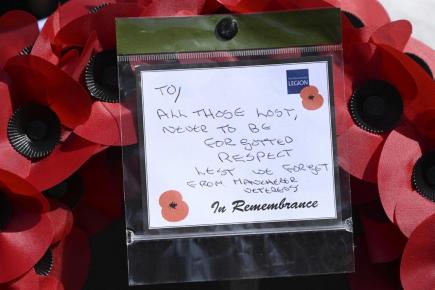 He hopes that his presence today will help the courts and government to realise that Soldier F was only doing his job, following orders.
He said: "It should never have come to this."
Anthony Moritz, a fellow veteran from Eccles, was also there to show his support for any veterans who are or may be subject to prosecution in the future.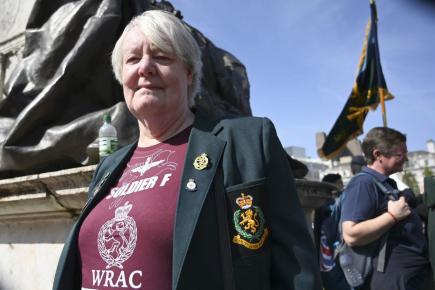 He described the time-frame involved as 'ridiculous' and is angry at the government who he believes have 'dropped all the charges against the IRA and against everyone else but our soldiers'.
Kath Kirtley, 74 from Oldham, who previously served in the WRAC, Women's Royal Army Corps, explained she was here to 'support our brothers and sisters, in the Armed Forces'.
She insisted: "We've got to stand together."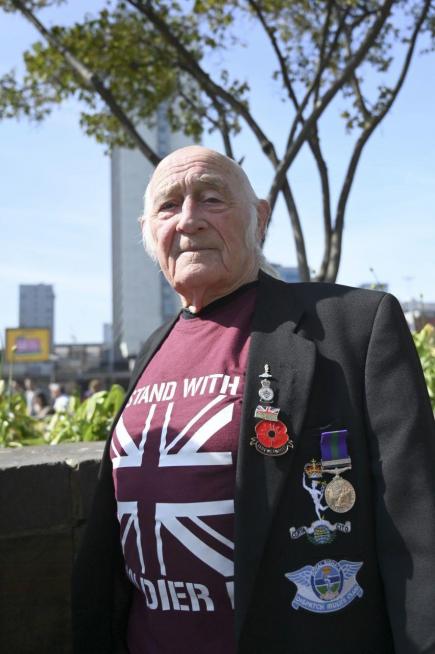 As the wife of a soldier who served nine tours in Northern Ireland, she says that they did not know whom they were fighting on a day-to-day basis. Children and adults alike targeted them.
She worries how many more soldiers are going to be prosecuted in the future for doing their job and is angry that the government are not supporting those who risk their lives as members of the Armed Forces.
In a public press conference after the ruling by Geraldine Doherty, a relative of one of the victims, describes shared her opinion on the decision.
She said: "Although 47 years overdue, is the right one. "
Geraldine added that she doesn't believe the scope of the investigation is wide enough and repeated the call for 'this injustice to be addressed'.
Families of those who died or were injured that day feel that commanding officers that made the decisions, and other soldiers who opened fire, should also be held accountable.
The decision to prosecute Soldier F has caused furore throughout the serving military and veteran community.  
Many believe the decision to prosecute tarnishes the reputation of those serving in the British Army today and causes concern that those who do so in the future, may be held accountable by decisions taken on the battlefield, without the support of those who order them to go to war.