A Manchester karaoke bar descended into chaos when a trio of revellers were thrown out for fighting – only to launch a 'brutal and unprovoked attack' on a man as they left.
CCTV images of three men police want to speak to in connection with the attack, which left a 40-year-old man with a split eye that required surgery.
The attack occurred at the Orchid Lounge Bar on Portland Street between 2am and 3am on March 9 2014.
Police Constable Jim Finnigan said: "This attack was certainly fuelled by alcohol but we are not just talking about one punch in the heat of the moment.
"Those responsible carried on for a good three minutes, throwing numerous punches and kicks and such was the ferocity of the assault it is lucky the man did not suffer more serious injuries."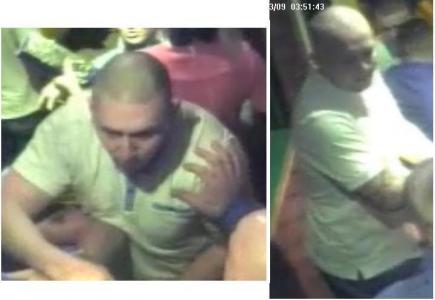 DO YOU RECOGNISE THESE MEN? Police want to speak to them in connection with the attack
The trio had been ejected from the premises following a fight inside the club, shouting and screaming as they departed.
The victim passed them on the stairs and told them to calm down – at which point he was subjected to what the police describe as a 'brutal and unprovoked attack'.
The man was punched in the back of the head and knocked to the floor, and he was then repeatedly kicked and punched in the head, face, back and ribs.
Doorstaff and other members of the public intervened, and the man's attackers fled in the direction of Portland Street.
Anyone who recognises the men, or has information about what happened in the incident, should contact police on 0161 856 3221 or Crimestoppers, anonymously, on 0800 555 111.