Tens of thousands of people are expected to fill Manchester's streets to celebrate the city's fifth annual Manchester Day parade this weekend.
Around 2,000 volunteers and community workers will come together on June 22 for an event which organisers believe will be even bigger and better than previous years.
This year Gilly the Globefish, who has spent the last month visiting other places around the world which share Manchester's name, will lead the parade off at 1pm from Liverpool Street.
As well as the parade there will be stalls ranging from food and clothing to music and creating art for the six hours.
Cllr Pat Karney Chair of Manchester Day told MM: "Never have we been so spoiled for choice.
"The parade has always been the big draw for Manchester Day, but this year we have thrown open the doors to the squares across the city centre and the fun will not stop for six whole hours, throughout the afternoon.
"Manchester Day is a true family event and there will be something to wow everyone in the crowd, from eight months to 80 years."
Some of the city's most famous landmarks will be taken in throughout the parade including the Beetham Tower, Albert Square and Deansgate in the mile long route.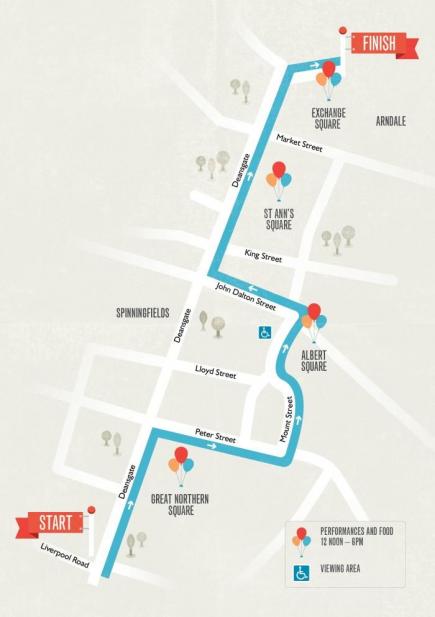 HITTING THE STREETS: The parade will visit some of Manchester's most iconic areas
The parade will arrive at Exchange Square at approximately 1.45pm and is expected to pass through by 2.30pm.
The busiest places to view the free parade will be Albert Square, Exchange Square and Deansgate (from John Dalton Street to St Mary's gate).
Those who would like a bit more room to enjoy the beat of the Rio carnival and much more are advised to head over to Peter Street or further down Deansgate towards the Beetham Tower.
Accessible stewarded areas reserved for people with disabilities will also be available on Albert Square.