In the fight to end modern slavery and human trafficking Greater Manchester Police must 'be brave' in their partnerships with other agencies, according to the Independent Anti-Slavery Commissioner.
Kevin Hyland OBE offered his expert advice at a summit on the changes implemented in the Modern Slavery Act 2015, which kicked off Greater Manchester Modern Slavery Week of Action this week.
He urged police to team up with health workers, social services and other agencies to help put an end to these horrendous crimes.
There are currently 10-13,000 victims of slavery in the UK, according to Home Office figures, but of those only 2,340 were referred to the National Referral Mechanism (NRM) in 2014.
The NRM is not only a framework for identifying victims of human trafficking or modern slavery and ensuring they receive the appropriate support, but also a way of collecting data to build a clearer picture of the scope of the issue in the UK.
Despite 2,340 victim referrals to the NRM only 187 perpetrators were prosecuted and just 130 were convicted.
Mr Hyland said: "Clearly it is nowhere near enough. It is a pretty poor number. If we did it Pro Rata, it is a 1% chance of justice.
"We are in the United Kingdom, in the 21st Century, and I don't think that is good enough."
The commissioner explained that the way forward for Manchester, and police forces across the country, is for agencies and organisations to share data and intelligence in order to be more effective.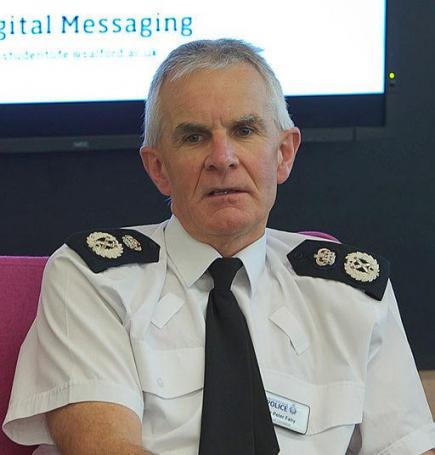 INTEGRATION: Sir Peter Fahy said GMP are going beyond cross-agency partnerships to end modern slavery (© Slaford University)
But Sir Peter Fahy, Chief Constable of GMP, promotes a strategy that goes one step further.
Mr Fahy says that, in our approach to modern slavery, 'we are now far ahead compared to other parts of the country'.
He said: "There has been a lot of talk about partnership. But a lot of places are trying to move away from partnership, into integration.
"We are aware of all sorts of measures that we can use to attack these groups and organisations who are prepared to make their money from the misery of others."
The Chief Constable spoke on the changing nature of policing and the new strategies that have, and are, being adopted by GMP to tackle the issue of slavery in the region such as its work with Association of Greater Manchester Authorities (AGMA).
He said: "We have learnt that we are talking about the same groups of people, the same issues, the same streets, the same locations, [but] having these similar silos no longer works.
"There is no point in having partnerships in separate buildings with case conferences, separate meetings and all the rest of it. That makes it very difficult.
"The big progress we have made is having more integrated teams, where you have police, health workers, and social services all in the same office, every single day, talking about the case, working out which agency has the best information, the best skills, the best means of addressing the issues."
Mr Hyland's strategic plan, Independent Anti-Slavery Commissioner Strategic Plan 2015-17, has two immediate aims – to identify more victims and to refer them for support, and to see more prosecutions and convictions of those committing these crimes.
He said: "I put victims at the top, but I need to make sure that law enforcement are working effectively, that partnerships aren't about how many attend and how often they meet, but about how we find victims, how we get prosecutions, and how we stop this crime.
As of this month, businesses with a turnover of more than £36million are required to publish an annual statement of steps they have taken to prevent slavery and trafficking in their workplace.
Mr Hyland is working with CEOs and directors of large businesses across the UK to increase the transparency of supply chains.
He said: "Groups like KPMG and those who set the standards, are like watchdogs and they will bark when something seems to be wrong. The public, non-government organisations, and the activists are the bloodhounds and they will show where things are going wrong.
"And once we have those two things operating in unison, we will see a change in the culture, not just here in the United Kingdom. This is the UK spearheading across the globe."
In his findings, Mr Hyland has identified that there is lots of data and information that has not yet been responded to.
His examination of six forces revealed that, of crimes referred to them by the third sector, there was a 100% failure rate.
He said: "We know about what is happening, we are told about what is happening, but there is no response.
"Part of the solution is to catch criminals because they won't stop. Those criminals don't care what I say, they don't care what the Secretary of State says, they don't care what the Pope says.
"And I know from my personal experience, that they do care when they are locked up and stripped of their assets. In fact, when that happens, they tend to get quite emotional."
Mr Hyland hopes to share new intelligence systems with a number of the UK police forces early next year, after successful discussions with the US State Department.
He said: "[Police] should be looking at how we can get rid of this crime, and without prosecutions, without supporting victims, without looking at the bigger picture, we will just be dealing with the minutiae picture as opposed to what is actually happening."
Main image courtesy of Imagens Evangélicas, with thanks.