Dealers of party drugs were condemned as a 'heinous blot on our civilisation' by a coroner at an inquest today after a Warehouse Project reveller died of Ecstasy poisoning during a lads' weekend.
Nick Bonnie, 30, whose mother works in drug rehabilitation, unknowingly took almost 15 times the recreational dose of MDMA when he and friends travelled 200 miles to the WHP in Trafford Park.
Initially Mr Bonnie was texting his unsuspecting girlfriend Leah Wilkins saying, 'goodnight, love you,' and later he and four friends had their picture taken together while enjoying the music.
But later a security guard at the venue had to tend to Mr Bonnie when he was seen to lose his footing and crash into a fire door. Although he told the guard 'I can cope, I can do it' he collapsed and was rushed to hospital where he died two hours later.
Police who investigated the tragedy discovered Mr Bonnie and three of his friends had bought Ecstasy and cocaine before leaving their hometown in Stroud, Gloucestershire, for the night out.
They took MDMA and cocaine both in the car and at a rented apartment in Salford before consuming more in the queue as they entered the club.
The three friends and another member of the group who didn't take any drugs were later hauled into court after they falsely claimed the Ecstasy was bought in the club itself in a 'drunken mistake'.
At an inquest in Stockport, coroner John Pollard recorded a narrative verdict and said: "These drugs are manufactured and distributed by people who clearly have no care for the welfare of fellow human beings.
"They are morally bankrupt and form a heinous blot on our civilisation. There was nothing to suggest the presence of drugs in his body was due to anything other than a voluntary act. No-one forced him. It was apparently for the 'buzz' that he would get from them.
"I suspect that he either took too many tablets or more likely he took the powder form of the drugs and didn't know how much he was taking.
"Looking at all the facts it is very clear that while Nick had used drugs previously and that he was planning to use them again, he managed to keep this from his parents and partner. If they had any knowledge about this I'm confident they would have brought considerable force to bear on him."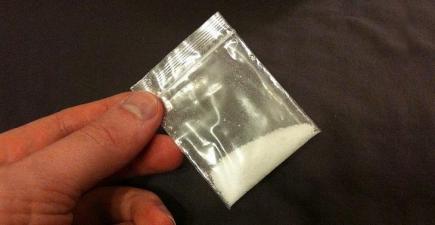 'MORALLY BANKRUPT': Dealers of MDMA powder and ecstasy were slammed by the coroner (Image courtesy of Kevin Yank, with thanks)
Mr Bonnie, a finance manager had worked for the Prince's Trust for eight years and had attended one of the Queen's garden parties at Buckingham Palace. He was also invited to Highgrove and had helped many young people get into work and was raising thousands of pounds for good causes.
But unknown to his family girlfriend and Royalty connections he had taken drugs on previous occasions and tragedy struck last September when he and friends went to Manchester for a weekend away.
One friend Dean Neale said: "When we arrived to the apartment we got changed and pretty much went straight out. We used drugs just before we got there. There was a large queue and we took more drugs in the queue.
"There was a table in the apartment and we had earlier put the MDMA on the table and split it into four. When we got into the club we bought some drinks and hung about the bar for a bit then made our way to the main area. We got separated from Nick right at the end at about 3am when the DJ had finished.
"We did sweeps of the place to try and find him. He wasn't in the toilets and we phoned him and there was no answer."
He said one of the group had a key to the apartment and left the club went back to see if Mr Bonnie had gone home.
But in fact by 3am Mr Bonnie was on his own elsewhere in the venue and was found by security manager Ivan Horsman after crashing through a fire door. Mr Horsman said: "He seemed to lose his footing as he came out and fell to the floor flat on his back right in front of me.
"He said his name was Nick and I could tell he was not simply drunk and he had taken something. I noticed he was clammy to the touch. I tried to talk to him but he was now less responsive. I remember him saying, 'I can cope, I can do it'. Me and a colleague took an arm each and helped him to his feet.
"Although we were supporting him he was at that time walking himself. We walked him towards the medical station and as I was walking he began spasms in his arms and his legs stiffened up. His speech deteriorated and I could tell he was taking a turn for the worse. 
"I kept saying 'stay with me'. I heard the medic say she was calling 999 and that was the last I heard until I received a phone call at 5.45am to say he was dead."
The cause of death was given as MDMA and cocaine toxicity with tests showing a concentration of 4.42mg of MDMA in his blood – with typical recreational use normally measuring just 0.3mg. He had also had amphetamine and alcohol in his system.
The hearing was told how when Neale and friends Paul Tabb, Simon Lloyd-Jones and James Churchill learnt of Mr Bonnie's condition they took a taxi to Manchester Infirmary and during the journey they concocted a story they had bought the powder and tablets as a 'drunken mistake' in the club.
They were only rumbled when Miss Wilkins analysed her boyfriend's phone almost two months after his death and discovered a string of texts and WatsApp messages detailing the group's intentions prior to the night out.
Neale told the hearing: "We didn't want to protect his parents as such, but the image of us as a group. We didn't want it to look like we had planned to take drugs all along, more that it was a drunken mistake."
Tabb told the inquest: "I knew his parents would be told their son had died from drugs and I knew from previous conversations that they had no idea he had ever taken drugs. We thought it would be easier for them to get their head round it if they thought their son had made one drunken mistake. All of us were told we wouldn't get in any trouble for the drugs so we didn't do it to protect ourselves."
Mr Lloyd-Jones, who didn't take the drugs, added: "It was the worst mistake I have ever made. It was a group conversation because none of us knew the state Nick would be in. We thought if they didn't say they took the drugs up with them then it would be a slap on the wrist and it wouldn't go any further. It only occurred after the lie that we should have told the truth."
At an earlier hearing Churchill, 31, a gym owner, admitted three charges of supplying controlled Class A drug MDMA, three counts of supplying cocaine and a charge of perverting the course of justice and was sentenced to 12 months in prison, suspended for 18 months and ordered to carry out 250 hours of unpaid work.
Tabb, 31, and dad-of-one Neale, 30, admitted possession of MDMA, possession of cocaine and perverting the course of justice by providing a false witness statement. They were sentenced to eight months, suspended for 18 months and ordered to carry out 250 hours of unpaid work.
Construction site engineer Simon Lloyd-Jones, 29, admitted perverting the course of justice and was sentenced to eight months, suspended for 18 months, as well as 250 hours of unpaid work.
Image courtesy of Facebook, with thanks.