A flyover video showing plans to revamp Oxford Road has been released, offering a first look at the new bus priority corridor and 'Dutch-style' cycle lanes to tackle traffic.
The major investment in city centre travel by Transport for Greater Manchester and Manchester City Council will see a raft of changes introducd to try and improve the flow of traffic in the city centre and ease congestion.
The virtual tour video released yesterday shows how Oxford Road will be revamped into a public transport haven exclusively for buses, taxis, hackney carriages, cyclists and emergency services from 6am until 9pm, seven days a week.
Sir Richard Leese, Leader of Manchester City Council, said: "This is part of a major investment in our infrastructure that will help us make travel greener and more sustainable while also providing huge benefits for the city's economy.
"These are exciting plans which will transform public transport in Manchester, making bus journeys quicker and more reliable, while also introducing Dutch-style cycling lanes which will provide huge improvements for cyclists on one of the country's busiest bike routes."
During a major consultation which saw more than 500 people give feedback on the proposed road plans, it was decide that road-widening, resurfacing and junction improvements on Upper Brook Street would have to be implemented to make way for the major development on the Oxford Road Stretch.
This change means that road users can expect a better flow of traffic in and out of the city centre.
The proposed scheme will also target traffic along sections of Oxford Road and will include a 4km stretch of segregated bus lanes that officials are hoping will 'significantly improve' the punctuality and reliability of bus services on the 25 miles of key routes around Greater Manchester.
The major re-development will provide pedestrians with zebra crossing points at bus stops where there are 'Dutch-style' cycle lanes to allow safe crossing.
Such cycle lanes near busy areas like Whitworth Park and at the University Precinct will also be present.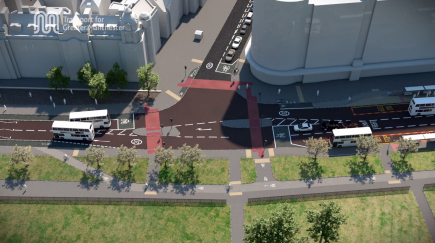 SAFE HAVEN: Whitworth Park and the Hathersage Rd/Oxford Rd junction will utilise the new 'Dutch-style' cycle lanes
(©TfGM, with thanks)
The proposed bus lanes on Booth Street West will also be removed in the renovation to provide two lanes for general traffic crossing Oxford Road.
Councillor Andrew Fender, Chair of the Transport for Greater Manchester Committee, said: "This is an exciting scheme that will revolutionise sustainable travel along one of the busiest routes into Manchester city centre, with better access to the universities, healthcare and businesses along the route.
"As well as speeding up bus journey times and improving cycling, pedestrians using Oxford Road will benefit from wider footpaths and safer crossing points along the route."
For any changes to occur on Oxford Road, Princess Street will need to become two-way between Mancunian Way and Major Street.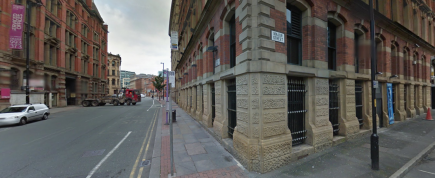 TICKET TO RIDE: For changes to happen, Princess St will become two-way between Mancunian Way and Major St 
(© Google Maps, with thanks)
This will provide a direct route into and out of the city centre for all road users – including visitors from across the country.
Councillor Fender said: "The plans have been shaped by input from local businesses, organisations and residents and balance the needs of all road users. Ultimately, the bus priority package will create a better environment and future for everyone who works in, lives in or visits our city."
Advertisements of how the proposals will affect parking, loading and waiting restrictions will be authorised though a formal statutory process and begin on December 1 and run for 21 days.
Peter Mount CBE, Chair of Central Manchester University Hospitals NHS Foundation Trust, a member of the Oxford Road Corridor Partnership, also believes that the development will cater to the wider community as well as Oxford Road users.
He said: "I'm genuinely excited at the opportunities that the changes to Oxford Road will bring in the years to come.
"It's a really bold and innovative scheme that will undoubtedly give better access to the many world class facilities along the corridor, while at the same time making it a more welcoming place to visit, live, travel and work.
"Together with other corridor partners, we've been working with TfGM to ensure that this scheme caters for as many people as possible so that Oxford Road becomes an attractive destination and gateway to Manchester city centre and beyond." 
Similar local schemes have already been delivered in neighbouring areas surrounding Oxford Road including Higher Cambridge Street, Upper Lloyd Street and Claremont Road – areas that have all benefited from improved road safety and fluid traffic flow.
There will also be updated signage introduced on routes further out of Manchester city centre to help motorists find the best route to their destination.
The bus priority scheme has been developed as part of the overall transport strategy for the city centre, which includes plans for the Metrolink second city centre crossing.
More information about the bus priority package is available here or by calling 0300 123 1177 (lines open Monday to Friday during business hours).
Image courtesy of TfGM, via YouTube, with thanks