Piccadilly Gardens has the highest number of reported 'fatal' and 'serious' collisions in the city over the last nine years, figures reveal.
Sixteen road accidents were recorded at the busy transport hub from 2005-2013 according to data released by the Department for Transport's English Road Safety.
Other city centre blackspots include Princess Street and Portland Street, which had 11 reported accidents and the junction of Chepstow Street and Oxford Street had eight.
The findings to coincide with the Road Safety Week, a national campaign led by road safety charity Brake, calling on drivers to take care on the roads in a bid to cut the five deaths and 61 serious injuries that happen every day on UK roads.
The main accident blackspots within the Manchester Ring Road are listed below: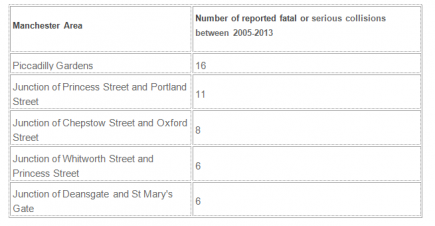 Katie Shephard, director of Brake, the road safety charity, said: "We're living in an age when being constantly connected is the norm; more and more of us have smart phones, and find it hard to switch off, even for a minute.
"While there are enormous benefits to this new technology, it's also posing dangerous temptations to drivers to divert their concentration away from the critical task at hand, often putting our most vulnerable road users in danger.
"Many people who wouldn't dream of drink-driving are succumbing to using their phone and other distractions while driving, oblivious that the effect can be similar and the consequences just as horrific.
"We're calling on drivers in the North West to tune into road safety: turn off your phone or put it in the boot, and never try to multi-task at the wheel. We're also appealing to everyone to refuse to chat to someone on the phone who's driving, to help them arrive safely."
The figures, compiled by The Car People using figures released by The Department for Transport, show there have been three fatalities in traffic accidents involving cars, three involving trams and one involving a bus or coach in Manchester city centre since 2005.
According to the research, the most-accident-prone age group when it comes to travelling around the city centre has remained the 26-35 bracket for the last eight years.
The research also found that more than twice as many males as females were injured on Manchester city centre roads in 2013.
However, the number of fatal and serious injuries caused by traffic accidents in Manchester has dropped significantly over the eight-year-period and fatal injuries dropped by more than 80 per cent and serious injuries by over 40 per cent.
 Local road safety education project DRIVE2LIVE, funded by DriveSafe, and made up of Local Councils, Greater Manchester Fire and Rescue Service and Greater Manchester Police have also backed the road safety campaign.
The head of prevention at Greater Manchester Fire and Rescue Service, Wayne Shields, is now urging drivers to stay off their mobile phones whilst driving, in a bid to cut down the 67,000 North West drivers who have points on their license for using electronic devises at the wheel.
Wayne Shields said: "We now rescue more people from road traffic collisions than we do from fires.
"With smart phones and sat-navs it has never been so easy to become distracted whilst driving.
"And distraction leads to fatal consequences for so many people on our roads.
"Road Safety Week helps us reach people with road safety advice and prevent crashes before they happen."
For the original statistics from The Department for Transporty visit here and for more information on The Car People, visit here. 
Image courtesy of Kevin Boyd, with thanks.