Britain First could see a surge in their support after the 'callous and shameful' Paris attacks, warns a Manchester Green Party candidate.
The attack on Paris, which Isis has claimed responsibility for, killed 129 people – the deadliest in France since World War II.
Deyika Nzeribe, the Green's candidate for Hulme and member of the Greens of Colour, extended his sympathies to the people of Paris and those facing crisis all over the world.
He told MM: "Our condolences go out to victims of the bombings and the people of France, it was a callous, shameful action by the perpetrators.
"We remember the victims of this bombing and all the others all over the world that have not received as much attention."
In the aftermath of this senseless violence and tragic loss of life, we have seen world leaders respond with support and solidarity, and people reach out to one another with compassion in the face of extreme terror.
Anybody who's stranded in Paris and needs shelter and somewhere safe, any Sikh Gurdwara (temple) will be happy to accommodate #PorteOuverte

— Rohan (@RohanSinghKalsi) November 13, 2015
Parisians circulated the hashtag #PorteOuverte to offer people caught up in the chaos a place to take refuge.
And since the massacre at the Bataclan theatre and suicide bombings outside Stade de France, #VoyageAvecMoi has been trending on Twitter to offer Muslims and ethnic minorities protection from xenophobia and Islamophobia on public transport in Paris.
Si demain et toute la semaine, tu cherches quelqu'un pour t'accompagner sur un AR Paris-Bondy, #VoyageAvecMoi pic.twitter.com/t4a9LGwQHz

— Little Reiko (@dark_reiko) November 15, 2015
#VoyageAvecMoi Lille ligne 1 (République – Pont de Bois) en général. Je suis brune et j'ai un manteau gris. pic.twitter.com/yIPMoY403K

— Tryphon (@Nohpyrt) November 15, 2015
#VoyageAvecMoi Tjrs Lille Rép – Lille 3, j'y serais aux alentours de 8h15 je pense si je ne me met pas + en retard pic.twitter.com/E62rBK6k4P

— Tryphon (@Nohpyrt) November 18, 2015
But, as the need for the #VoyageAvecMoi hastag suggests, not all responses have been so positive.
And Mr Nzeribe thinks we will see this negativity manifest itself in the UK, with a rise in support for the 'clearly racist' Britain First.
This is especially worrying for Mr Nzeribe, as the far-right nationalist party hit one million 'likes' on Facebook last week – more than the Conservatives and Labour combines.
He said: "I am quite unhappy that a clearly racist group is increasing in popularity, that's not good by any stretch of the imagination. The events in Paris will only make things worse.
"That being said, I have to take Britain First's claim of one million Facebook 'likes' with a pinch of salt.
"It has more 'likes' than the Labour Party and the Conservatives combined.
"And you don't see that kind of suggested influence reflected on the streets or any other medium."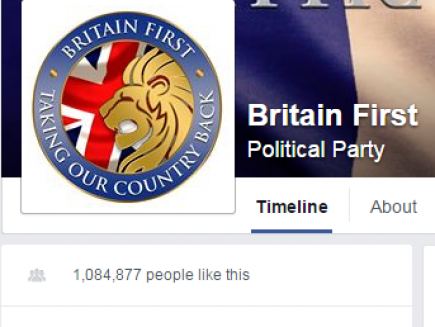 ONE MILLION LIKES: Mr Nzeribe said he takes Britain First's Facebook following with 'a pinch of salt' as it's not reflected on the streets
Not only does Mr Nzeribe think that misplaced blame and fear will push people to join Britain First but that our own government are driving them to do so.
He thinks a failure by the government to communicate and understand the working class is a significant factor for the rising support of the far-right across the country.
He said: "A lot of working class and poor people are under pressure with the changes the government is making especially with regard to welfare and low wages.
"It puts us under stress and makes people afraid.
"So, when Britain First says 'all your problems are being caused by immigrants and Muslims' then it's an answer, it feels like it is right.
"It's always been easier to blame perceived external factors for problems."
"It's been a long time since the parties in power put forward policies that are aimed at and genuinely help people in the lower socio-economic brackets of society.
"All the talk is of helping the middle classes."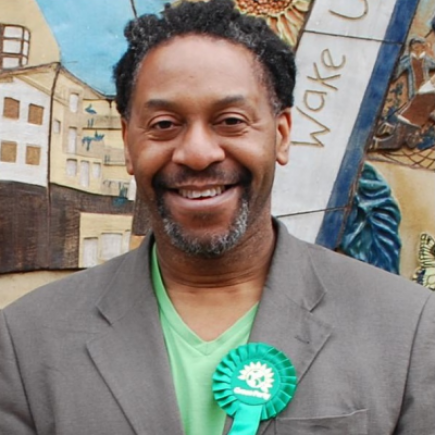 'ALL ABOUT HELPING MIDDLE CLASSES': Mr Nzeribe said government's failure to look after working classes is responsible for the rise of far-right politics
Britain First formed in 2011, by former members of the British National Party.
The party are strongly against mass immigration, multi-culturalism and what they perceive as the 'Islamation' of the UK.
They have often been accused of demonstrating a racist agenda and anti-Muslim ideologies.
Mr Nzeribe also explained that the party are very good at manipulating people by promoting distrust of the government and of the media.
"If you look at a lot of what they're saying to those working class audiences, the message is 'you can't trust the politicians and you can't trust the media'," he added.
"So when the media says, 'There's a backlash against Britain First', they turn around and say, 'Who's telling you there's a backlash? The media' and it undermines it."