Friday, November 17 saw all 10 of ZANU-PF's provincial structures passing a motion of 'no confidence' against the 93-year-old Robert Mugabe, pressing on him to step down as the leading party's first secretary.
He refused and was alleged to be asking for more time.
A broadcast message followed shortly, calling upon the people of Zimbabwe to take to the streets of Harare on Saturday to speed along Mugabe's decision.
The message went viral, as members of the ZANU-PF said: "The leader has lost control of the party and government business due to incapacitation stemming from his advanced age."
March organiser Chris Mutsvangwa, head of the Zimbabwe National Liberation War Veterans Association, claimed the rare show of public defiance against the president is not a Zanu-PF affair, but 'a show of people's force' against Mugabe's 37-year rule.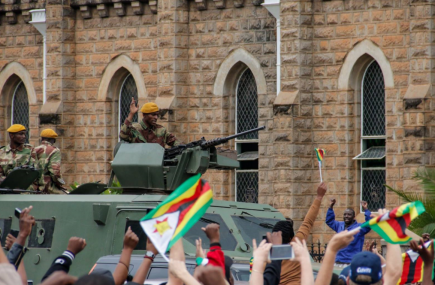 PEOPLE'S FORCE: Crowds flock to Zimbabwe's streets to urge President Robert Mugabe to step down
Watching all this unfold unleashed a ball of excitement within me. My country was finally coming together, peacefully it seems, for the first time in years, standing for a solid cause.
Activist pastor Evan Mawarire described the event as 'a momentous occasion' and an opportunity for a 'fresh start' to advance democratic change.
The gathering in the streets wasn't enough for the Zimbabweans though, because as the message spread on social media, new locations for the Solidarity March were popping up worldwide.
Parts of South Africa, the UK and the US – where millions of Zimbabweans migrated to in search of better living – were joining in on the movement, creating their own march in their own cities with fellow Zimbabweans.
Late Friday afternoon saw Twitter and Facebook explode with live videos of people sharing the locations and details to the whereabouts of their marches.
From fellow African countries to European nations – and even to Manchester's own back yard.
There it was. My flood of emotions released at the sighting of one Facebook post.
"#FreshStart March in Piccadilly Gardens at 1300hours," it read.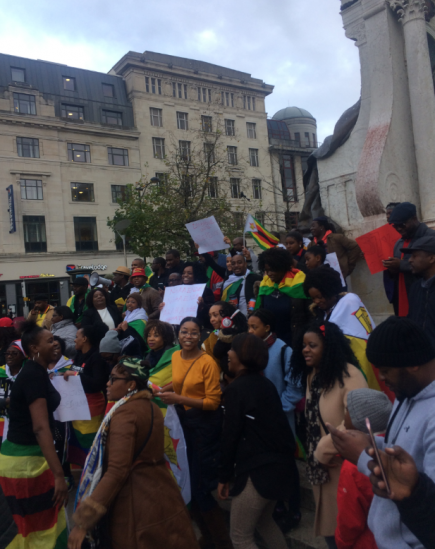 COUNTRY FIRST: Zimbabweans unite in Manchester's Piccadilly Gardens for a peaceful demonstration 
My wishes to be at home to be with my people and march alongside my fellow Zimbabweans in the fight for our country were granted, albeit in a slightly different manner.
All plans for Saturday afternoon were immediately cancelled. and my red shirt and Zimbabwe flag were at the ready.
The Solidarity March – which was approved and backed by the army – saw several thousand people gathered in the capital city Harare's centre and at City Hall in Bulawayo, the second city.
I woke up on Saturday morning to videos upon videos of people back home, swathed in the Zimbabwean flag, singing and dancing through the streets.
Live streams echoed out the glorious sounds of the people and vuvuzelas, exposing their sheer happiness and excitement at the prosperity of a new Zimbabwe.
People were marching alongside army tanks, hugging the soldiers, fist pumping them and cheering for them, something which on a normal day would not happen.
A man arriving at the rally said: "As Zimbabweans, we are saying to our army, 'Thank you very much for the peaceful intervention'."
Different political parties, different backgrounds, black people, white people, young people, old people, war veterans and army militants all came to the streets as one.
Hura Mutasa of Al Jazeera stated: "Zimbabweans of all races here, blacks and whites."
While other tweets read: "I haven't seen so many white people on the street since HIFA 2005."
Posters urged: "We can't have a 93-year-old person ruling more than 15 million people," and "Bob's not my uncle."
My excitement mounted, at the highest it could be, because, as a fellow Zimbabwean friend said to me: "I'm so proud of my country. Look at us, historic, no violence. We always make a way."
A lump filled my throat and tears welled in my eyes as I watched the live videos and news reports.
I recognised people in the videos. I could see several schoolmates and community members marching with their families, people I have known for most of my life, walking through the streets demanding change.
It hit me hard. This is my generation. My friends and my people. The change is happening and affecting me! It really is an extremely indescribable feeling to try and explain.
I arrived at Piccadilly Gardens at 1pm to give my piece of time up to the country.
Joy and respect filled my heart as I saw see a small group of people standing by the statue near the fountains, holding the Zimbabwean flag high.
Shoulder to shoulder we danced, we sang, we talked about home and what the future could and would hold. Ululation and Shona chants and songs filled the air, and I hadn't realised how much I missed the native tongue until I heard it.
I shared live videos on my Facebook page of the event as it unfolded, making sure that our crowd, of 50 or so Zimbabweans in Manchester, made their mark on the world.
I met some extraordinary Zimbabweans, one of whom, as it turns out, a lady who lived only a few streets down from my family home in the capital city.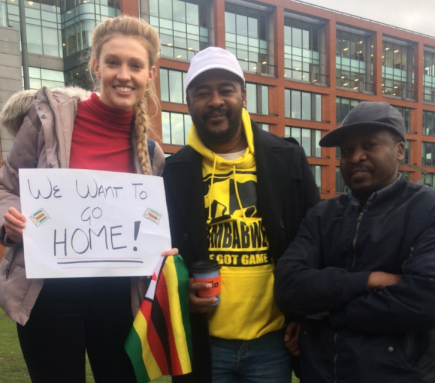 JOY AND RESPECT: MM's Lauren Dent with Nathan Banana, the son of Zimbabwe's first president in the 1980s, Canaan 
I couldn't contain my emotions as we spoke of home and the last time we had been back. And as my voice cracked and the tears broke, she comforted me as if her own child.
I left the solidarity stand, feeling safe, feeling fulfilled and positive, waiting for the meetings that Sunday would bring, knowing that this big of an outcry could surely not go unheard.
Sunday held a day full of suspense. The talks between military commanders and Mugabe ended with an expulsion of Mugabe as the ZANU-PF leader, being replaced by Emmerson Mnangagwa, and giving him a Monday noon ultimatum to step down as president of the country, or face impeachment.
With the feeling of complete unity after the peaceful protest the previous day, the country was still celebrating and still on a high at what was to come.
The news of a live TV address by Mugabe on Sunday evening had people sure of his resignation.
The air, however, fell stagnant after the highly anticipated resignation speech turned out to be a lengthy draw of not very much. He addressed the military actions and his party's actions, saying that it did not challenge his authority as head of state.
My Facebook feed was flooded with posts venting anger and confusion at what the president had just done.
Many people joked at the fact that Mugabe was trying to get us back one last time, as we all know his fate is inevitable.
Al Jazeera's Haru Mutasa, reporting from Zimbabwe's capital Harare, said: "A lot of people are surprised Mugabe did not step down after all this pressure.
"There is no celebration on the streets, just disbelief."
Another Zimbabwean said: "To me, he's already gone. These are the last kicks of a dying horse and if he doesn't submit that letter then measures will be taken against him by the parliament and the army."
Mnangagwa added: "No matter what happens it will be by the book. It will be constitutional. This is not a coup; we are going by the constitution. If President Mugabe does not go he will be impeached."
Let's just hope that amidst all this confusion and round-about chasing that change will come after the impeachment process.
Zimbabweans have held on for so long and can only trust the government and political parties come to agreement within the next few days and stick to the agenda of the country rather than their own.
Scepticism has taken place in my mind as I question if maybe there are ulterior motives behind this past week's actions.
Is there some political plan behind all of this, or am I just losing faith at what is to come?
Images and video courtesy of Dillan Prinsloo, with thanks.