A peaceful demonstration to protest state violence and the new police and crime bill took place in Manchester city centre yesterday afternoon.
Large crowds gathered in St Peter's square at around 4pm carrying placards sporting slogans such as 'Kill The Bill' and 'ACAB' (an acronym for 'All Cops Are B***ards') .
Feminist direct action group Sisters Uncut organised the protest after women were brutalised by police at a vigil for Sarah Everard, who was allegedly murdered by a police officer earlier in this month.
The protest was also for members of the public to show their anger at the latest police and crime bill, which will give police more powers to put restrictions on protests, for example, giving them a start and end time and setting noise limits.
Those who fail to comply with these new restrictions could face a fine of up to £2,500.
Members of campaign group the Socialist Alternative were also present at the demonstration handing out flyers on socialist feminism.
Speakers at the demonstration read out the names of women who have been victims of police violence and led chants such as 'sisters united will never be defeated.'
Demonstrators lay flowers at the speakers' feet in memory of Sarah Everard and all other women who have lost their lives due to male violence.
Protesters then marched down Peter Street towards Deansgate, continuing their chants as they circled back towards St Peter's square where many dispersed.
The vast majority of protesters had left the area by 7pm.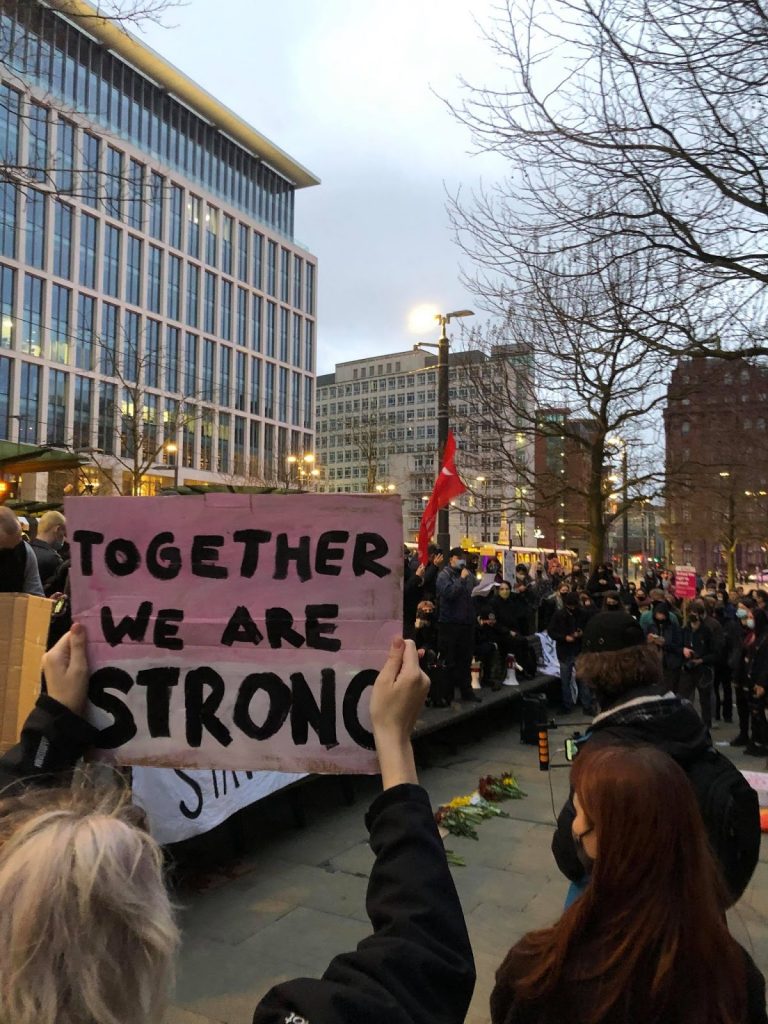 James, 22, told me: " I came to protest to reflect on the tragic death of Sarah Everard.
"Men need to do more. Hopefully this shows them that we have a lot of work to do to make the streets safer for women."
Another protester, Michael, 24, said: "I think it's important to protest and stand up against authoritarianism as the right to have a voice is fundamental to democracy."
There was a notable police presence surrounding the scene but they did not intervene with the protest.