Three Mancunians travelled to London to join thousands at the Israeli embassy as part of a global pro-Palestinian protest.
Nadeen Sial, Imran Kahn and Zac Hussain left Manchester in the early hours of Saturday morning to join supporters who passionately protested for a free Palestine in the Middle East.
The protests were held to increase worldwide awareness of the atrocities that are currently taking place in Gaza and to level allegations of unfair and inaccurate reporting of the events in Palestine by the BBC.
Taxi driver Imran Kahn, 35, said: "We are going to London to join the protest. We must stand up for the rights of Palestinians against their Zionist oppressors."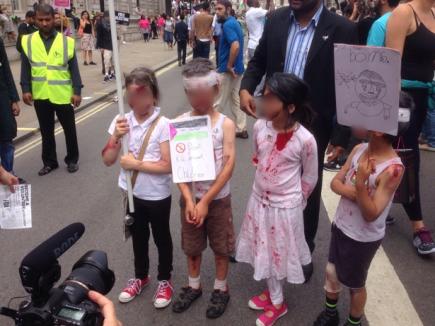 ALL AGES: Youngsters covered themselves in fake blood to make their feelings known
His long-time friend, 43-year-old Aviation Security specialist, Nadeen Sial agreed.  He said: "We are going to show support for our Palestinian brothers."
More than 500 Palestinians, mainly civilians, have been killed since Israel launched an offensive 13 days ago to end rocket fire from militants, Gaza's health ministry says.
Sunday was the deadliest day since the start of Israel's offensive, with 13 soldiers and more than 100 Palestinians killed in air strikes and ground clashes.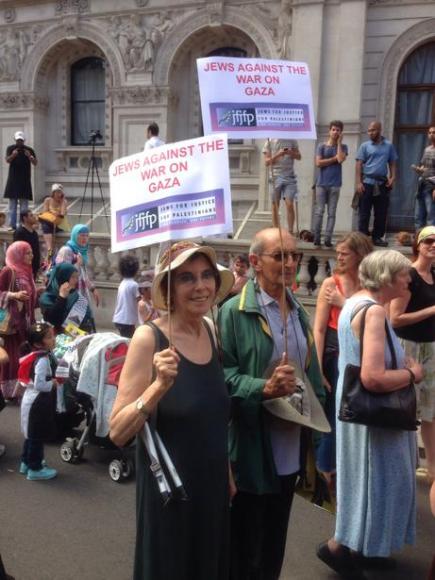 UNITED FRONT: Jewish people joined in with the protest
The protest against conflict in the region saw unified support from a wide variety of races, genders and ages with children, labour unions and Jewish people among the groups making a stand.
Action began at Prime Minister David Cameron's residence at 10 Downing Street and ended at the Israeli embassy in west London.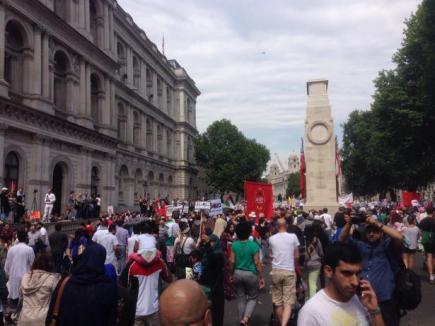 MARCHING ON: The protest took place all over London
The three-hour-long walk in the sun led to numerous complications for Muslims participating in Ramadan. Taking place as the Eid celebrations draw nearer, organisers reported that 10 people had fainted in the heat.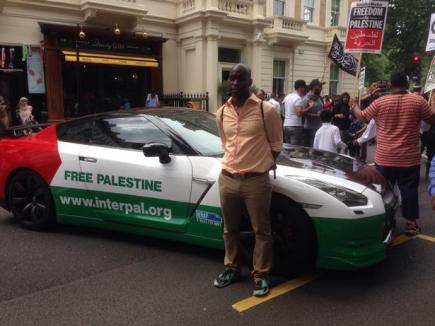 AT THE SCENE: MM's Bryce Williams hit the road to attend the protest
Zac Hussain, 36-year-old from Oldham who was also fasting, said: "We must show support and get the word out."
Similar protests were held simultaneously across other capital cities around the world.
French President, Francois Hollande, banned all pro-Palestinian demonstrations after protesters violently engaged riot police after marching on two synagogues in Paris.
However, the protest held in London was peaceful and no arrests were made, the Metropolitan Police confirmed.