Oldham schoolchildren are below the national GCSE average and the community must work together to boost their grades, says councillor Shoab Akhtar.
Thursday's indications suggested results remained at the same level compared to last year with 52.3 per cent of students achieving at least five grade A* to C passes (including English and maths), a slight decrease of 0.1 per cent on 2014.
Although this may rise when the Department for Education confirm adjusted figures this autumn, Cllr Akhtar, cabinet member for education and skills, said change must be immediate.
"We know – along with schools, partners, governors and parents – that there's a lot of work to be done. The forthcoming report of the Oldham Education and Skills Commission is going to be the driving force in this process," he said of the report due in October.
"For this to work it cannot just be about schools and the education authority – for example, it's got to start during early years, in the community and at home.
"We all need to take responsibility for improving education and prospects as a community – every person needs to do their bit in helping to raise aspirations of all our young people."
The Oldham Education and Skills Commission was set up last year to help raise standards in schools to raise the aspirations of young people so that every child can achieve their potential.
There were some outstanding results however at The Radclyffe School in Chadderton, where pupils scored the school's best ever results.
60% of students achieved five or more A*-C grades (including English and maths) while 75% of students achieved A*-C in GCSE English, 6% above the national average.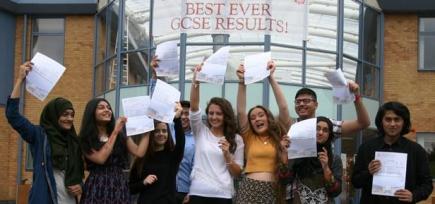 HIGH FLIERS: Celebrating their excellent results are (l to r) Humayra Begum, Sharmin Ahmed, Emily Broome, Rizwan Fayyaz, Isabella Schiavo, Rebecca Jacewicz, Muhammed Ali, Asma Asad and Delwar Hussain
Headteacher Hardial Hayer said: "These record results are a testimony to their hard work, dedication and commitment over the past five years as well as the high quality of teaching by our staff and the support from the parents.
"I am especially pleased with the record number of A* and A grades our students have achieved at GCSE.
"We continually strive to challenge all our students to reach for the stars and we congratulate and salute them on their individual success stories and wish them well for the future."
Young people in Oldham who may not have anything lined up yet are urged to contact Positive Steps on 0161 621 9400 or visit them at Medtia Place, 80 Union Street, Oldham, OL1 1DJ.
Image courtesy of johnrudolphmueller via Flickr, with thanks.