Feel Good Club, a wellbeing coffee house in Manchester has teamed up with online blog Manchester's Finest to deliver random acts of kindness for city centre residents this month.
They have brought in creative agency Jack Arts to spread some positivity around the city in the form of posters and billboards for the next two weeks.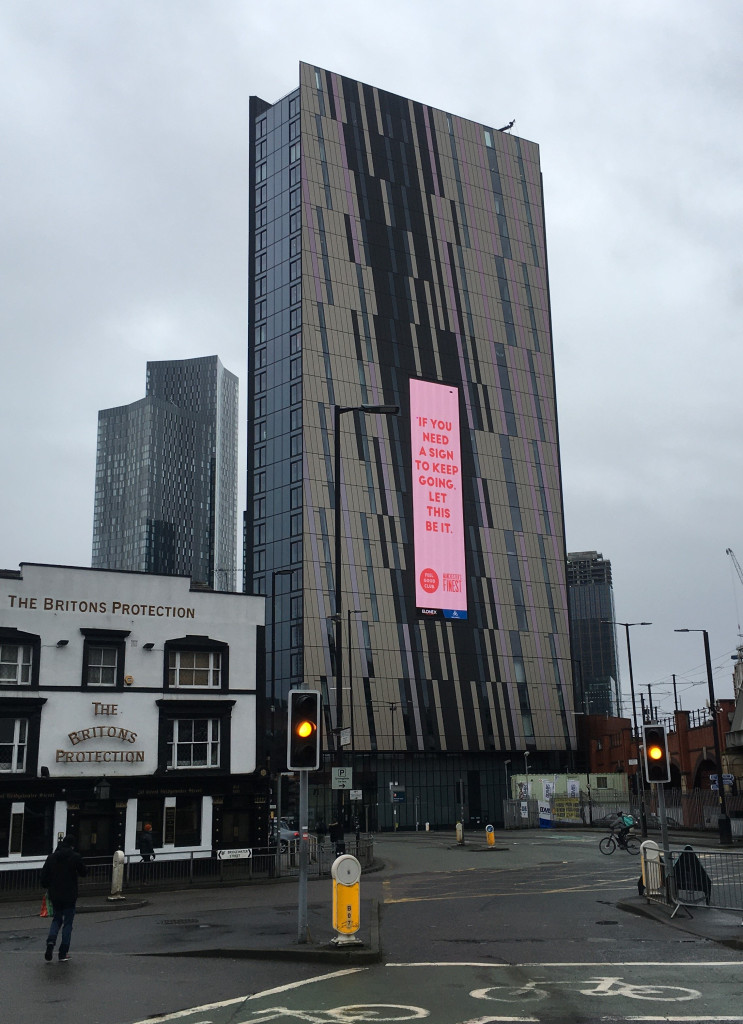 Wives Aimie and Keira began a Random Acts of Kindness campaign during the first lockdown in 2020, starting with a weekly live stream from their living room.
In October 2020, they opened up their very own coffee shop and bar in the Northern Quarter, Feel Good Club, and started a monthly R.A.O.K campaign with other businesses in the city.
In December, they worked with Bread and Bowl to provide meals for the homeless in Manchester.
This month, they have teamed up with Manchester's Finest and Jack Arts to put up posters and billboards, reminding people to be kinder to themselves.

They decided to launch the campaign on what is widely known as 'Blue Monday', which was coined by Sky Travel as a marketing campaign, to remind people to remain optimistic especially during the pandemic.
Some of the signs read 'It's okay to feel blue this Monday and every Monday after that' and 'If you need a sign to keep you going, let this be it'.
Six years ago, co-founder Keira suffered from an eating disorder whilst at university.
She began making candles with on positive messages on and documenting her recovery online.
In 2019, she got married to wife Aimie and together they set up Feel Good Club so that they could set up a platform that delivered the messages they wanted to hear.
They began sewing and making screen prints from their spare bedroom, hoping they would remind people to be kinder to themselves, but knew they wanted to expand.
Keira said: "We wanted somewhere that we would enjoy going and that would be great for our customer's wellbeing, as well as our own."
Unfortunately due to the COVID-19 pandemic they were only able to fully open for two weeks, but are still offering delivery of their products and take out services.
"We have regulars that pop in as part of their daily exercise and have a chat with us, which just gives them a slice of normality.
"The feedback has been incredible and it shows people do want to be cheered up and need what we are putting out there.
"Some days you need a reminder that it is okay to have a bad day or week and that you're not on your own.
We want to normalise talking about mental health"
They haven't got next month's R.A.O.K. planned yet, but they have hope to do something bigger and better – watch this space!
To see Feel Good Club's products visit the website here, or just pop in for a chat and a (takeaway) coffee!