An Oldham MP is calling on the government to step up support for the forgotten victims of the pandemic, after figures revealed more than 138,000 people in the North West were suffering with long Covid.
The ONS data, which covers the four-week period to the 6th March 2021, shows an estimated 1.94% of people in the North West were living with the condition compared to a national average of 1.69%, with a total of 1.1 million sufferers nationwide.
Oldham East and Saddleworth MP, Debbie Abrahams said: "Long Covid patients have felt like the forgotten victims of this pandemic. The government must end the current postcode lottery of rehabilitation services and ensure all those who need long-term treatment can access it."
Ms Abrahams, who is the vice chair of the All Party Parliamentary Group (APPG) on Coronavirus, added: "These figures reveal the wide-scale impact of long Covid in Oldham, and across the region as a whole, and the urgent need for the government to step up support."
After receiving evidence from a large number of long Covid sufferers, the APPG identified crucial areas for improvement, and made a series of recommendations to better support those living with long Covid.
The widely varying standard of care available to long Covid patients across the country is a key issue flagged for urgent improvement.
Though the long Covid clinics established across England in December 2020 were an important step forward, they argue that access to treatment remains something of a "postcode lottery" and must be reassessed.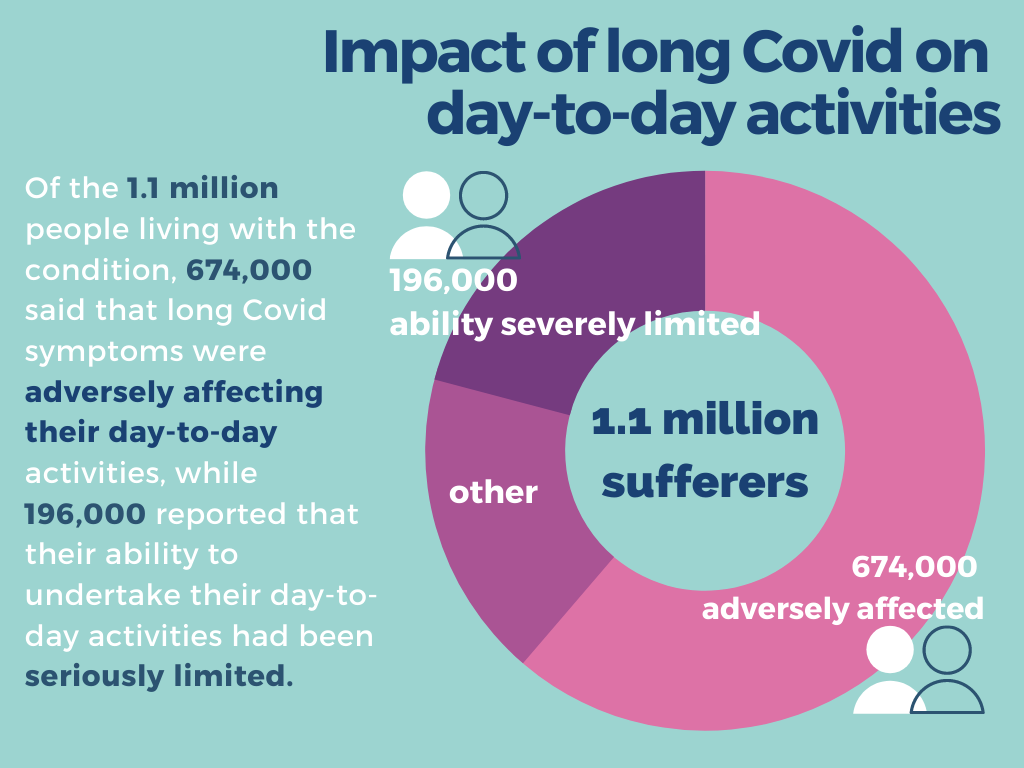 Emma, 41, contracted Covid last March and has since suffered with serious fatigue, breathlessness and chest pain; all symptoms attributed to long Covid.
A resident of Hale, Cheshire, Emma was never referred to a long Covid clinic. Though she does have private health insurance she praises the care and support she received from her Timperley-based GP throughout her ordeal.
She said: "I'm lucky, my GP has been brilliant.
"He referred me for a series of tests including an echocardiogram, which showed a small decrease in cardiac output, and they've now said I'm in heart failure.
"They think it's myocarditis – inflammation of the heart muscle, which is a complication of viral infections and common after Covid."
Though her symptoms are severe, her fatigue is much improved and she was given plenty of useful advice to help her adjust, including a more gentle exercise plan featuring shorter, more frequent walks.
"I can only manage about 20 metres before I get breathless, but I do feel like I'm getting gradually better."
While Emma edges 20 metres at a time down the road to recovery, mother-of-two Gemma Wells says long Covid is still weighing heavily on daily life with her children.
Since she and her mother both caught Covid in March 2020, she has been struggling with breathlessness, serious headaches, feeling constantly exhausted.
After the shock of the original illness wore off, she began to notice something wasn't right.
"I've been a wreck ever since, I feel like a shell of my former self and the impact on my mental health has been hard to deal with," she said.
"I had to drop to part-time hours at work and I can't play chase or run around after my kids like I used to.
"I feel like I'm letting them down, and I can't be the mummy they deserve anymore."
Though she is sure the exceptional care she and her mother received in hospital saved their lives, her report of aftercare by her Stretford GP is less glowing.
"I haven't been referred to any kind of long Covid clinic, and my doctor's understanding of it seems quite vague.
"It's like he just plasters over my ongoing symptoms and leaves me to it really."
The figures highlighted health and social care workers experience the highest rates of self-reported long COVID, with over 1 in 28 working in health care suffering from long Covid, along with almost 1 in 32 working in social care.
Rates were also higher in those aged 35 to 69, amongst females, and in those living in the most deprived areas.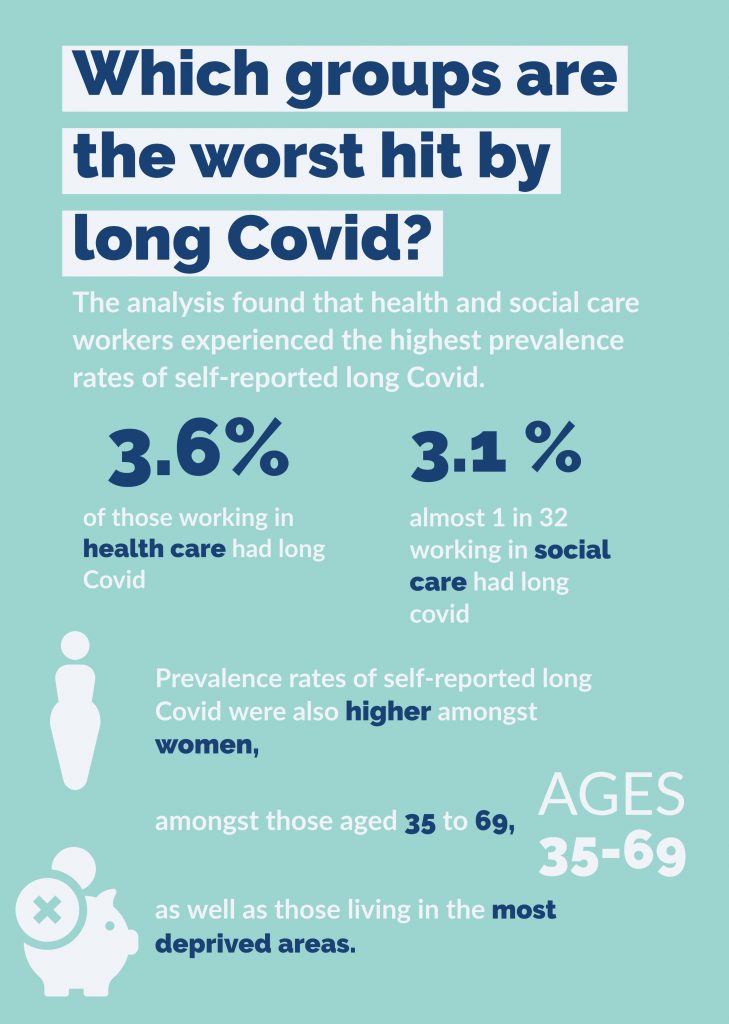 In light of these findings, the APPG is demanding the government sets up a long Covid compensation scheme for key workers, who they say have worked tirelessly on the frontline and are now paying a heavy price.
They also urge the government to recognise long Covid as an occupational disease, and give employers formal guidance on how to properly support employees struggling with the condition.
Further suggestions from the APPG advocate for committing more funding to research on the long-term effects of Covid-19 on people's health, and for collection of far more comprehensive data on long Covid, to be recorded with the same diligence as positive Covid cases, hospitalisation and deaths.
The National Institute for Health Research (NIHR) announced £20m of funding for research into long Covid in November, of which £18.5m has been awarded to research projects, and another £20m of funding was announced earlier this month for research into supporting those with long Covid.
Speaking on the bounty of funding made available for such research, Chief Medical Officer for England and Head of the NIHR, Professor Chris Whitty said: "Good research is absolutely pivotal in understanding, diagnosing and then treating any illness, to ease symptoms and ultimately improve lives.
"This research, jointly funded through the NIHR and UKRI, will increase our knowledge of how and why the virus causes some people to suffer long term effects following a COVID-19 infection – and will be an important tool in developing more effective treatments for patients."
Main photo by Fusion Medical Animation on Unsplash