Residents are urging the council to increase safety at the intersection of Albany and Brantingham Road in Chorlton after yet another serious collision.  
Witnessing many crashes over the years, residents fear not only for their own safety, but for the many children who attend the nine primary schools within a one-mile radius of the intersection.
The latest victim Daniel Roberts, 26, was lucky to escape with only a broken shoulder and a deep scalp laceration last month. He was walking past an apartment block on the corner of Albany Road when a 2010, white Vauxhall Corsa mounted the curb at speed and crashed into him.
"He took the corner too soon so he came round on the pavement. From that he overcorrected and swerved into the oncoming lane. He then overcorrected again and swerved back onto the pavement where I was," he said.
"It's lucky that there weren't people waiting to cross like there usually is."
Mr Roberts didn't blame the driver and noted how he stayed with him after the crash to make sure he was okay. He instead blamed the lack of precautions at the junction.
"At the very least we need a zebra crossing or some give way bollards like they have further up Brantingham Road."
Magda Montoya, 62, has lived in the apartment block for 12 years. She has a balcony that overlooks the intersection and witnessed this latest crash.
She said: "The driver lost control. [Mr. Roberts] was walking normally and I saw the car on the pavement, then hit him and then he was flying."
In the time that Ms Montoya has lived in her apartment, she has seen more than her fair share of collisions. These include collisions with people, bikes and cars with one that necessitated intervention from the fire services when the car set on fire.
Luckily for Mr. Roberts, Ms Montoya was being visited by her friend Dr Silvina Lavarello. The local GP rushed down upon seeing the accident and worked to stop the bleeding coming from Mr. Roberts' head.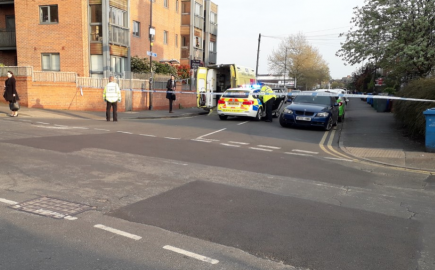 NO FUNDING: Cllr Eve Holt says over the years lack of money to put in crossings has affected road safety – something she hopes to change
A resident in the apartment block for nearly six years now, Dr Lavarello said: "I remember more than once hearing a squeal and a crash. You know straight away it's that corner."
At the time of the crash, Mr Roberts' housemate Marcus Nixon, 34, was walking home when he noticed his friend lying on the floor amongst the police, the crying driver and the paramedics.
With their house directly on the intersection, he too said that this is an all too common occurrence.
"All the time it's just crunch crunch crunch. I remember one crash that happened at six in the morning because it got me out of bed."
Cllr Eve Holt, Labour councillor for Chorlton ward since May 2018, indicated that the council is aware of the dangers at the crossing. She said that she herself has had a grave personal concern regarding it.
"There's clearly a need to look at what can be done at that junction," she said before expanding to talk about how Andy Burnham and Chris Boardman's £1.5 billion initiative to make Manchester's streets safer and more pedestrian and cyclist friendly.
"We will see some more crossings coming to Chorlton which is something that we've wanted to see for a long time but there hasn't been the funding.
"At a number of events where we encouraged local residents to say where the key hotspots are, that junction was noted as an area that was difficult for people to navigate," she said.
If you have any concerns about the road or want to get involved in making changes to the safety precautions, Cllr Holt has asked for people to contact her via email at [email protected].