On the two-year anniversary of the Manchester Arena bombing, today the city stood in solidarity.
On a day of reflection, MM went out to sample the sombre atmosphere and speak to people about their thoughts and memories of the tragic events on the night of May 22 in which 22 people lost their lives.
On Wednesday we mark the 2nd anniversary of the Manchester Arena bombing. As we pray for peace & for all affected by this tragedy, St John's tower will be lit for 22 minutes, 1 minute for each person who died. The lights will go out at 10.31pm, the moment the bomb exploded.

— Fr David Warner SCP (@RevDavidWarner) May 17, 2019
Family and friends of those affected by the arena attack attended a private church service at St Ann's Church at 2pm this afternoon, while others from Manchester and beyond gathered together close by for a minute's silence held at 2:30pm, laying flowers, balloons and handmade hearts down to pay their respects.
Kevin Northrop: "I remember going to St Ann's Square afterwards to see the flowers and read the comments. It was amazing – the whole kind of atmosphere round there was so serene, with so many people gathered to silently remember those who had died and what had happened.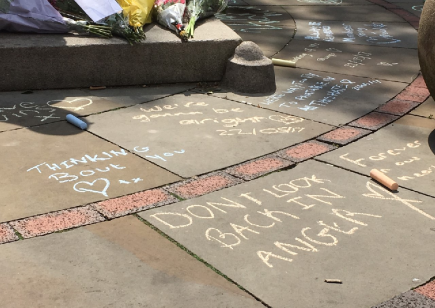 ST ANN'S SQUARE: Tributes written in chalk on the pavement in 2019, as they were two years ago on May 23 in the aftermath (picture by Georgina Coupe)
"It was a very moving experience. It was so impressive the way everyone in the whole city pulled together. 
"And it wasn't in a negative way – it wasn't hatred towards those who had committed it or anything like that. It was love and getting behind those who had suffered from it.
"It was just the city pulling together as a whole in that kind of atmosphere – it was an atmosphere of quiet reflection and love for each other."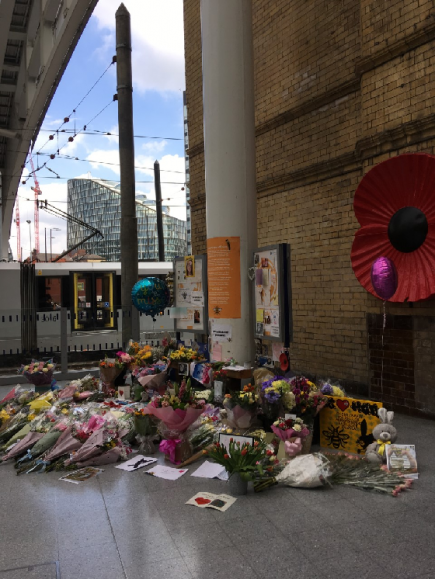 MANCHESTER VICTORIA: Flowers and balloons at Manchester Victoria train station (picture by Molly Millar)
James, 35, psychiatric nurse: "Everyone was sticking together. We had taxi drivers who were helping out and, I worked at the time for the NHS and obviously they did a huge amount of work and we all did roles we didn't normally do like those from the stroke ward went to A&E.
"It's just awful. Your heart goes out to anyone who was there and who was directly affected by it.
Mary Gibson, Saddleworth: "I was at home on the day of the Manchester bombings. I just heard about the incident on the news – I absolutely couldn't believe it.  
"When things like this happen closer to home, you really do feel it. It's horrendous. 
"The atmosphere here today – you can hear everything going on around you – but it's got this quietness. The town is just the same as normal, but at St Ann's square, it's very poignant.  
"The city has pulled together. Manchester will also do that. People round here have their hearts very much into it."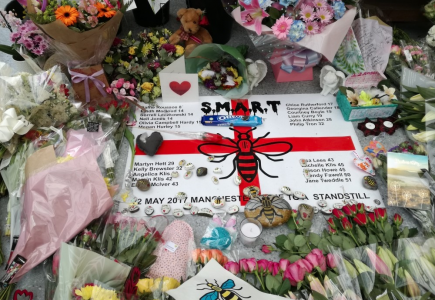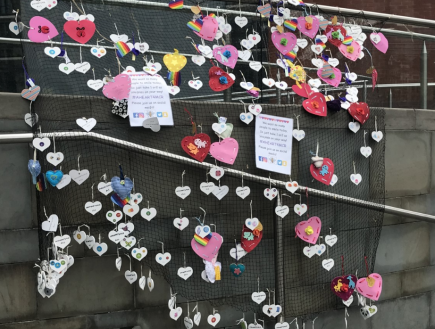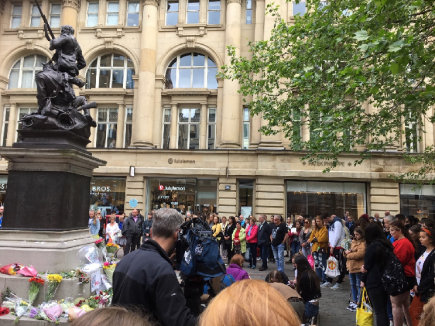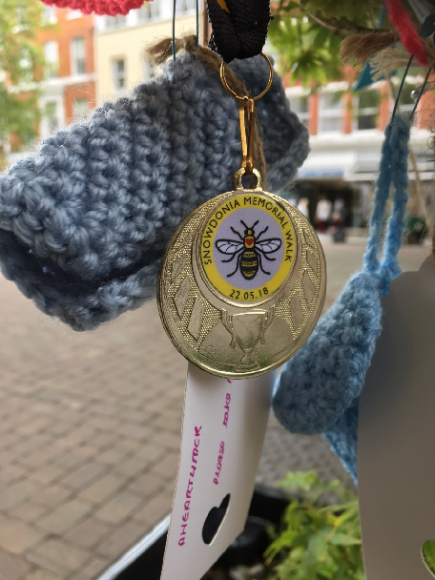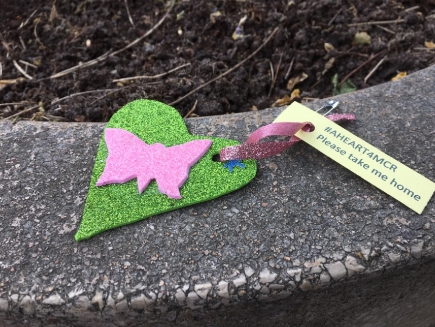 * pictures by John Varga (top), Ashleigh Grady (second from top) and Georgina Coupe (bottom three)
The handmade hearts sat on steps and tied to trees across the city, are part of the #AHEART4MCR campaign.
Starting just days after the attack, the campaign brought crafters together from across the globe to show their love and support for the city in the shape of 26,435 handmade hearts.
Gemma Haddow (see below video), 34, from Altrincham, has collected the hearts each year since the attack and placed them in photo frames, as a symbol of love for friends who were there that night. 
"They're a constant reminder of friends that were there that night, luckily they all survived but friends of friends didn't," said Gemma.
* video by Charlotte Hadfield
"I'm not from Manchester but I've got a worker bee tattoo to prove that even though I'm not originally from Manchester, Manchester is now a part of me."
Kim Shennan and Sue Mannion, from Northenden, were also wearing the Manchester bee on their t-shirts as a mark of respect for the 22 lives lost.
"We're out here having a walk, raising a glass and having a reflect really," said Kim.
Liam Marland, 28, Owner of Studio IX
"I was at home back in Leigh when [the terror attacks] happened but then we set up the appeal straight away and joined up with all of the other artists around Manchester.
"We did Manchester bee tattoos and donated all of the money towards the victims of the attack. [The idea] was Sam Barber's, who owns North of Winter, who set up the whole appeal, but all the artists in Manchester and all the studios got involved, and made loads of money.
"It was just the Manchester bee [being tattooed]. We raised 5000 pounds over two days. There were a lot of people that came in, all of our bookings got cancelled."
hi everyone as i'm sure you know, it's the anniversary of the manchester bombing this wednesday. in honor of our angels who aren't here with us today, we're asking all arianators (& others) to put a bee in your name this week. pic.twitter.com/piq2en7J4z

— (@needycass) May 20, 2019
Helen, Stockport
"It brought back memories of the bomb attack in 1996. I was living more closely then and I actually heard the bomb go off. At the time I remember thinking, 'Thank goodness I'm not there', it would have been horrendous being in the crowds. Just the feeling of sort of panic the people at the time must have had.
"There was a big difference [in how people responded to the latest bombing]. I think it's just a sign of the times that people then hadn't really experienced anything like that at all, but now, it's not like people are expecting it, but when it happened I think people knitted together a lot more easily.
"Things were quite different then, not as many people got tattoos, and there wasn't the internet and coverage and things. I think word spreads a lot more quickly.
"I've got a daughter who wanted to go to the Ariana Grande concert but I wouldn't have let her anyway at that time, but I'm thinking thank goodness she wasn't there, because she's a massive fan. It brings it home that other people's kids were there.
"There's definitely a lot of memories. I work for the council and the anniversary is celebrated, there's lots of activities, volunteering and remembering things. The attitude as well – when you see messages about it, we're aware it could have affected you."