Three men who ran a drugs gang have been jailed for a combined total of 20 years after Class A drugs amounting to £1.8million was seized by police.
Around eight kilograms of cocaine was found in a holdall during a police raid at a house on Alma Street, Radcliffe, on March 7.
Dale McDonagh, 30, of Tweedsdale Close, Whitefield, Joseph Galloway, 26, of Shetland Way, Radcliffe and Kris Brocklehurst, 29, of Alma Street, Radcliffe all pleaded guilty to conspiracy to supply Class A drugs and were sentenced at Bolton Crown Court yesterday.
McDonagh received the most severe punishment with eight years while his accomplices, Galloway and Brocklehurst, both received six years behind bars.
Tests revealed that the cocaine discovered at the address was very high in purity with an estimated street value of £1.8million.
Further searches at the house found more cocaine underneath a cabinet in the main bedroom.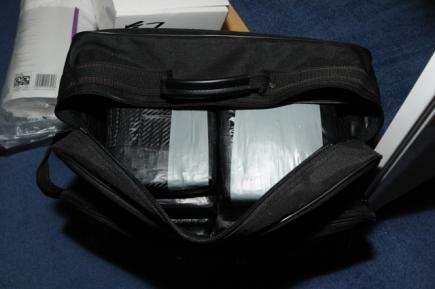 BUSTED: The holdall contained around eight kilos of cocaine
Brocklehurst was later arrested and police found incriminating evidence on his mobile phone to suggest that McDonagh and Galloway were involved in the supplying of drugs.
One text found on McDonagh's phone read: "Whats hapining mate stil waitin on a chunk cumin in the kid let me down2day bt i got sum more cumin in 2mo c wot i cn do 4 later am on it bro did uluk at that list."
A further two houses as part of Project Gulf were raided in April and police uncovered a substantial amount of cash and once again mobile phones were seized.
Police officers scoured the phones and found a number implicating the trio.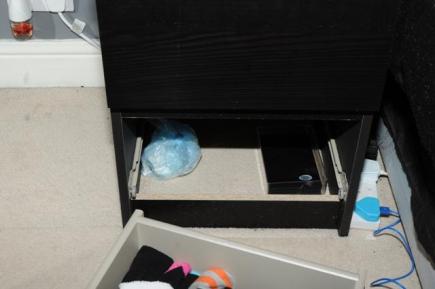 HIDDEN AWAY: Police found around £1.8 million of Class A drugs at one house
Detective Sergeant Colin Shackleton said: "Our message to those persons involved in criminality is that we will continue to work together in partnership with our local communities to identify those involved in any crime and bring them to justice.
"Organised criminality causes misery for ordinary people going about their lawful business. It causes fear and intimidation, and we are determined to work together to target those who indulge in such criminality.
"I would urge anyone who believes they have information about those involved in organised crime to contact police. As always, the information you supply will be dealt with privately and confidentially."
Images courtesy of GMP, with thanks