A former boxer has been jailed for five years after killing popular Manchester clubber 'Salford John' Millett with a single punch to the face.
Simon Tarry, 27, of Ennerdale Road, Stretford, was found guilty of manslaughter at an earlier hearing and was sentenced at Manchester Crown Court today.
The 34-year-old victim, who was well-known because of the cult record 'Salford John', was attacked after a night out at South nightclub in Manchester city centre on Friday January 24 2014.
The incident occurred between Mr Millett and Tarry after the offender had thrown a punch at a man, before throwing a bin bag of rubbish at another when stood outside the club on John Dalton Street.
Mr Millettt and his friend, who had been on a night out, confronted Tarry about his behaviour before they walked off.
The group then made their way onto Deansgate where, without warning, Tarry punched John in the face knocking him to the ground, hitting his head.
An ambulance was called but John sadly died in hospital on January 31 2014.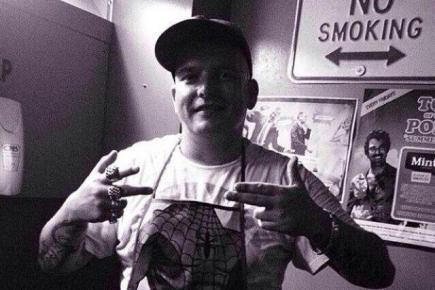 POPULAR: John Millett also known as Salford John
According to police, Tarry 'went looking for trouble' that night and had even been 'bouncing on his toes' like a boxer before throwing the punch.
After being approached by a PCSO, he said: "'I ****ed up. I hoped the kid's OK."
Senior Investigating Officer Duncan Thorpe said: "Tarry was blatantly looking for trouble as his behavior outside the nightclub demonstrated.
"When he was confronted by Mr Millett, he threw a single powerful punch that instantly knocked him unconscious.
"John fell immediately backwards, hitting his head on the road. Tarry's only thought was getting away and he ran off as John lay there with critical injuries.
"Mr Millett's family have been left devastated by what happened and they will have to live with the fact this man took away their loved one, all because he wanted to cause trouble that morning."
A statement from the family read: "John was a loving son, brother, father, uncle and a good friend to many.
"No words will ever be enough to say how much we miss him. John was loved by many, he was a very likeable man with a big heart and he lived life to the full."
Images courtesy of GMP, with thanks