Gary Lineker was on hand to help more than 200 runners complete a 'fun run' around Manchester Airport – raising in excess of £7,000 for charity.
The British Airways Runway Run raised money for the Comic Relief scheme Flying Start along with Medcare – Manchester Airport's supported charity at the Wellspring Children's Medical Centre in Uganda.
Speaking at the event, Lineker, who has been involved with both causes for a number of years, paid tribute to everyone involved.
"Thanks to everyone that took part – I've seen first-hand how well Comic Relief spends the money raised at events like this," said the former England International striker. 
 "Flying Start has raised more than £8million so far, they make sure the money does go to the right places and it makes a real difference to people living in dreadful circumstances.
 "They continue to think up new ways to fundraise whilst making a load of money in the process – events like these have to be applauded, they're a great effort."
The winner, Carl Hardman, from Stalybridge, who works with Northern Gas Network and runs for Salford Athletics Club, completed the race in just over 20 minutes.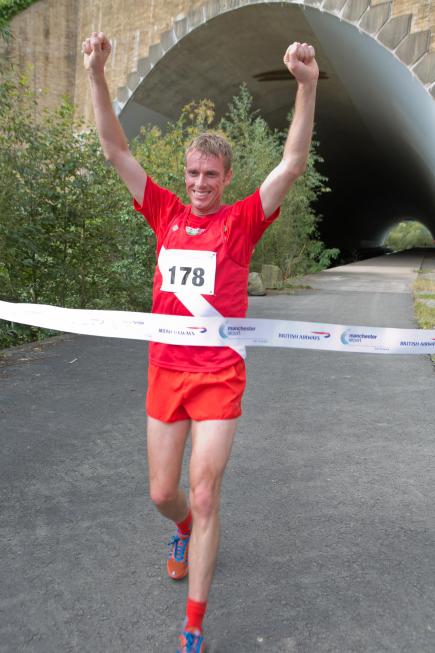 FLYING: Winner Carl Hardman (©Seb Thompson with thanks)
The 31-year-old said: "It's great to be raising so much money for the course, my wife also ran the race and, once I heard about it, I jumped in straight away."
Fellow runner, Ryan Dune, 25, who had been learning to walk again after experiencing a benign tumour in his leg following a car accident, also spoke to MM.
The Wythenshawe man said: "The whole day's been awesome. I did find it very challenging and my leg's throbbing but the support and the atmosphere really kept me going.
"Getting to meet Gary was the best, it was all worth it in the end, it is my first run since the accident and I feel great."
Youngster Freddie Oldfield, eight, who is a member of Salford Metropolitan Athletic Club, ran with his dad and raised a whopping £141, while 10-year-old Jack Fradgley from Willaston won the children's event.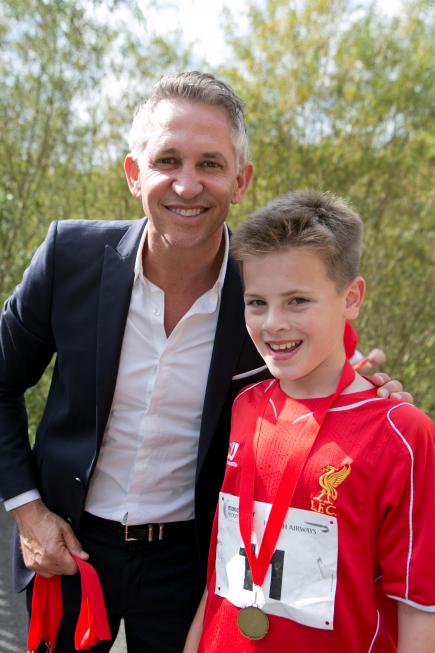 COOL RUNNING: Gary with kid's winner Freddie Oldfield (©Seb Thompson with thanks)
Mary Brew, 44, British Airways' Project Manager for Community Programs, said: "I think everyone enjoyed it, Gary's loved it, we definitely want to make this an annual thing."
John Ross, a 31-year-old teacher from Manchester city centre, won the 'Best Fancy Dress' prize along with 33-year-old running partner Gemma Thompson, a team leader from Wakefield.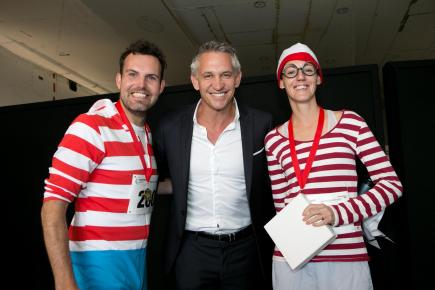 WHERE'S WINNER? John Ross and Gemma Thompson scooped the fancy dress prize (©Seb Thompson with thanks)
"We got told to wear red and this was the best red fancy dress costume we could think of, so we decided to dress up as 'Where's Wally?'," said Mr. Ross.
Shaun Anthony-Garrett, 46, from Leeds, who raised the most with £280, was overjoyed with his achievement.
Shaun said: "I was quite shocked but it is fantastic. The race was a bit tough, my feet definitely know about it. They should do this every year so I can bring a team next time."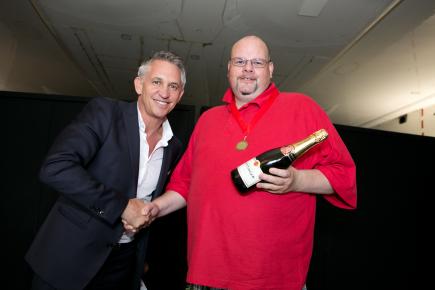 FUND RUN: Shaun Anthony-Garrett raised £280 (©Seb Thompson with thanks)
Image courtesy of Seb Thompson with thanks