A collective of Manchester spoken word artists will take centre stage this month at the Contact Theatre in a night of poetry, prose and performance to mark Black History Month. 
In just under eight years, Young Identity have proved themselves as the city's top creative group by encouraging teenagers and adults to turn their opinions on social issues, politics and culture into creative writing and performance pieces.
The group, who have worked with critically-acclaimed poets like Kate Tempest, Jean Binta Breeze, Roger Robinson and the late Amiri Baraka, will perform a collection of pieces that explore their own personal experience of the education system on October 23.
Blockbusters like Django Unchained and 12 Years a Slave both shed a successful light on how the slave trade has played a major role in understanding black history. But Project Administrator Reece Williams told MM that slavery isn't the be all and end all of black history.
He said: "One thing we're really mindful of more than ever is that we like to raise a generation of thinkers.
"As a group we tend not to talk about slavery in that way. What you find is black history is reduced down to slavery—obviously it is an extremely significant point in history so we do deal with it holistically.
"We look at the achievement stories of people like Nelson Mandela, the work of Maya Angelou, poets like Kai Mellor and use their stories as a stimulus for our creativity."
Formed in Manchester's Moss Side in 2006, founder Shirley May's idea of generating a creative space for the youth proved to be popular with residents.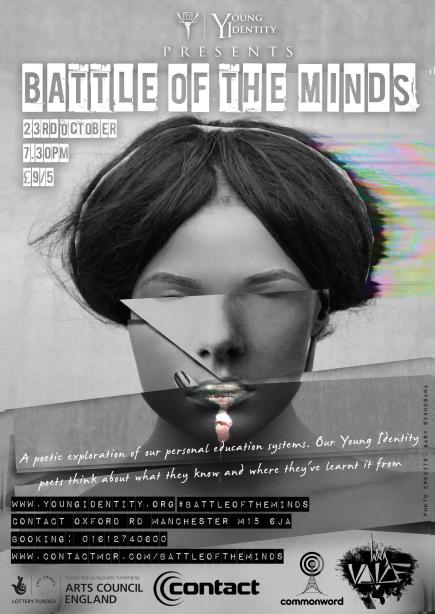 MIND GAMES: Young Identity will be performing for Black History Month
As years passed and the group's exposure grew, a new home in Manchester city centre meant that budding writers, poets and performers from wider communities were exposed to the distinctive world of spoken word.
The 26-member-strong group of writers also prides itself on its diversity.
According to Reece, it's this element that drives them to encourage writers to think outside the box when it comes to generating ideas, performing and promoting the awareness of Black History Month.
"Historically as an organisation, we were a place that acted as a safe haven for young black people more than any other race because of its then location but that's no longer the case," he said.
"The group is more diverse than it's ever been. There's a mixture of white British members, those of Irish descent, some are black British, African and south Asian so we are a really diverse group."
Reece explained that the group's ethos of highlighting the opinions the younger generation is a key way of integrating them into society.
He said: "Holistically, a lot of young people are disfranchised with the whole political system, particularly with the recent government and their failed promise on university fees and the education maintenance allowance being cut.
"The media hasn't helped and with the majority of negative images of young people that are published, we don't really see the success stories in the same way. So I guess that these are some of the things that affect the outlook that a lot of young people have.
"The project not only gives them a physical opportunity to be vocal about things that are important to them, it also helps to shift their outlook on the world and triggers them to think about different ways in which they could engage and have an impact within their communities by becoming active citizens."
Image courtesy of Very Quiet with thanks